The 12 Days of Deals is over, we're excited for next year's round of deals!
Adaptive Marketing Program
The Adaptive Marketing Program is a membership for online entrepreneurs that delivers proven strategies and expert guidance from an experienced team that walks by your side every step of the way as you transform your business.
Learn more about Adaptive Marketing Program & Enroll!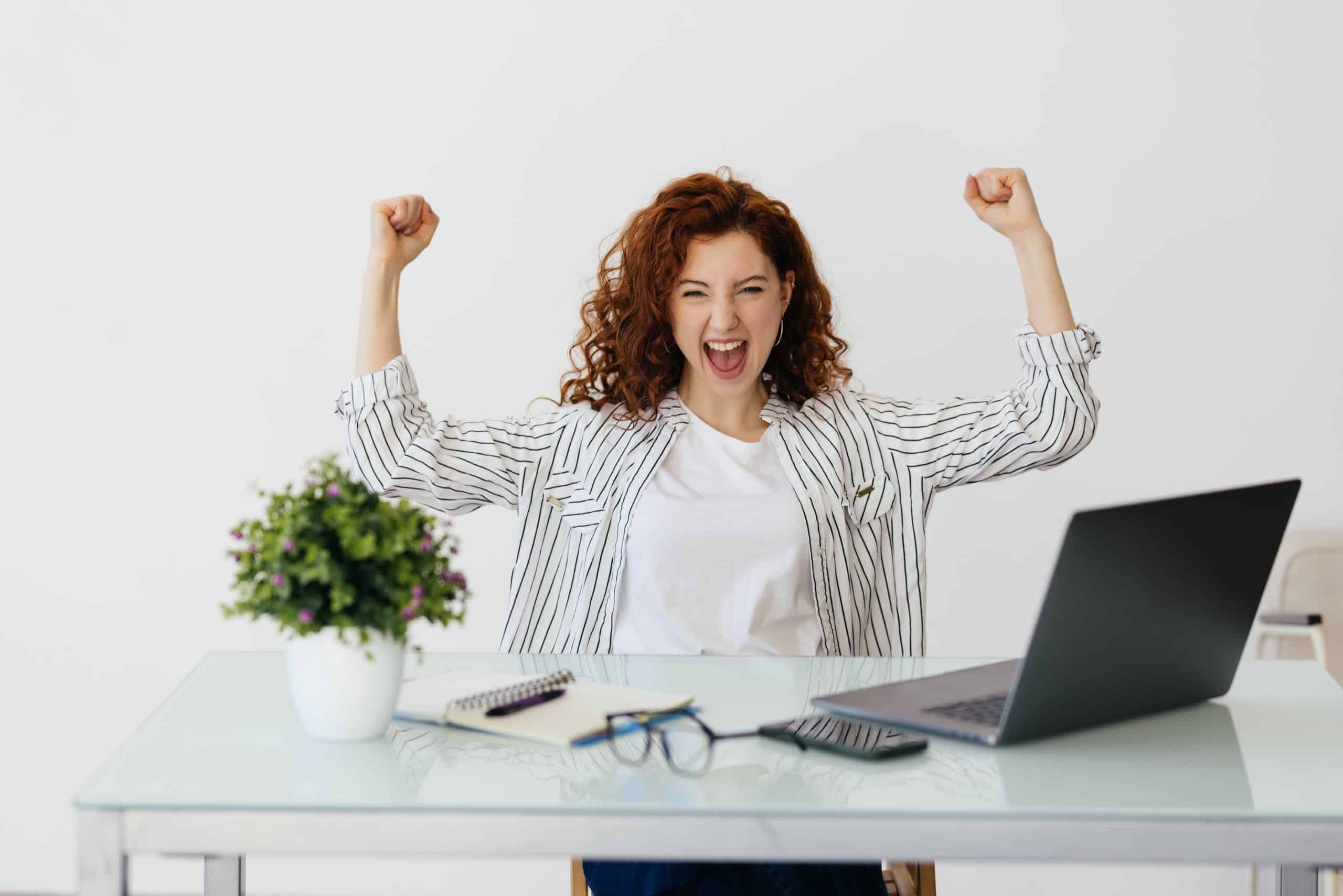 Audience Engagement Kit
Pump up your audience engagement with this value packed bundle!
This bundle is filled with goodness with easy to do engagement tasks that get your audience talking and fingers tapping to reach out to you!
Here's what's in your Engagement Kit!
Audience Engagement Tracker PDF
Plan for ENGAGEMENT on all of the content you create!
The Engagement Tracker will help you build an audience who love what you do and are interested in your offers.
The no-brainer method for creating organic engagement on your content on a consistent basis

How to connect with the movers and shakers in your industry even if you're just starting out

A simple way to track your engagement stats so you won't waste time creating dud content again
Build Your Next 1000 Followers FAST Masterclass
The more engagement you have, the more FREE exposure - so you get to reach more people, without spending a cent on ads!
The 3 Drivers to create highly engaging content (and the one you ALWAYS need to include!)

The easy way to give any existing content an engagement worthy boost

Be 'you' in all your content and attract the right people (no more sounding like a robot!)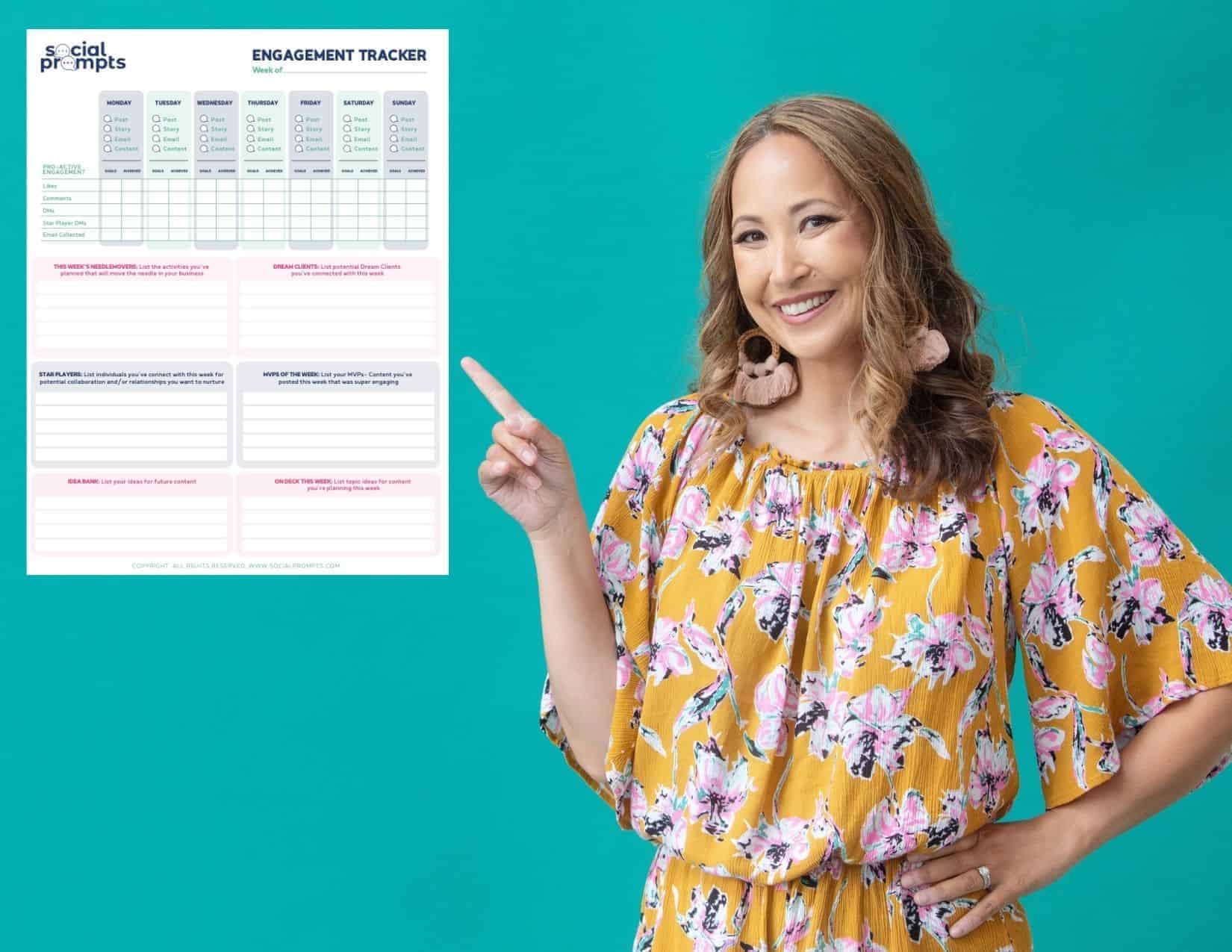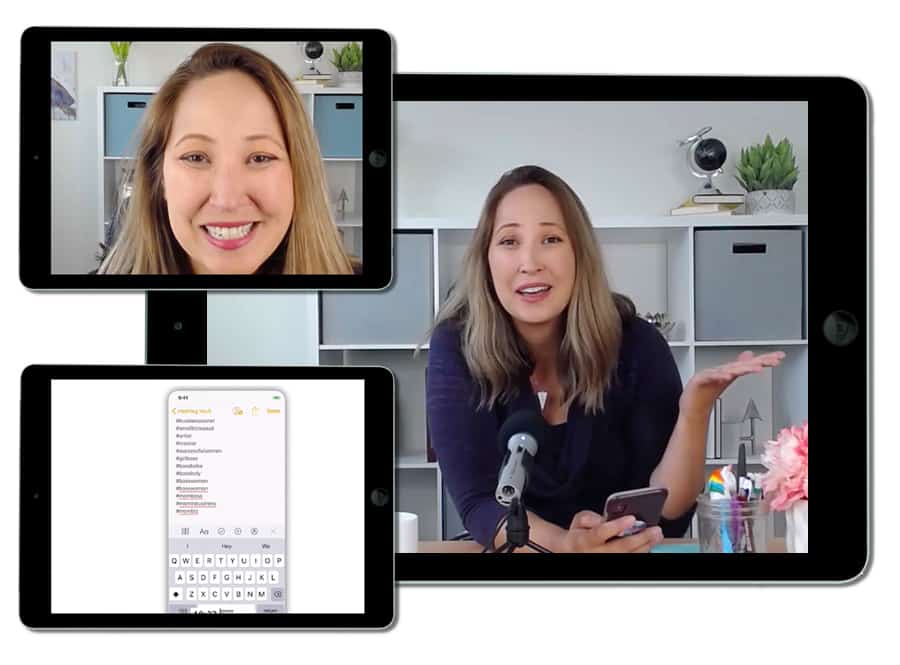 Client Accelerator Course
The Client Accelerator Course is focused on: positioning & marketing strategies you can apply to your online business so you get MORE SALES!
Here's what you'll learn in the Client Accelerator Course:
Positioning for Profit Module
You understand the importance of marketing, but wonder if you're doing it right. You see big areas for improvement with your marketing. You also would like to attract a different type of client who may value or pay more for your services, but aren't sure where to find them.
This strategy will review the following:
The Assessment of your business

Brand assessment-Positioning-Social Proof

Competitive Market Analysis

Research & Discover

Who are you trying to attract-client avatar

Finding complimentary brands

Authenticity-Purpose-Your Why
Understanding Buyers Brain Module
You're known in your market, but feel like you are all over the place planning your promotions. You want to streamline your marketing systems and feel more organized. You're interested in keeping up with all of the new marketing trends and want to do tasks that make sense for your business.
This strategy will review the following:
Marketing Building Blocks

Passive vs Proactive Marketing

Present Needs vs Future Needs

Understanding Conversions

Different Types of Prospects

Marketer's Map

The Buyer's Journey & Phases of Buying

The Lifetime Value of a Customer
Launch Marketing Outline
We're excited to share this tool with you to plan your launches better! This Launch Marketing Outline will allow you to create a longer runway with your launches to build like, know and trust with your clients and create anticipation (which is what gets people to buy!)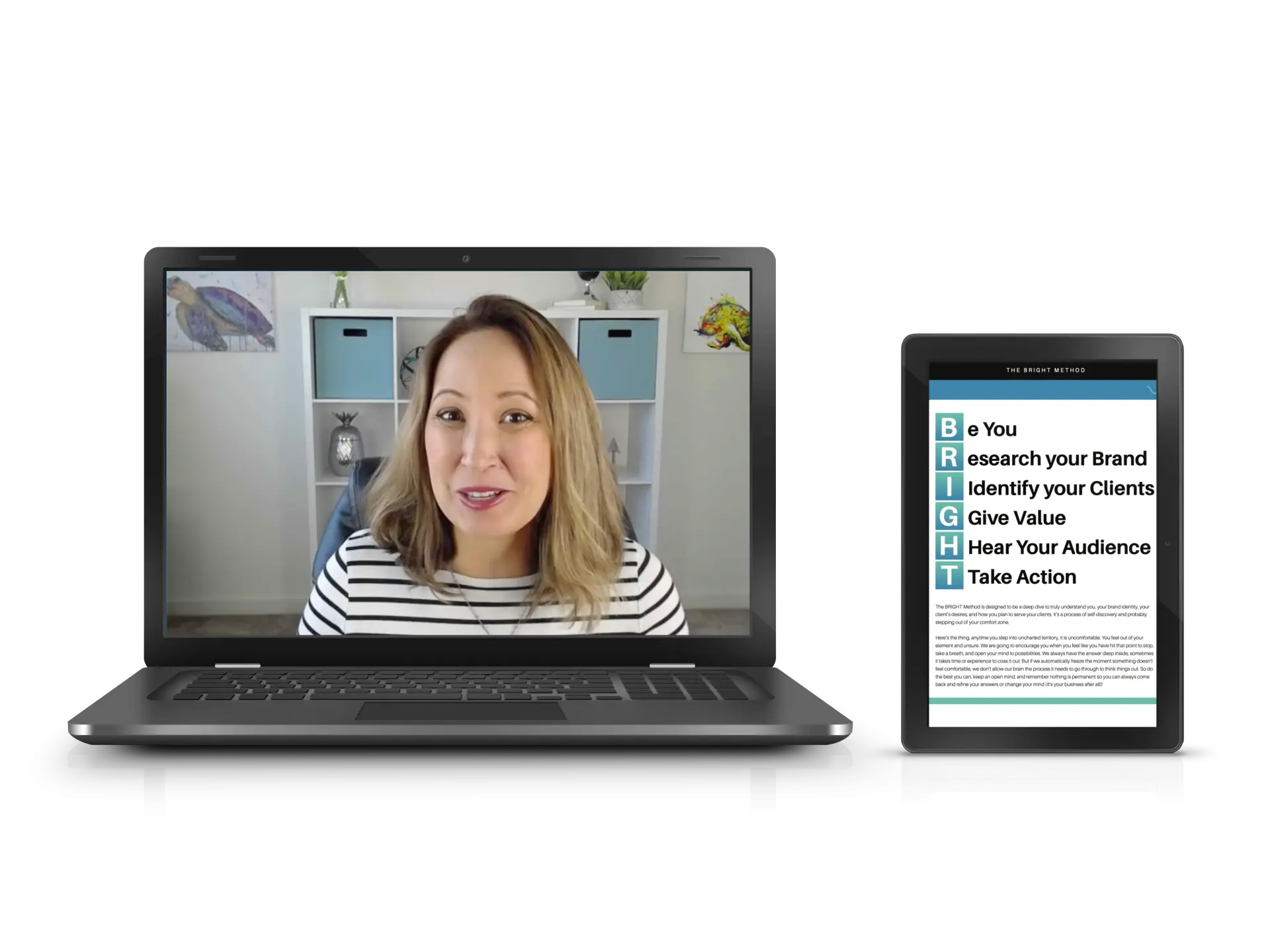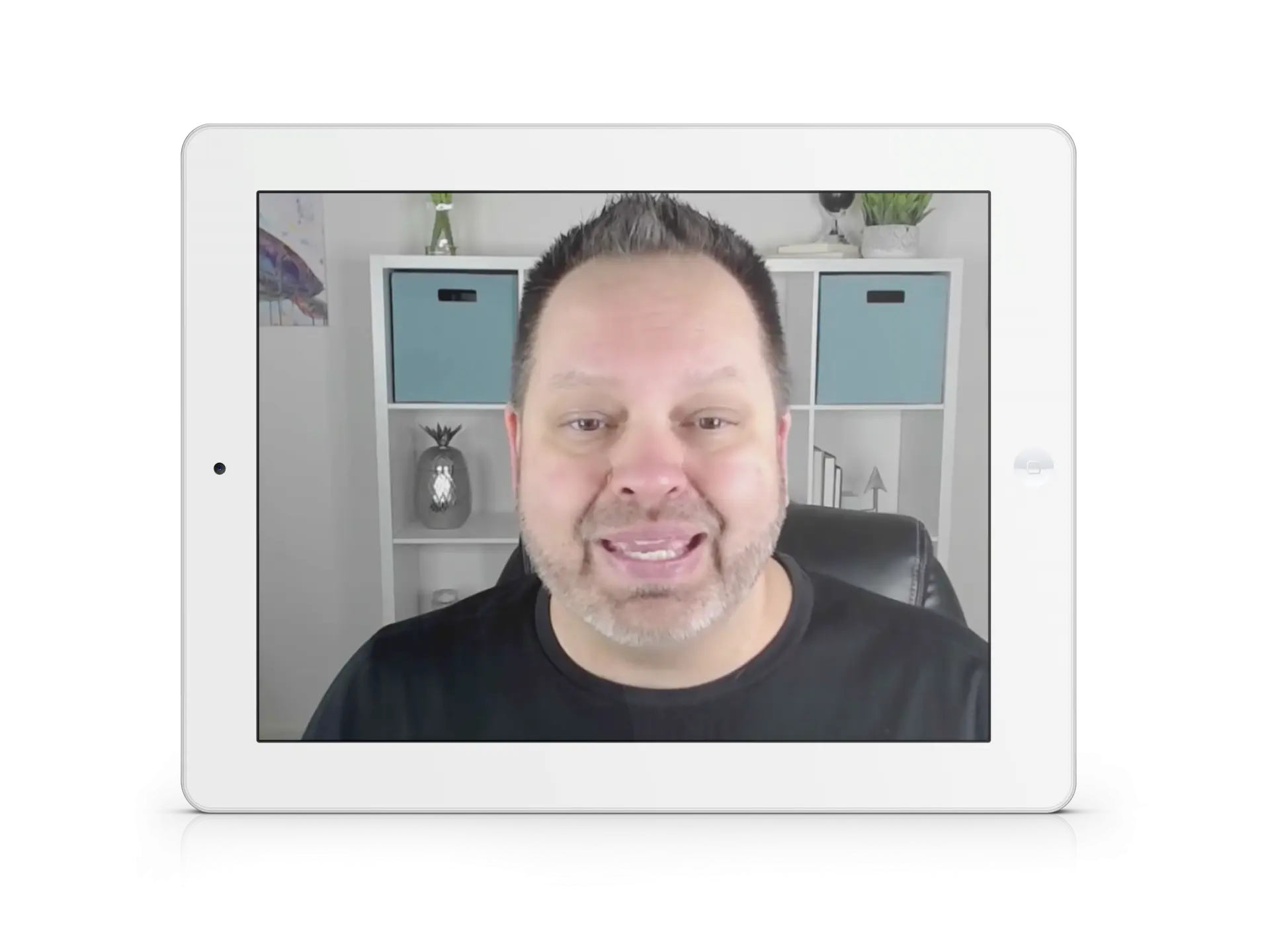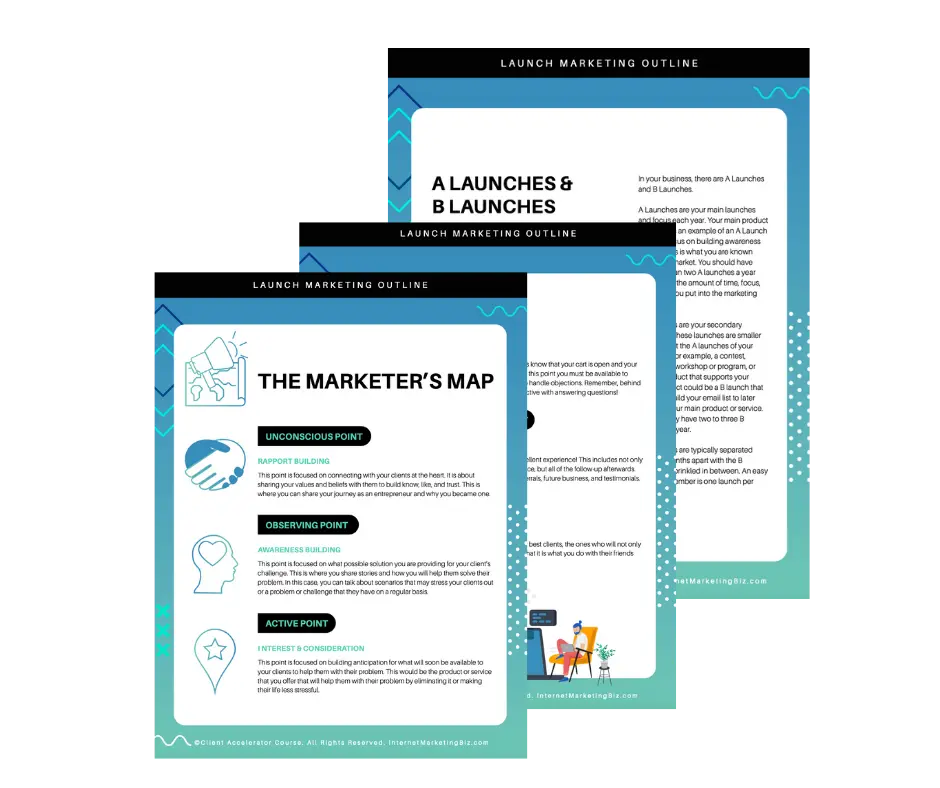 Membership Kickstarter Kit
These trainings and materials will get your membership jump started FAST!
What's Included in the Membership Kickstarter Kit:
Idea to Launch in 30 Days: 
In this exclusive training program we will show you step by step the process we use to go from Idea to Launch in Less than 30 Days!
You will get the inside track and leverage our background and experience of launching our membership sites since the late 1990's to quick start all of your memberships!
The One Thing Framework & Training
The One Thing Framework Video Training & Template helps you get really clear on your messaging and the transformation that you're promising your audience. Use the One Thing Framework to map out your messaging and make it simple for your audience to understand what you do, how you can help them, and why they should buy your offer!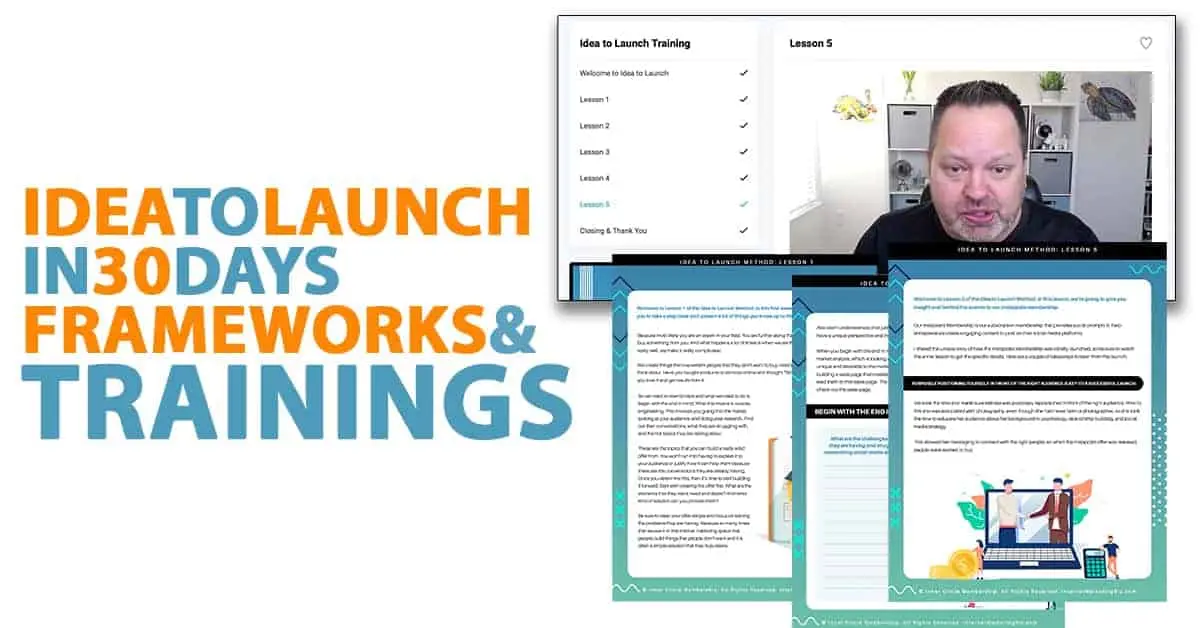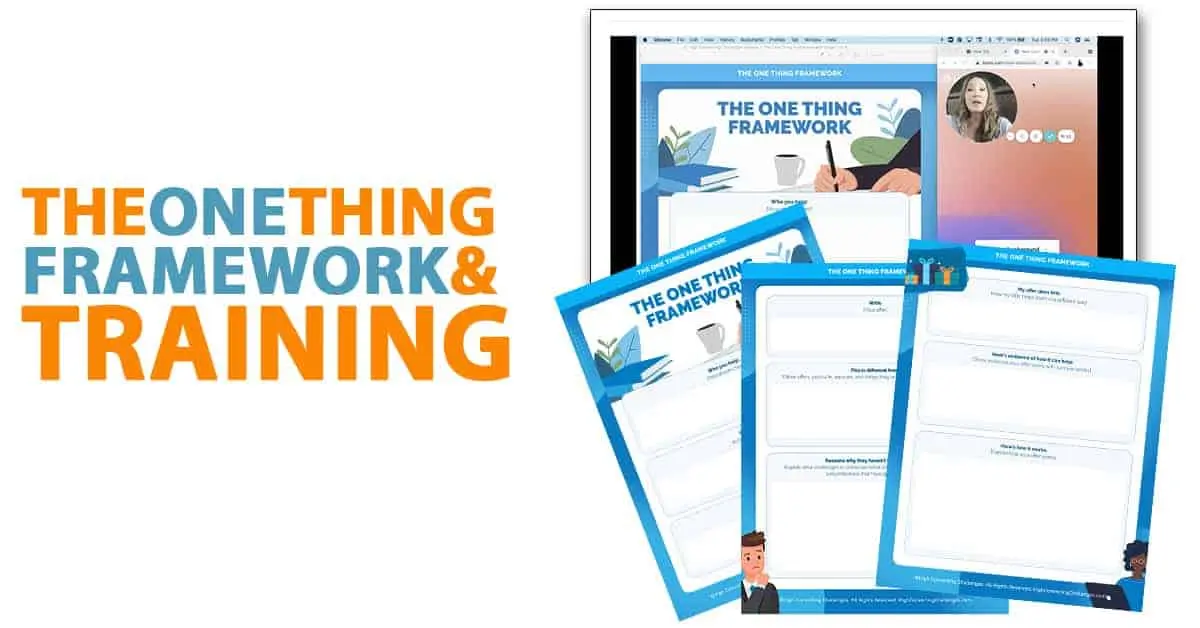 Social Prompts
The Complete Content Creation System Combining Purpose, Plan, & Participation To Build Your Audience and Lead Them To Buying Your Offers
Each month you'll receive 30 days of Social Prompts that you can use to create engaging content. Social Prompts can be used to create content on emails, blog posts, social media...the possibilities are endless!
With each daily Social Prompt, you'll get image inspiration to support your content and add to your story telling experience. Stock photography resources are also included to help you get started.
Also included is a daily question you can ask your audience, called a Conversation Catalyst. You can use this question in your content to start a two way dialogue with your audience.
Social Prompts are based on psychological triggers designed to create engagement with your audience. This allows you to create content that's authentic to your brand and in your own voice!  
With Social Prompts you'll create juicy content that gets your audience interested in learning more about you and naturally leads them to buying your offers.
To visit the full sales page for Social Prompts click here. Just be sure to come back to this page to purchase and use the coupon code to get your deal!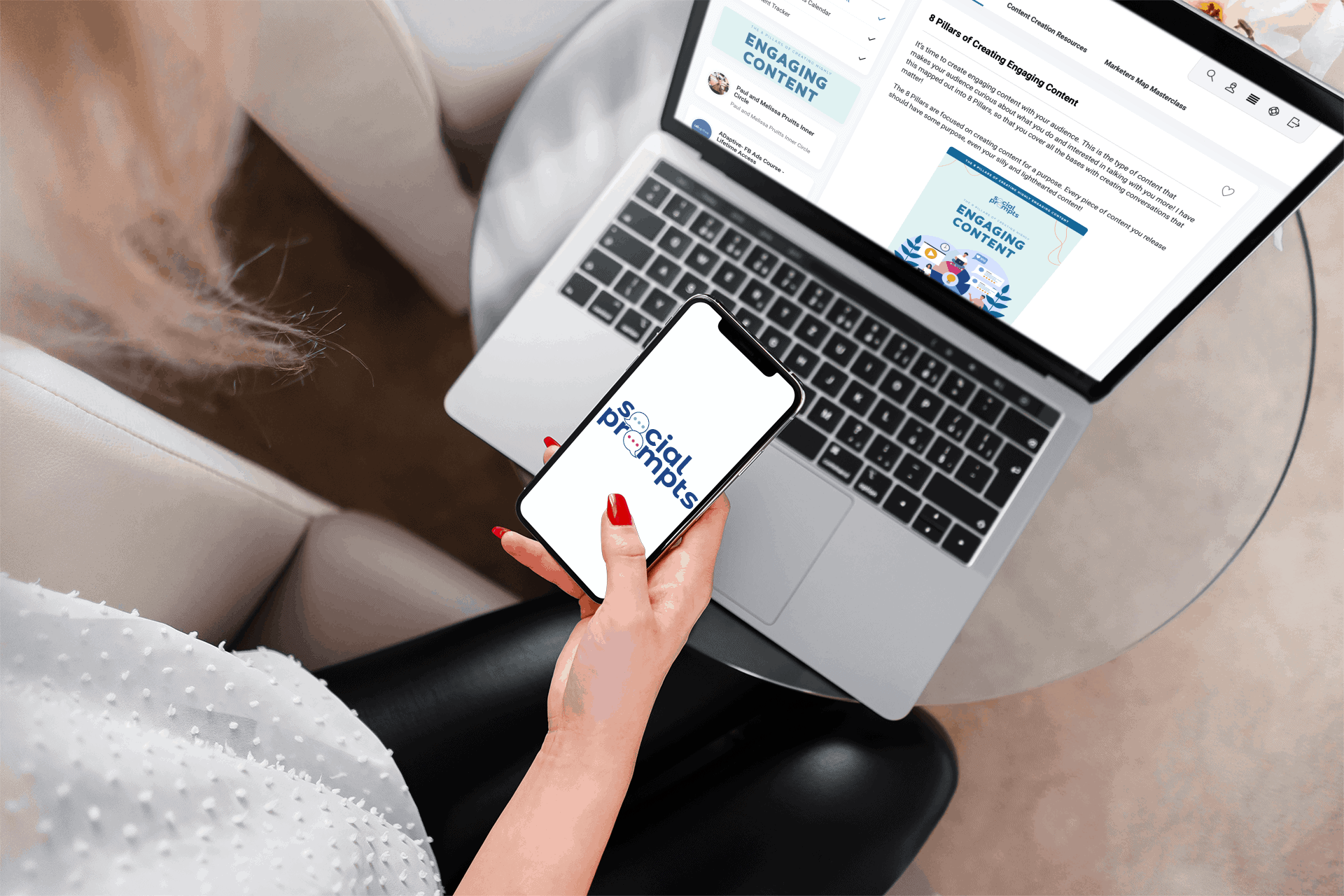 Content Creation Pack
4 Jam Packed Guides to dive into your Content Creation!
Guide #1: Content Research
It's time to become a Content Powerhouse! The first step is to do some research on content ideas your audience resonates with.
Guide #2: Writing Awesome Content
Now it's time to start creating some awesome content! Keeping this simple is key to creating awesome content consistently.
This is all about creating purposeful content to attract the right people into your world. So it's not just creating content to put out there, but it's actually creating things that your audience is going to like, it's going to engage with, it's going to be excited about, and then that's going to lead them closer and closer to your offers.
Guide #3: Apps & Tools
Let's take a look at some apps and tools to make your content creation easier. The key is to be intentional with your content creation and scheduling to create consistency and reduce overwhelm.
Guide #4: Content Squeeze Methods
It's time to do a Content Squeeze! This is where you create one piece of content and squeeze it dry on all of your platforms. This is an effective way to repurpose content to not only save you time, but create consistency across all of your content platforms.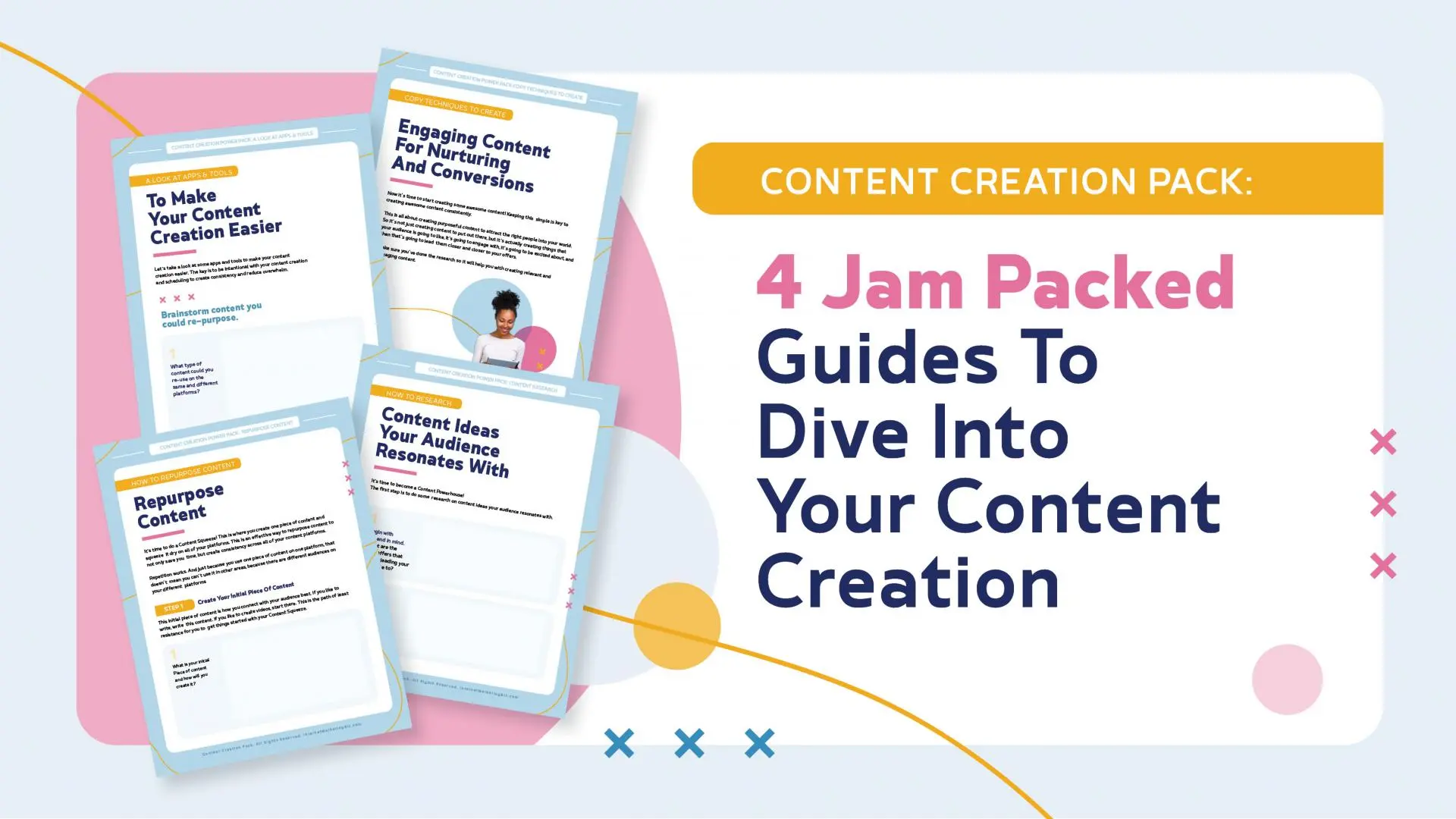 Membership & Course Tech Toolbox
Tech troubles in your course or membership? The Membership & Course Tech Toolbox solves some of the most common tech problems. We give you easy solutions and resources to jumpstart your course or membership without tech headaches!
We'll share different elements to help you with your courses and memberships and give you support material that has the most relevant products and services that are available!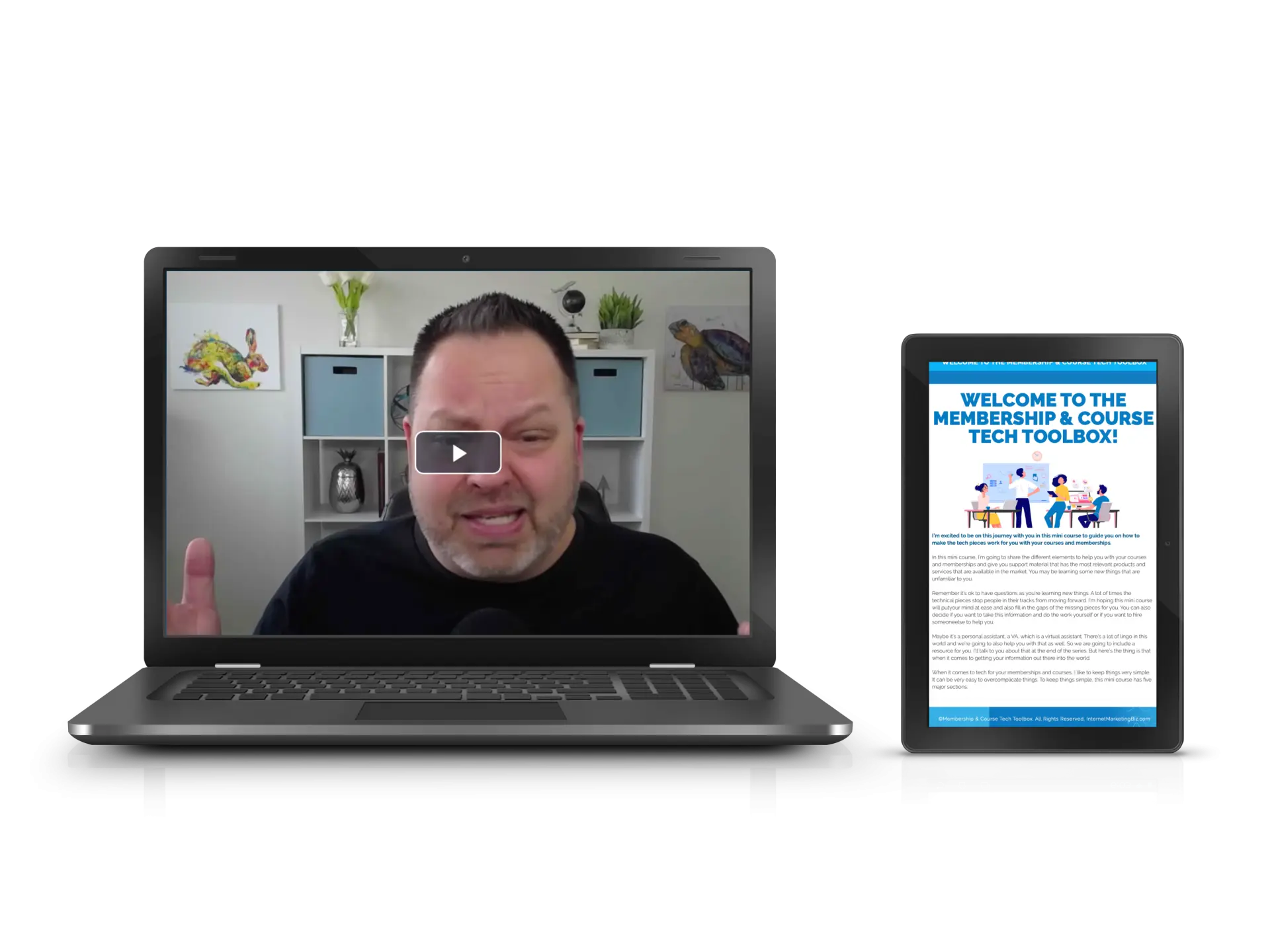 Ads Quickstart Program
Learn the exact steps to properly set up your Facebook ads account!
The Ads Quickstart Program is a 4 lesson self-study program to get you up and running with your Facebook ads.
Lesson 1: Introduction To Your Facebook Profile & Business Manager Account
Learn how to navigate your Facebook Ads Manager so you no longer feel lost when you login to your account. You'll learn the most essential sections of your Business Manager Account to pay attention to, so you can focus your energy on what matters most for your business.
Lesson 2: What Is A Pixel & How To Use Your Pixel Effectively
Learn one of the most powerful tools for your Facebook ads and the exact steps you need to take, so you maximize sales opportunities for your business.
Lesson 3: All About Your Audiences- Existing & Retargeting
Learn about the different types of audiences on Facebook so you get your message in front of the right people. You'll learn how to create your ads with audiences, including custom audiences for retargeting, so you get the best return of your investment.
Lesson 4: How To Set Up Your First Ad
Learn how to set up your ad campaign objectives and optimize your ads based on budget, placement, and schedule, so you can purposely plan your Facebook ads. You'll also learn how to dial in your ads to get better results and understand your metrics to help your ads perform better.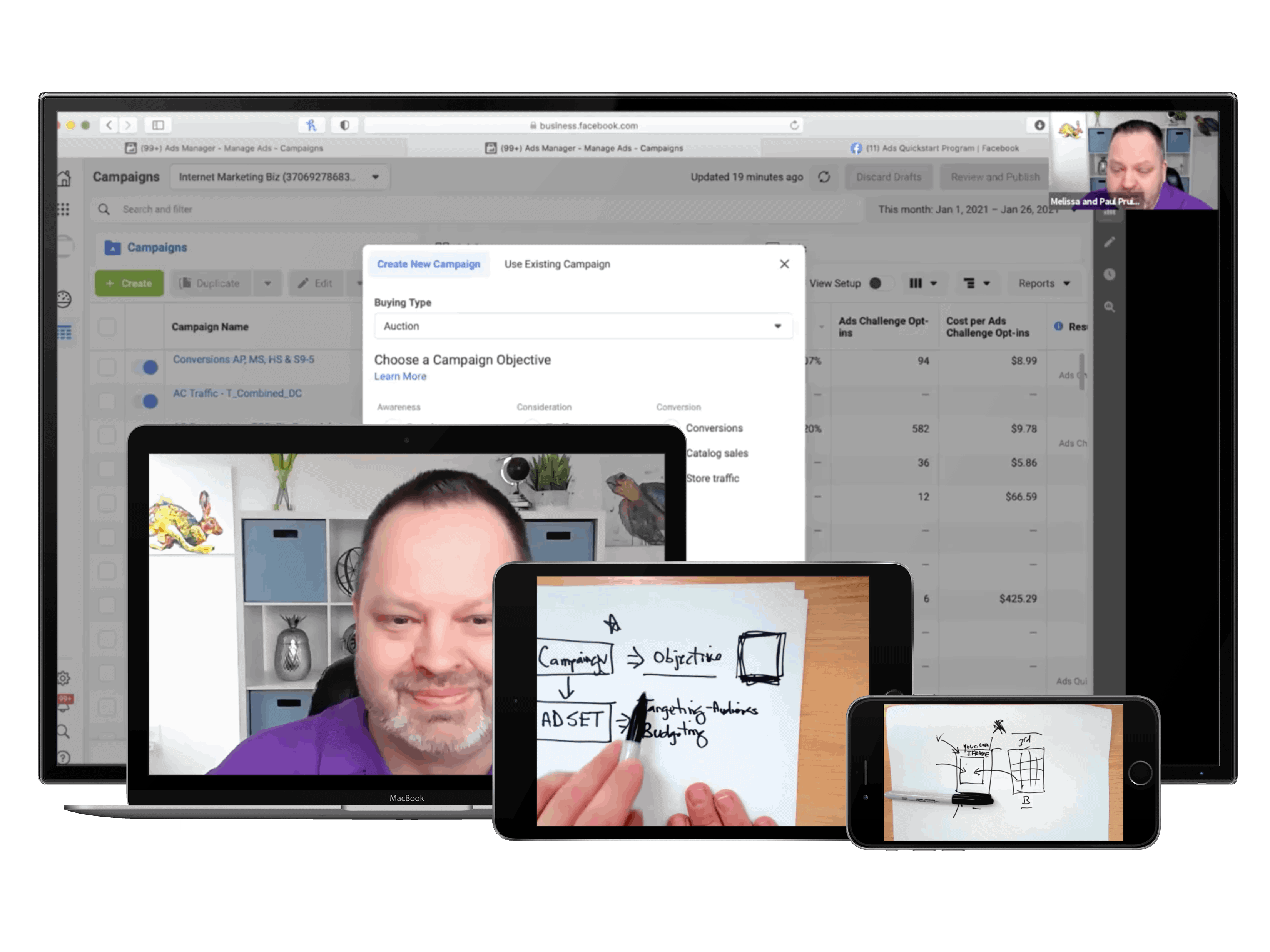 Conversations Calendar
Get 365 Prompts in a PDF Calendar for Content Creation ALL year long!
Know exactly what to say to your audience before, during & after your launches.
Position yourself as an expert & build like, know, and trust with your audience.
Use this content to lead into your list builders that are perfectly aligned with your paid offers!
This is a fillable PDF Content Calendar to help you create conversations with your audience ALL year long!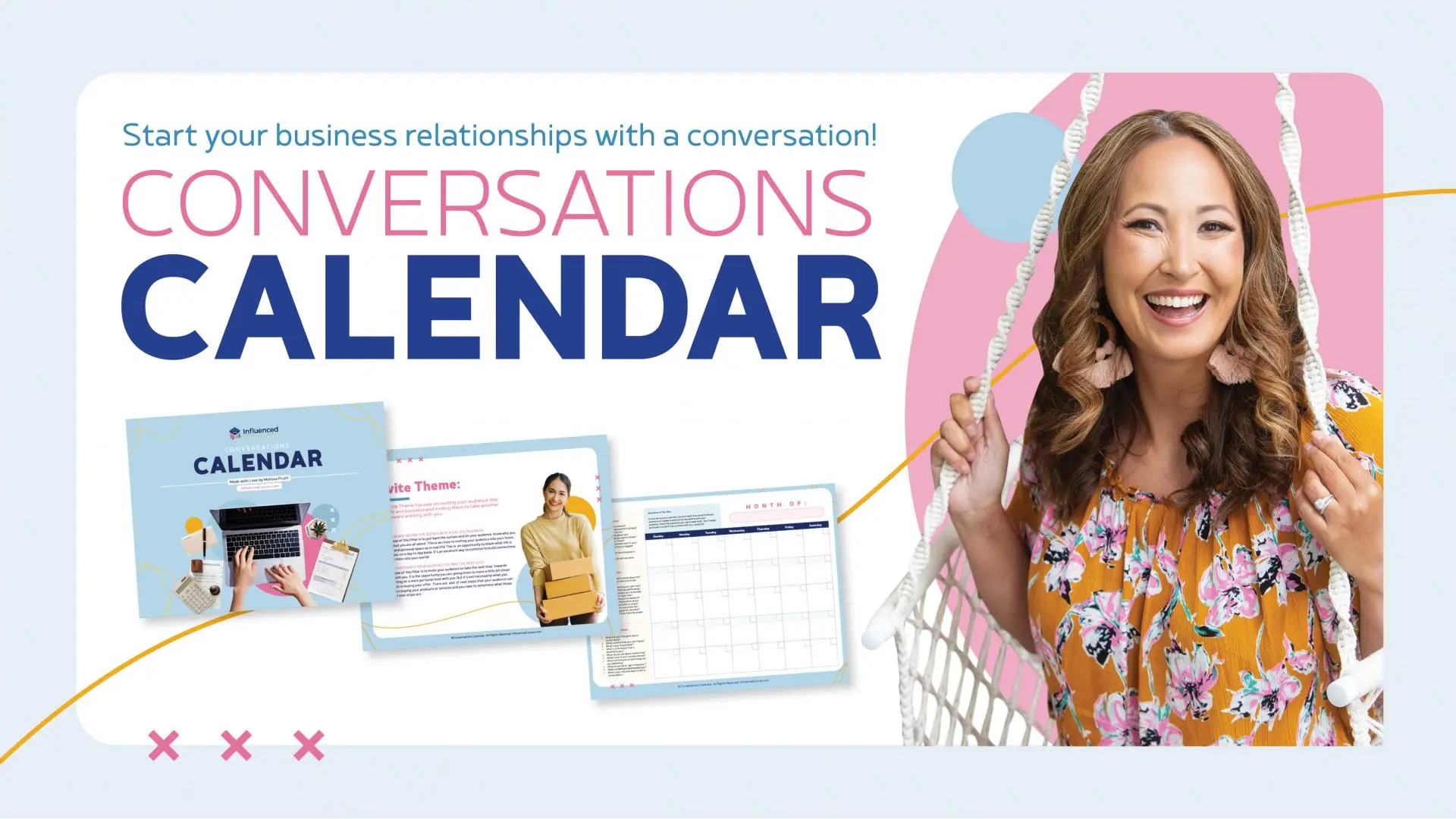 The One Thing Framework
The One Thing Framework Video Training & Template helps you get really clear on your messaging and the transformation that you're promising your audience. Use the One Thing Framework to map out your messaging and make it simple for your audience to understand what you do, how you can help them, and why they should buy your offer!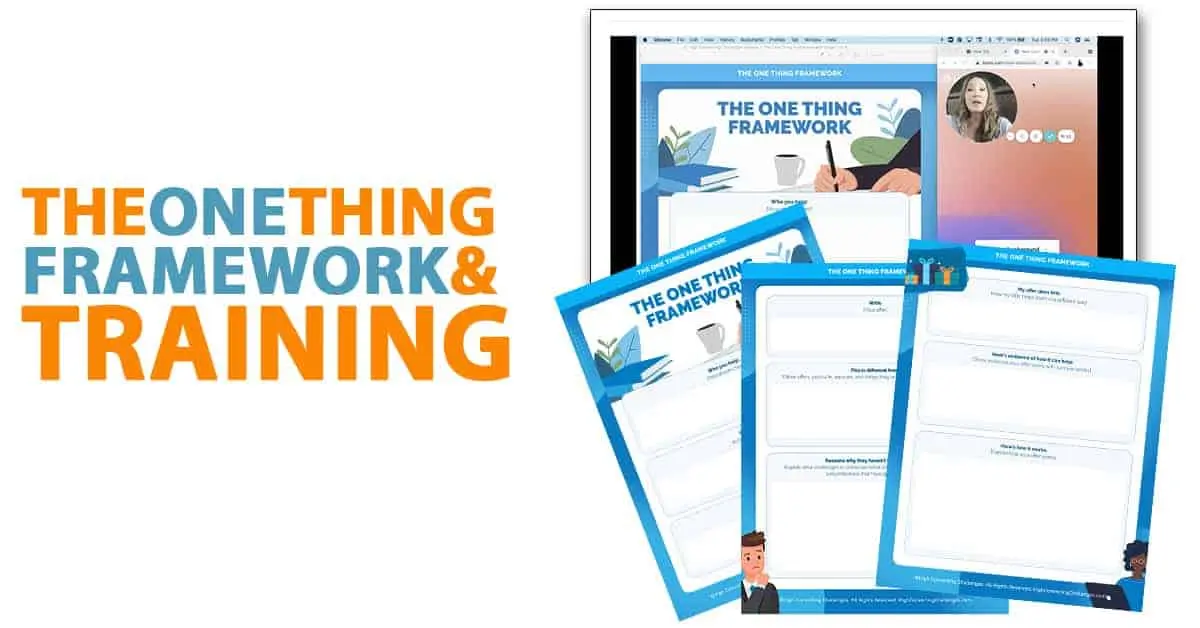 Down & Dirty Sales Page Training
This page is for when you need to make a BIG impact in a short time with all the must-have parts of a high converting sales page without all the fluff. This training is the ultimate quick start guide to ensure you include all the critical elements to get your sales page up and off the ground like yesterday!
The Down & Dirty Sales Page gives you a 9 section template and comes with a training video where we'll walk you step by step on how to craft your sales page to include logical and emotional aspects to appeal to your audience.
Yes, there are a lot of other elements of a sales page that are important and contribute to building like, know, and trust and helping with the buying process. However, the Down & Dirty Sales Page is the smart (and quick) way to get your sales page up and your offer out into the world.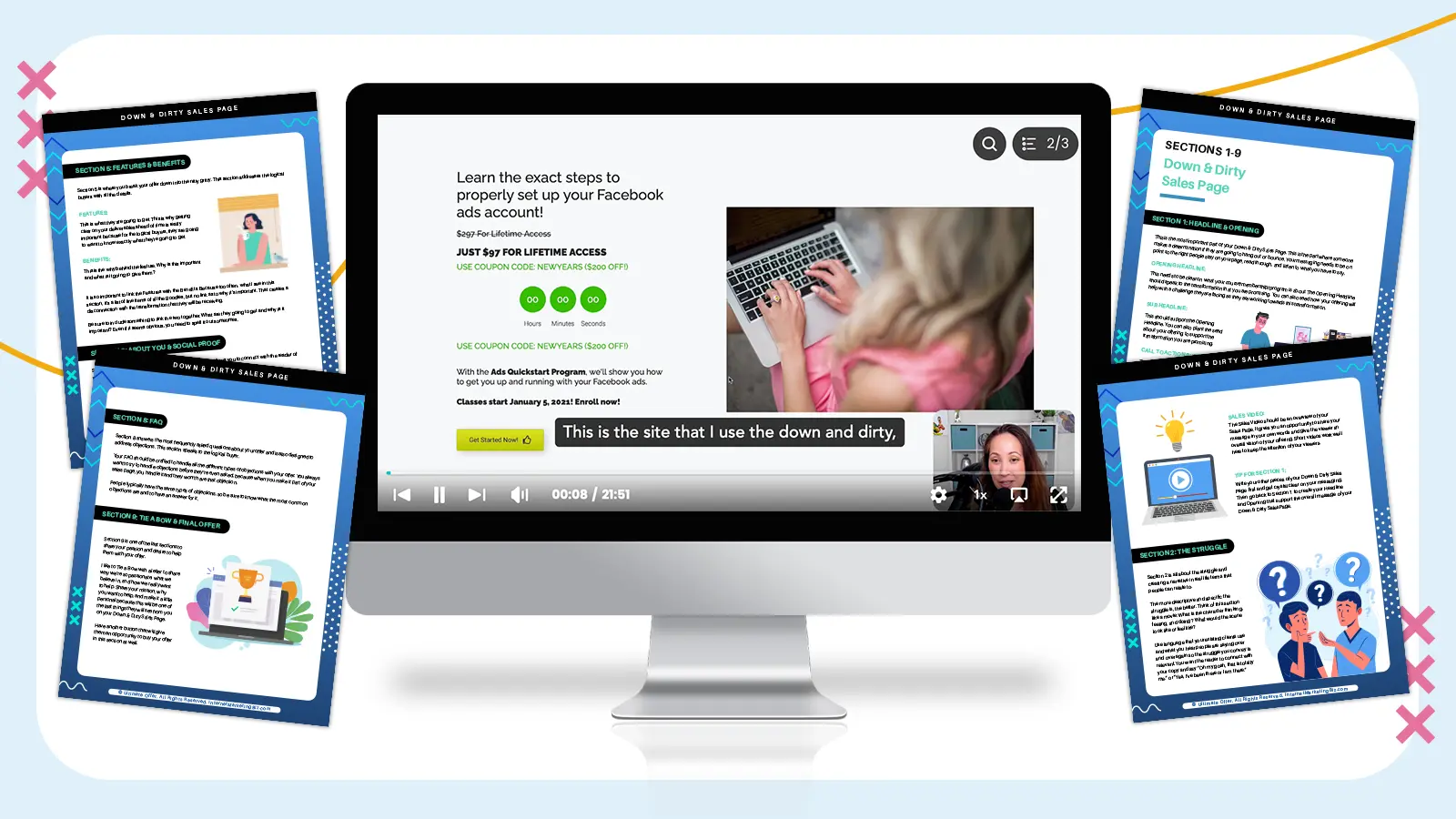 200 Headline Templates
4X more high converting headline templates to use in your marketing campaigns.

4X more potential engagement and click throughs.

4X more opportunities to captivate your audience and lead them to your offers!