Marketers and creators, assemble! We have a new social media app in town, and it's longing for a major dissection. Powered by Instagram, Threads is essentially Twitter's competitor that allows users to seamlessly transition from Instagram and use a text-first social media application. Such an easy transition helped the new app garner 30 million users in just 24 hours! Impressive, isn't it? Well, we are here precisely to share our findings and help readers figure out how to use the application from scratch. We'll extensively cover the "W-H-W" (What-How-Why) of Threads, an Instagram App, and walk you through the social media app. So let's dive right into the guide, shall we?
What is Threads, an Instagram App?
Launched by Meta, the parent company of Facebook, Instagram, and WhatsApp on July 5, 2023, Threads is essentially a text-based social media application that facilitates public conversation. The social media app was built by the team responsible for developing Instagram. Hence, the name "Threads, an Instagram App." The initial version of the application is available for download on both iOS and Android and is accessible in over 100 countries. In a matter of two days, almost 70 million users floated over from Instagram (2 billion+ monthly active users) to sign up on Threads!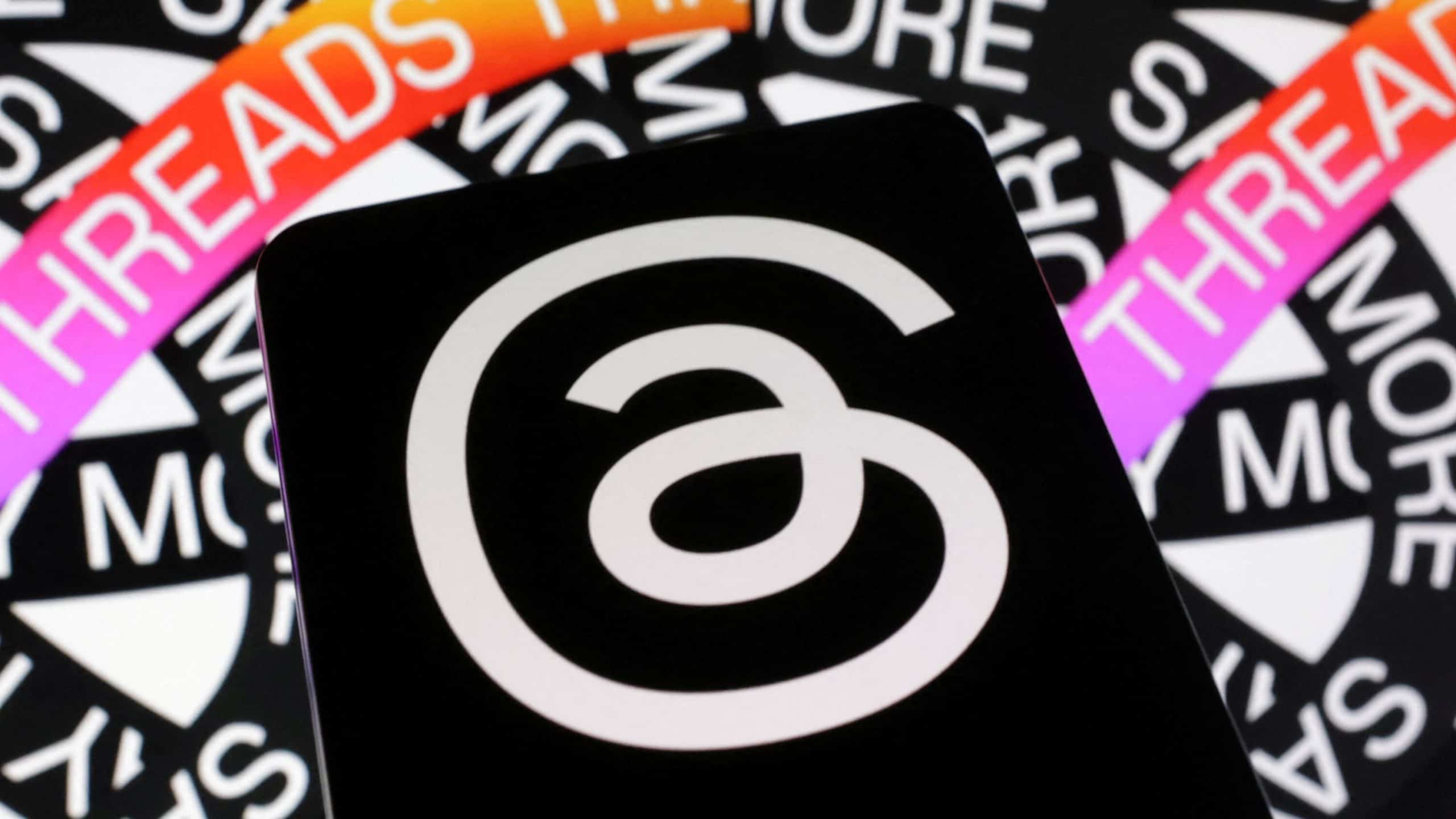 Threads, as CEO Mark Zuckerberg mentioned, aims at offering a "new, separate space for real-time updates and public conversations." While they do that, the Meta team is working toward the vision of making Threads do what Instagram does best and expanding all that to text. Indeed, Threads is a separate social media application. But, at the time of writing, it is being sold as an extension of what Instagram has to offer. This is true (and we'll discuss this later) because Threads' users can still make the most of their Instagram connections and interests while staying under the air cover of Meta's existing suite of safety and user controls. All this makes it so much easier to get started with Threads.
How does Threads compete with Twitter?
The question on everyone's mind is — "Will Threads ever compete with Twitter?" The answer is a resounding yes! Threads is a new kid in the corner and has a long way to go. It currently lacks the features and functionalities of Twitter. But at its core, it does function very similarly to Twitter.
Look at any post or Thread on the new social media app. It looks and feels just like a Twitter post. The way users interact with the posts is similar too! You can like, reply, repost, or share the Threads — just like we do on Twitter. Moreover, the home feed looks like an average Twitter feed.
Threads has a 500-character limit on its posts too, which is better than how Twitter started (with a 140-character limit). The idea behind building Threads is to build a text-based social media platform that allows users to be more expressive and the starting character limit does justice to the cause.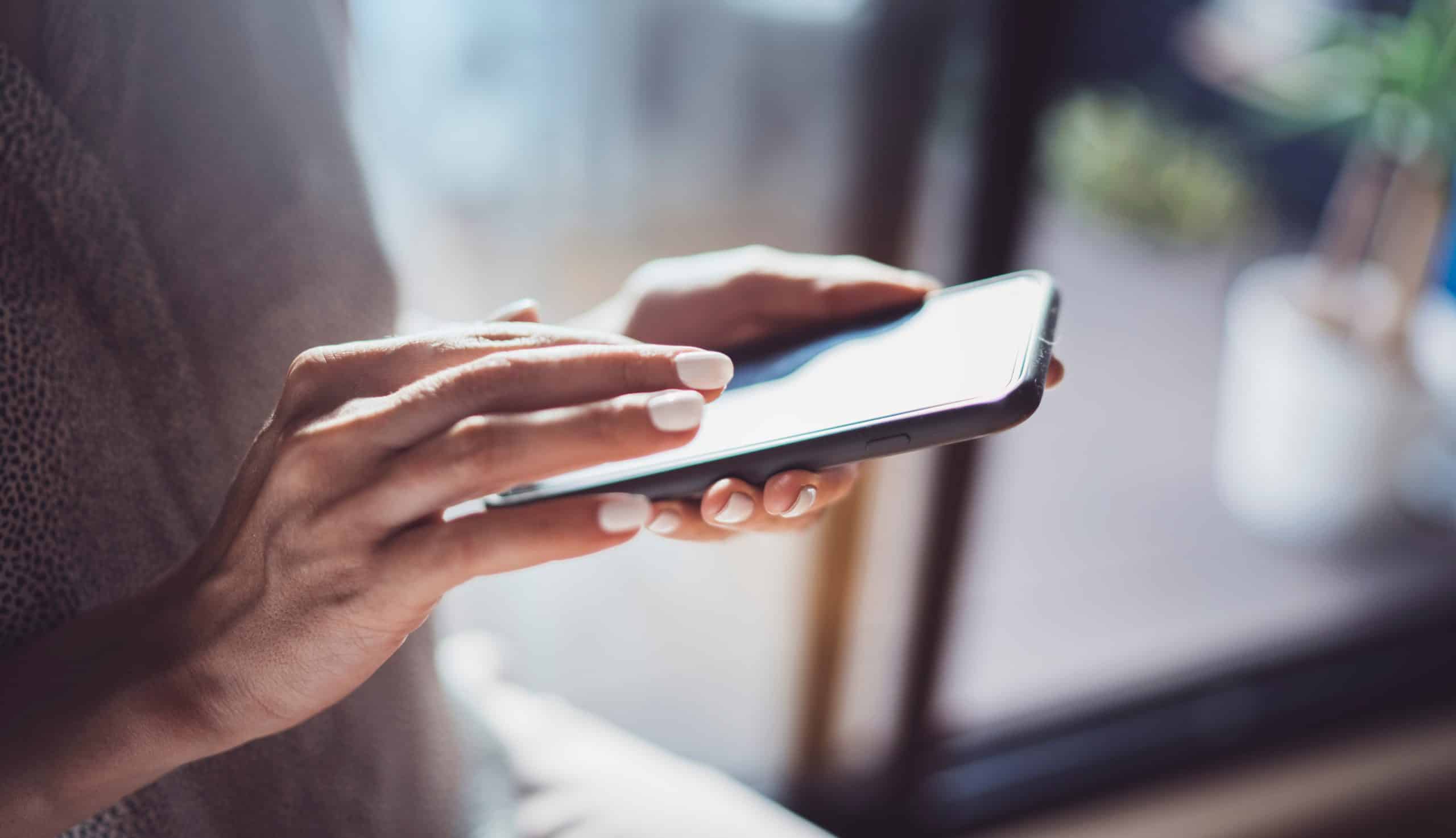 What are the differences between Threads and Twitter?
Let's discuss the major differences between the two text-based social media competitors — Threads and Twitter.
Twitter allows users to edit their tweets. However, this feature is exclusive to its premium users. Threads doesn't offer this feature and the posts cannot be edited once published. Users will have to delete the thread and create a new one.

Twitter can be accessed across different devices and web browsers. However, access to Threads is limited to smartphones. It is essentially a mobile application that doesn't have a web version. Indeed, there is an official website (

Threads.net

). But, it redirects users to the App Store or Play Store to download the mobile application.

Threads doesn't have a direct messaging or DM feature! The absence of a DM feature makes it inferior to Twitter as the latter has excellent DM capabilities.

Threads doesn't have hashtag support. Hashtags are widely used across social media platforms as these help with content discovery and branding. But, we are certain that Threads will allow users to implement their hashtag strategies soon, given how users on other social media platforms owned by Meta use them extensively.

The videos and pictures users attach to their Threads cannot be optimized. In other words, one cannot customize the alt text or alternative text for them. This can create a major accessibility issue for visually impaired users. Indeed, it creates a computer-generated alt text. But, it's not helpful for users that depend on screen readers.

It's confusing why the creators of Threads didn't include an Explore or Trending page on the social media app. The trending topics feature on Twitter is an excellent way for users to discover trending news and discussions. The trending page often sets the tone of discussion on the Internet.

What about advertisements? Well, Twitter runs them like their life depends on it. It's a little annoying to see so many ads on the platform, for real. Threads currently doesn't have any plans to include advertisements, which is why its interface looks cleaner and more aesthetic. The ad-free experience is worth it.

Twitter allows users to embed posts on third-party sites like a blog. Threads, unfortunately, does not. It does allow users to copy links to the Thread. However, the link doesn't help embed the Thread on websites and blogs.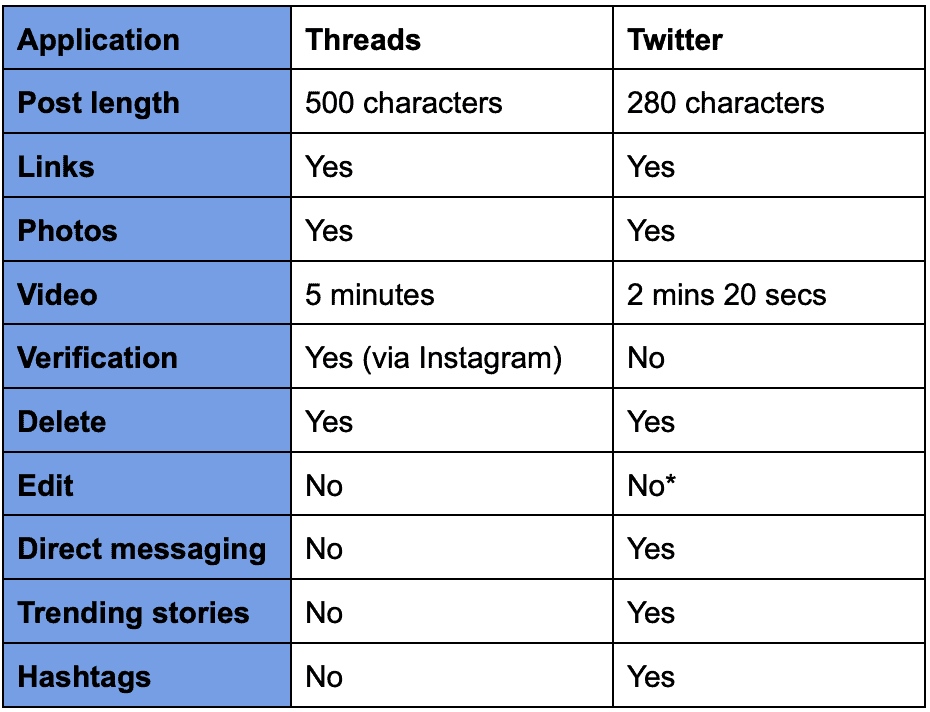 There are several other minor differences between the two text-based social media platforms. But, we'll let them go as Threads is still working its way up from the bottom.
What are the Threads' major features?
Threads and Twitter are very different from each other although both are text-based social media apps. But, Threads does have certain unique features that are worth a brief discussion. Here are some major features of Threads, an Instagram app.
All you need to sign in on Threads is an Instagram account. You can simply use any of your Instagram accounts to start building a Threads profile. When you do that, Threads will automatically import your username and verification while allowing Threads-specific profile customization. Users that are under 16 or under 18 are defaulted into a private profile on Threads. The posts on Threads can be up to 500 characters long which gives users ample room to share. The posts can include photos, videos, and links as well.
2. Better privacy and safety
The team behind Threads visions users having positive, productive conversations on the new social media platform. To achieve that, users are allowed control over who can mention them or reply to them within the app. The "Hidden words" feature is active on Threads and helps users filter out replies with certain words. The accounts users have blocked on Instagram will automatically be blocked on Threads as well. Meta's community guidelines on content and interactions are applied to Threads. 
3. Will be an interoperable social media platform
The Threads team is working aggressively toward making the new social media app compatible with ActivityPub, which is an open social networking protocol developed by the World Wide Web Consortium or the W3C. This is done to make sure Threads is interoperable with other apps like Mastodon and WordPress that are compatible with the ActivityPub protocol.
How to download Threads, an Instagram App?
Now that you are well-acquainted with what Threads has to offer, it's time we dive deeper and learn how it actually works. We will walk you through the social media app and make sure every aspect of the initial version of the application is successfully covered. Let's get started, shall we?
So, how can we download Threads, an Instagram App? Well, there are several ways to do it. Let's discuss all of them.
1. Downloading Threads using App Store
You can download Threads by manually searching for the application on the App Store. Here's how you can do it.
Step 1: Open the App Store application on your iPhone.
Step 2: Tap on the Search button at the bottom right corner.
Step 3: On the Search bar at the top, start typing "Threads, an Instagram App."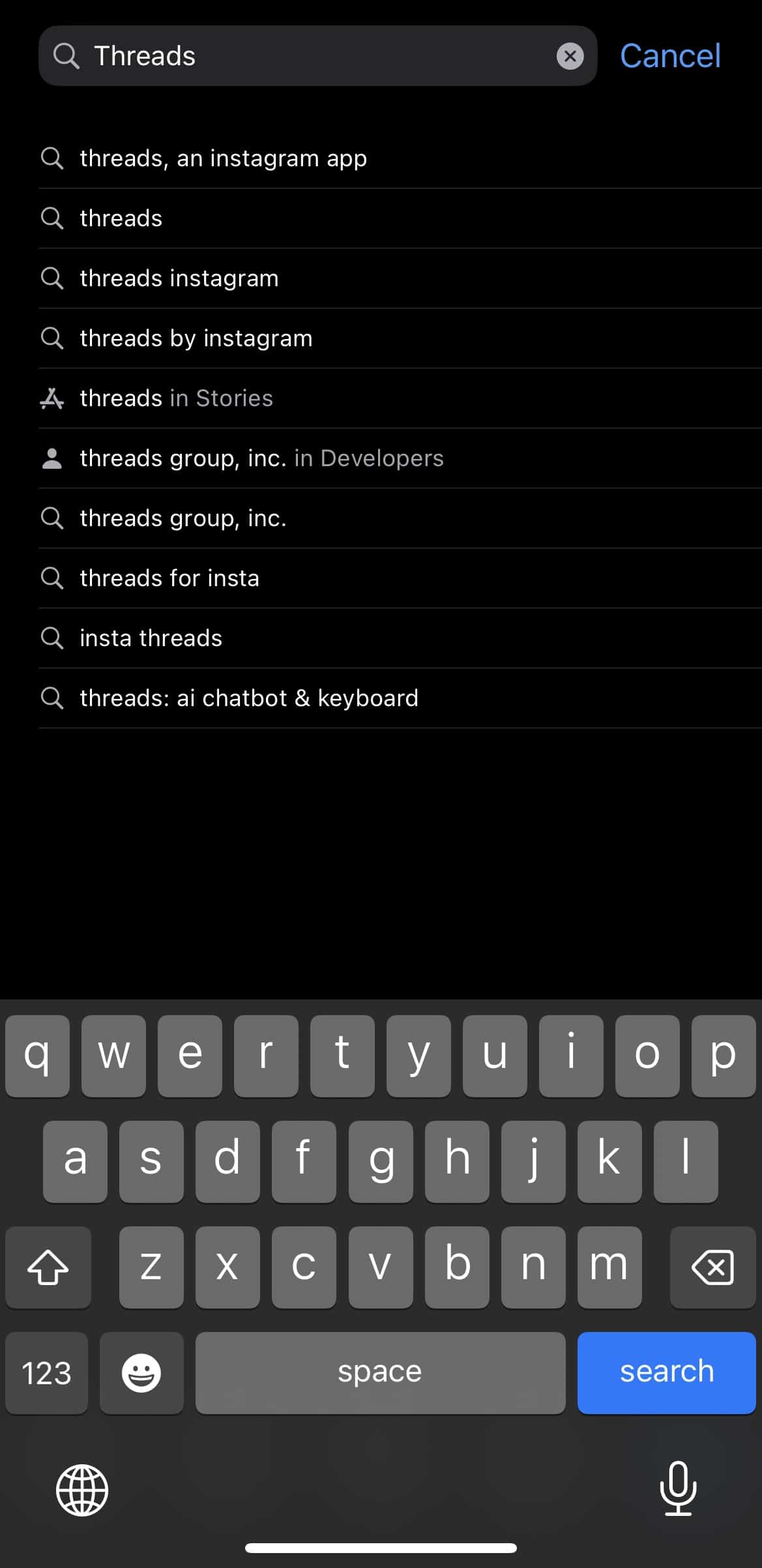 Step 4: Choose the right option from the list of suggestions.
Step 5: Now you will see the "Threads, an Instagram app" application on the screen. If not, you might need to scroll down to find the app.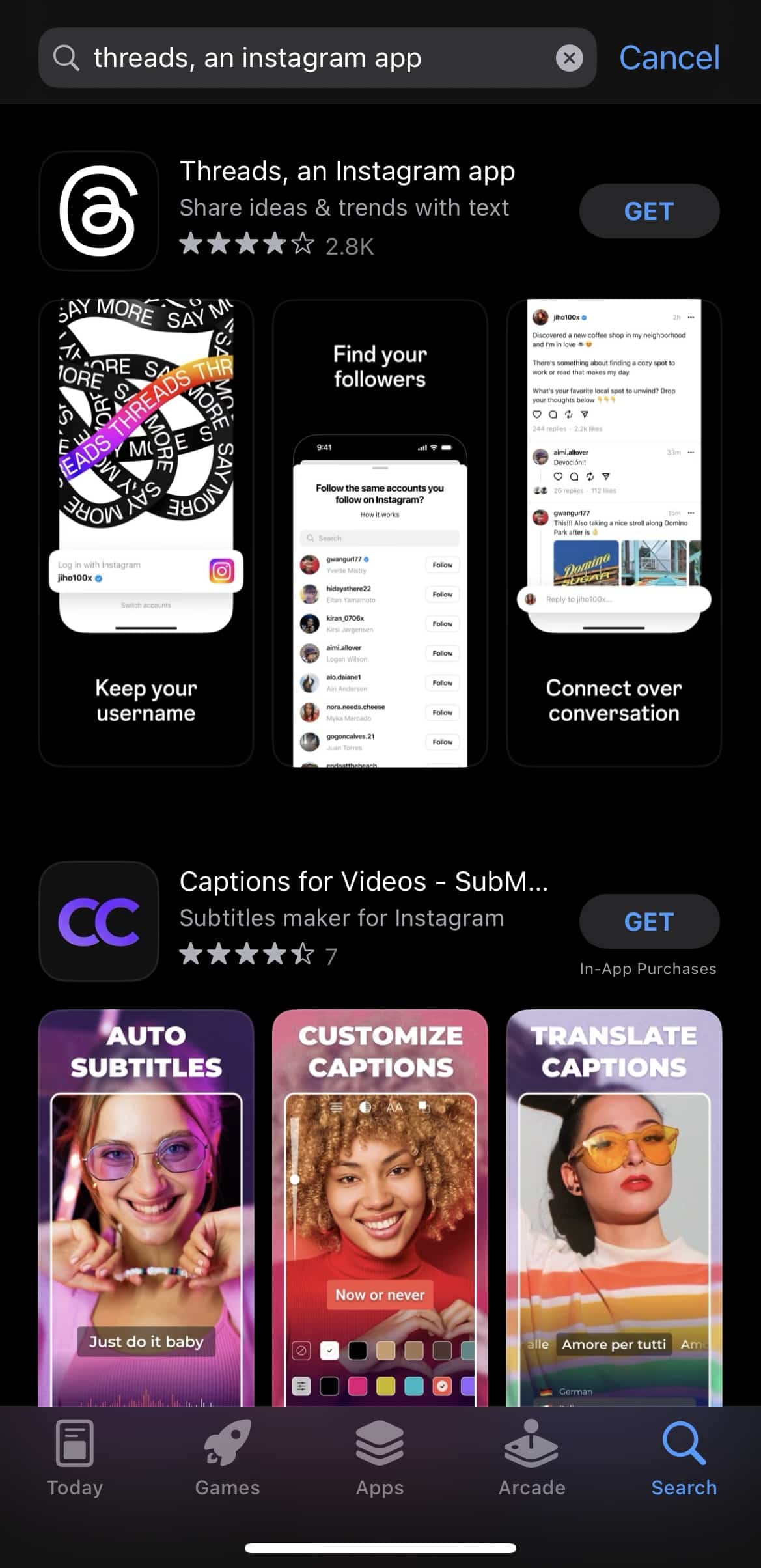 Step 6: Click on the app to learn more about it. Now tap on "Get" to install Threads, an Instagram app on your iPhone.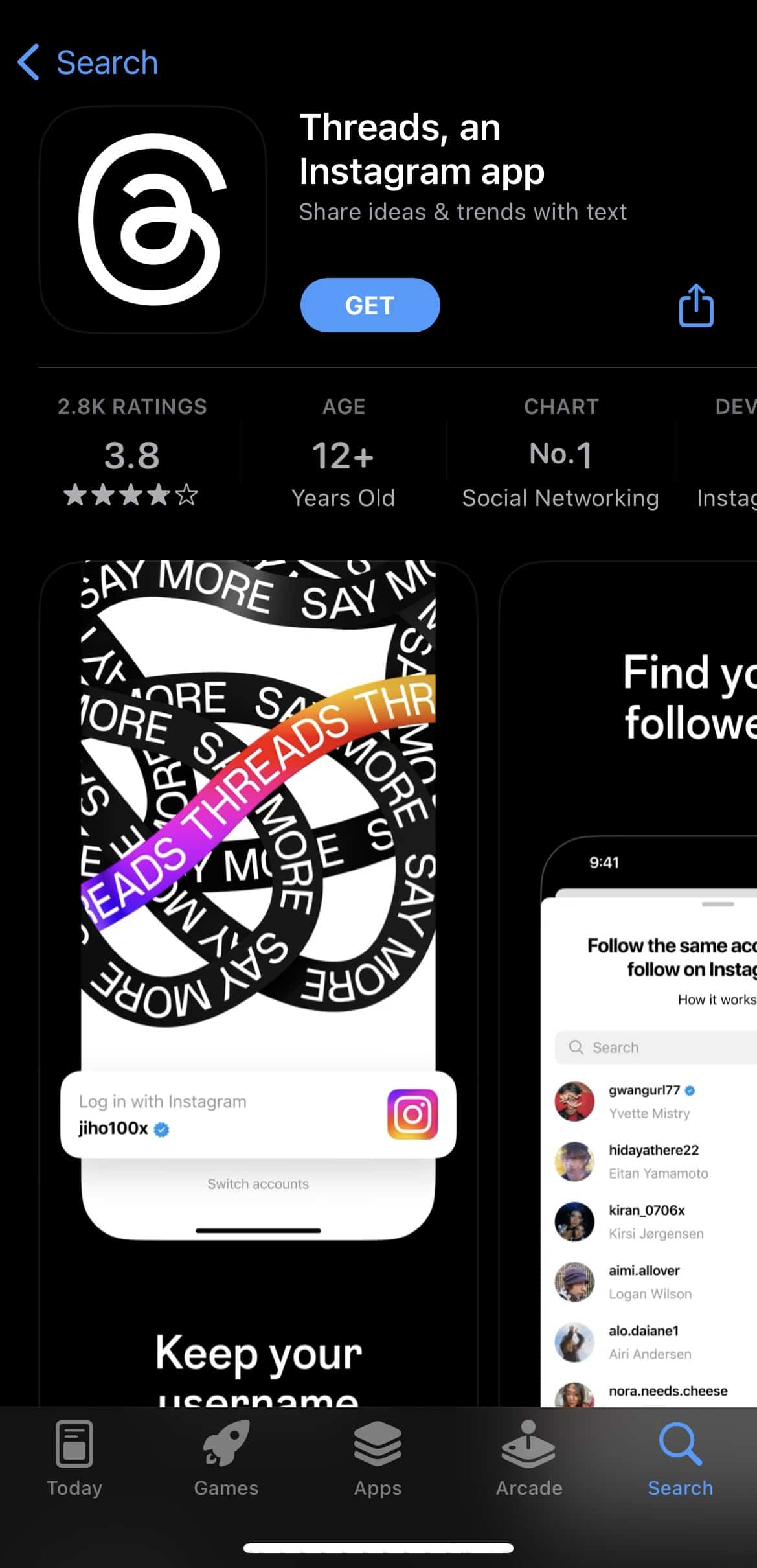 2. Downloading Threads through Instagram
Are you an Instagram user already? Well, you can skip all the above steps and simply use the application to download Threads! Wonder how it's done? Just follow these simple steps, will ya?
Step 1: Open Instagram on your phone.
Step 2: Tap on the profile tab to access your page.
Step 3: Now on the top right corner of the screen, you'll see the "burger button" or the "menu button." Tap on it to see the following screen.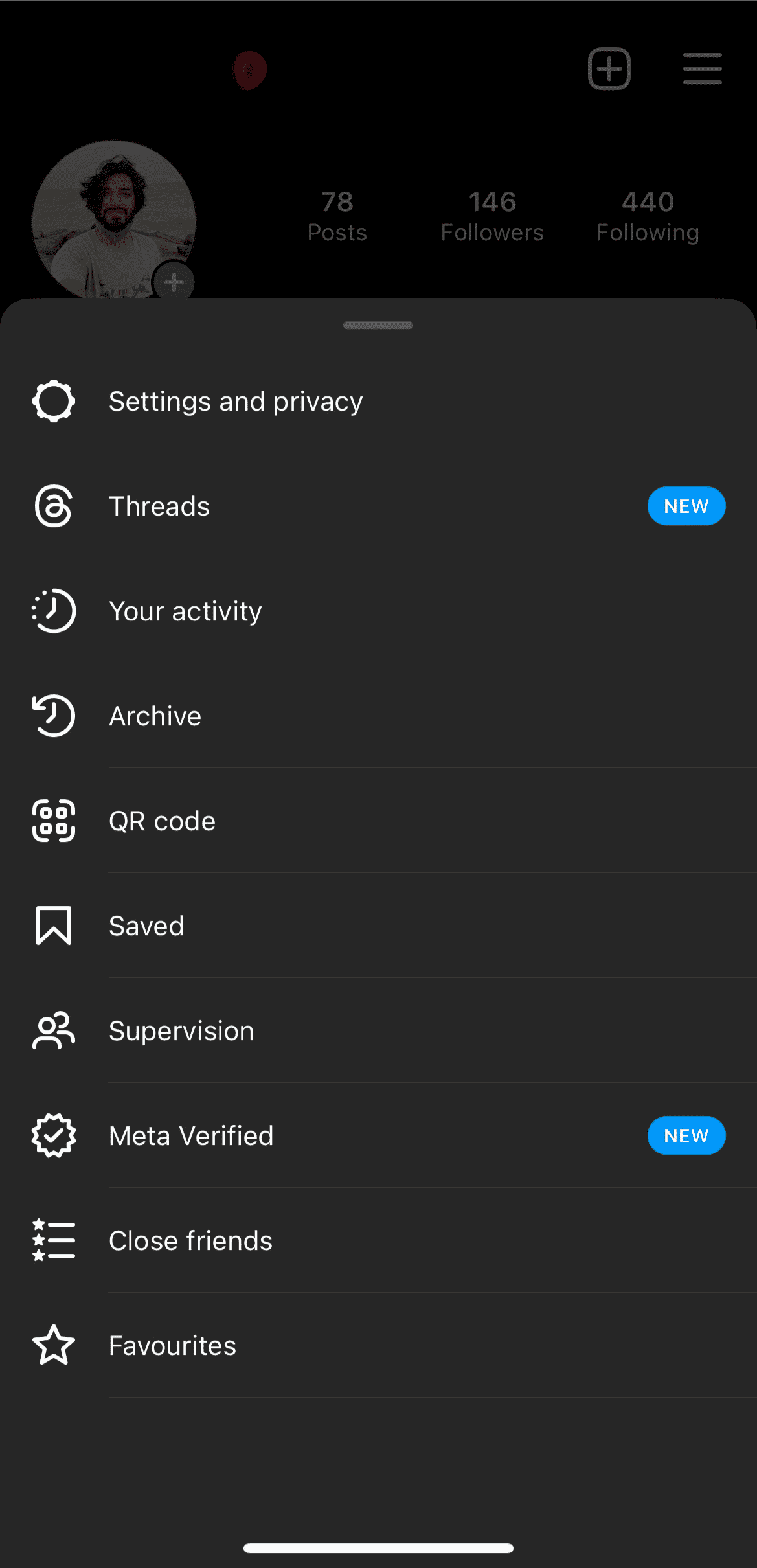 Step 4: Do you see the new "Threads" option below Settings and Privacy? Tap on it.
Step 5: Instagram will now show an invitation placard with the Threads logo on one side and your details (date and time of invitation, username, and a QR code) on the other.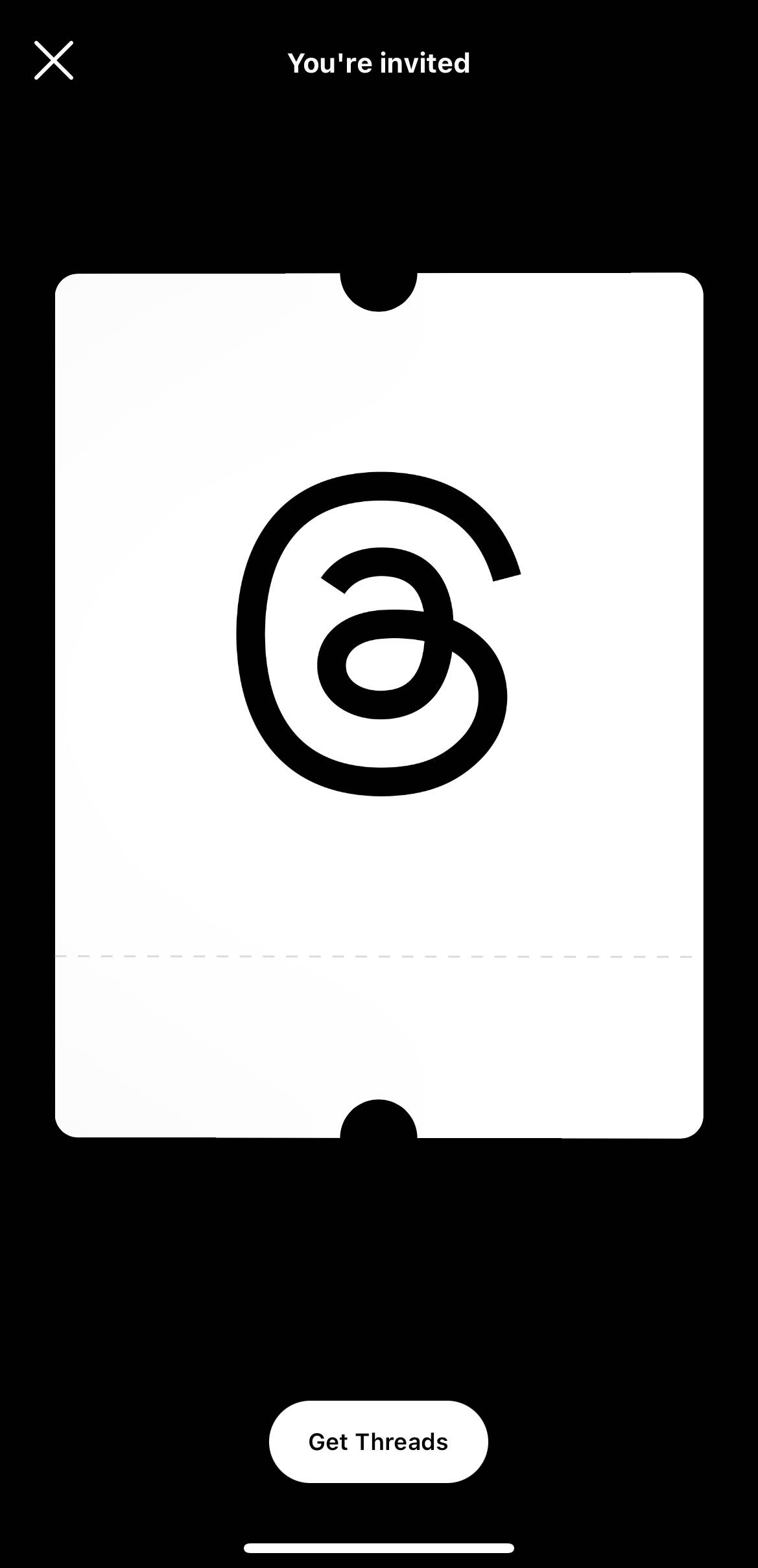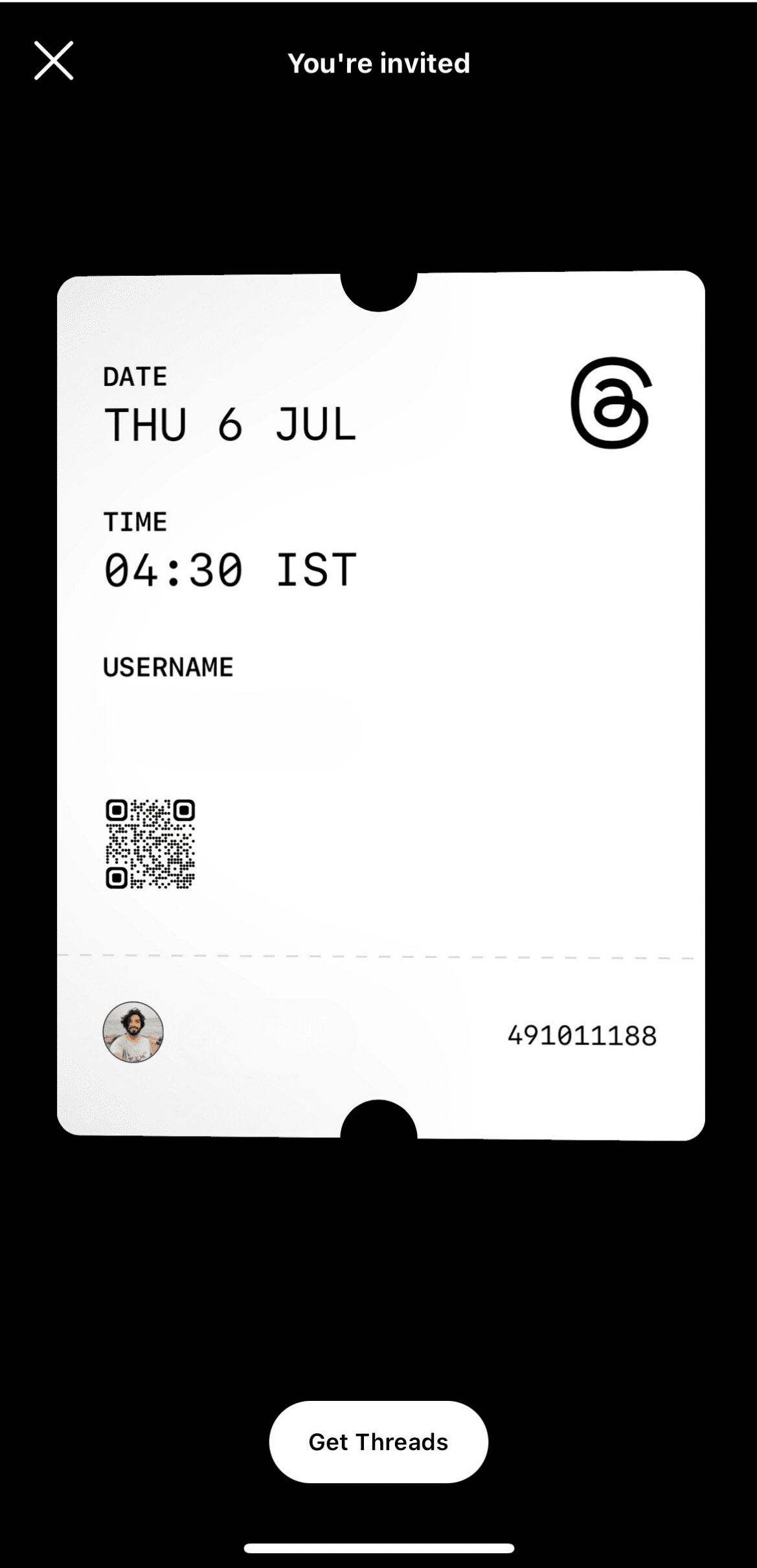 Step 6: Below the placard, there is a "Get Threads" button. When you tap on it, Instagram will take you directly to the "Threads, an Instagram app" page on the App Store. Simply download the app as we did before!
The idea of giving users a way to download the app from Instagram itself was to enable a smooth transition and encourage more and more sign-ups for the new app. Worked like magic, didn't it?
How to sign into Threads, an Instagram App?
Congratulations! You have successfully downloaded Threads on your phone! It's time we learn how to use it. We highly recommend you follow these easy-to-follow steps and quickly start using Threads, an Instagram app on your phone. Let's jump right in!
Step 1: Search for and open Threads, an Instagram app on your smartphone.
Step 2: Upon opening the social media app, you will be greeted with this opening screen. The words on the ribbons say "Threads" and "Say More."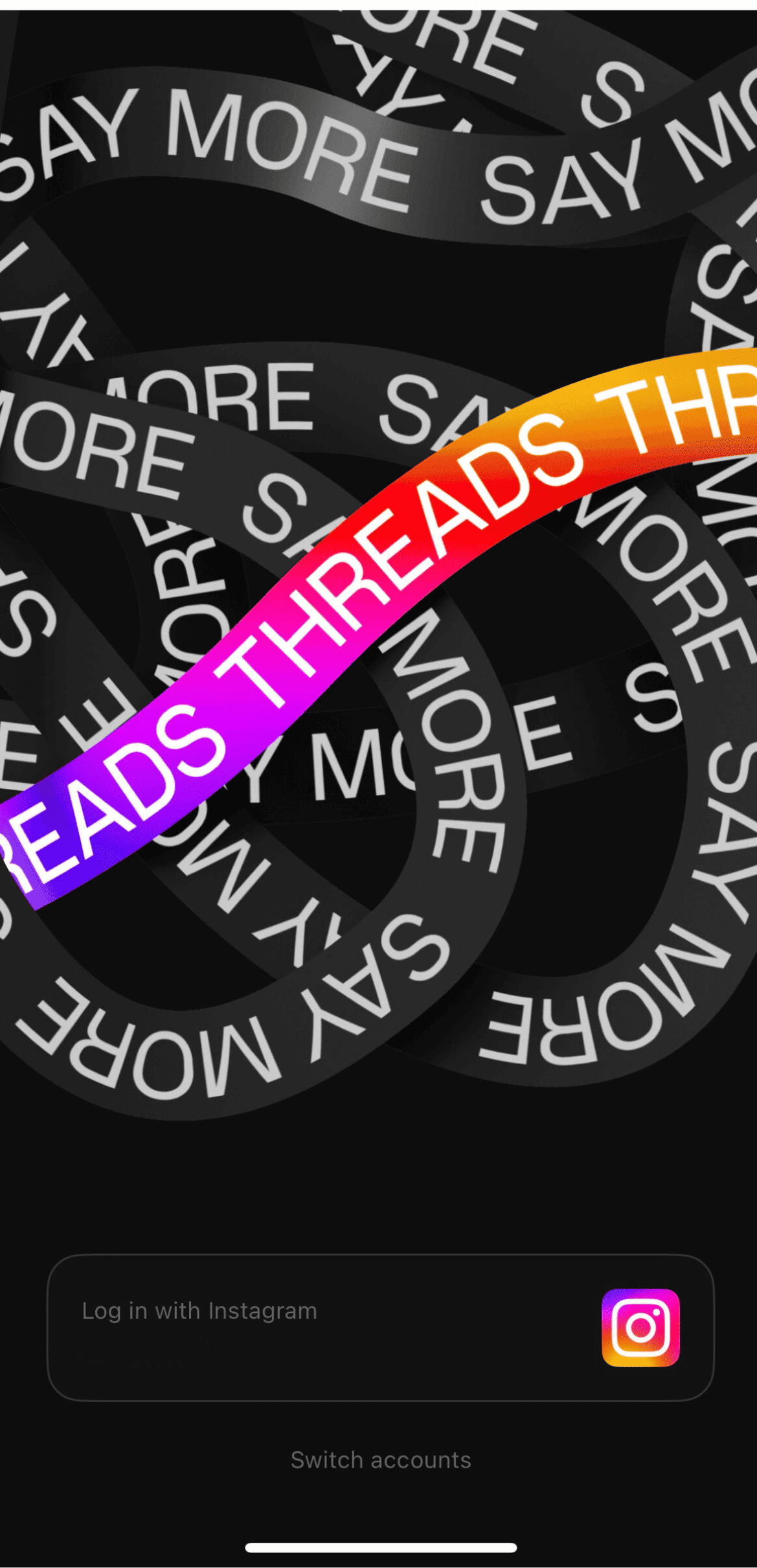 Step 3: Assuming you are an Instagram user, the application will ask you to "Log in with Instagram." It will show the most recent Instagram account that you were using and suggest you sign in with that account. At the bottom, you can see the "Switch accounts" option. You may use that to sign in with a different Instagram account. Either way, you will have to choose an Instagram account to move forward. Once you choose the right account, tap on the "Log in with Instagram" button.
Step 4: You have successfully signed into Threads. Now the app will ask you to build your profile. The app asks users to enter their Name, Picture, Bio, and Link. To make this quick, Threads allow users to import their Instagram profile. To import, you can click on the "Import from Instagram" button.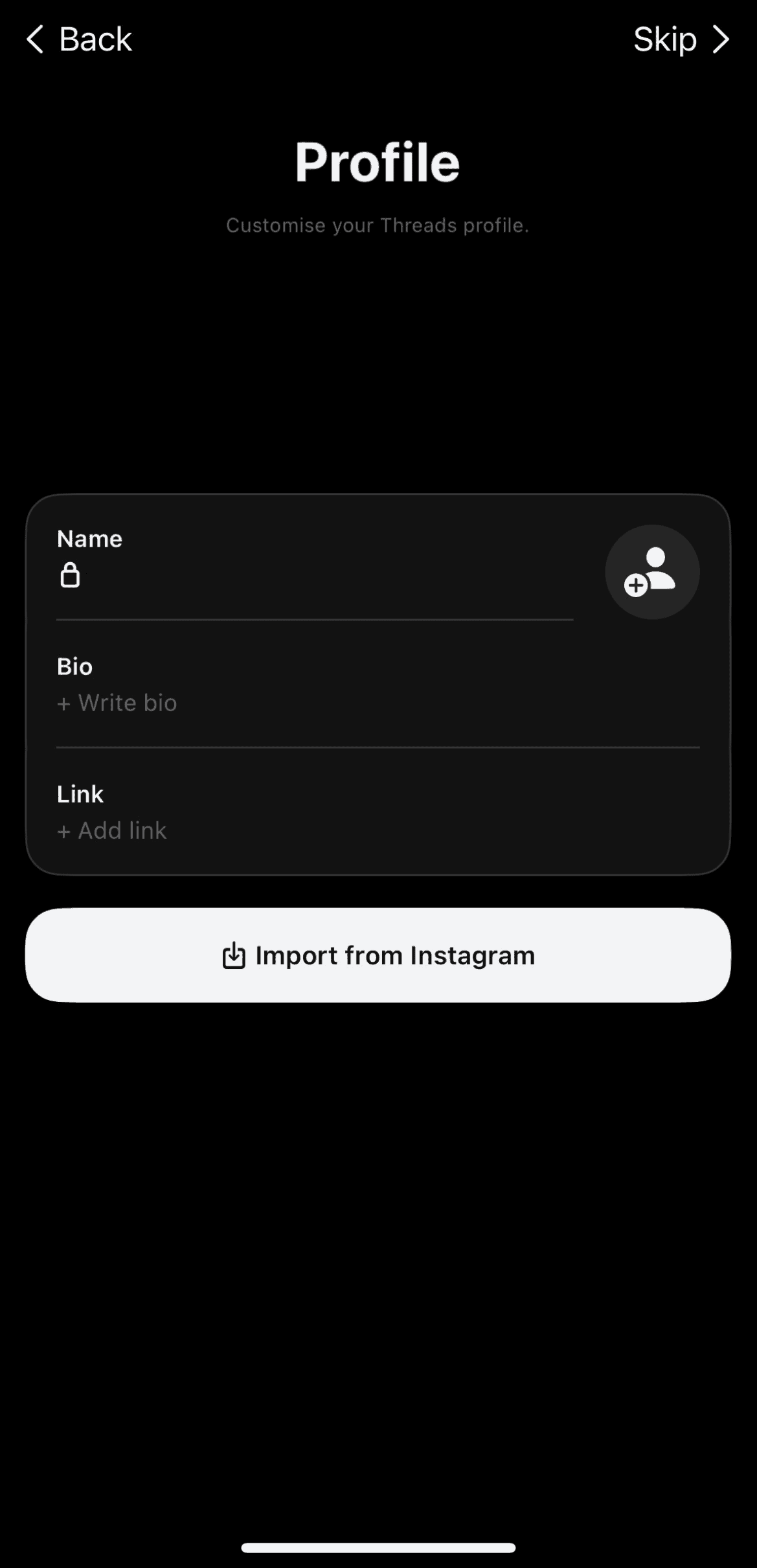 Step 5: Upon clicking the "Import from Instagram" button, Threads will automatically fetch the details from your Instagram account and fill in the details for you. If you didn't like what the bio or link says, you can make changes on the screen itself. In case you decided to make changes to your Instagram profile while signing up for Threads, you can simply tap on the "Reimport" button to automatically make the changes on the new app!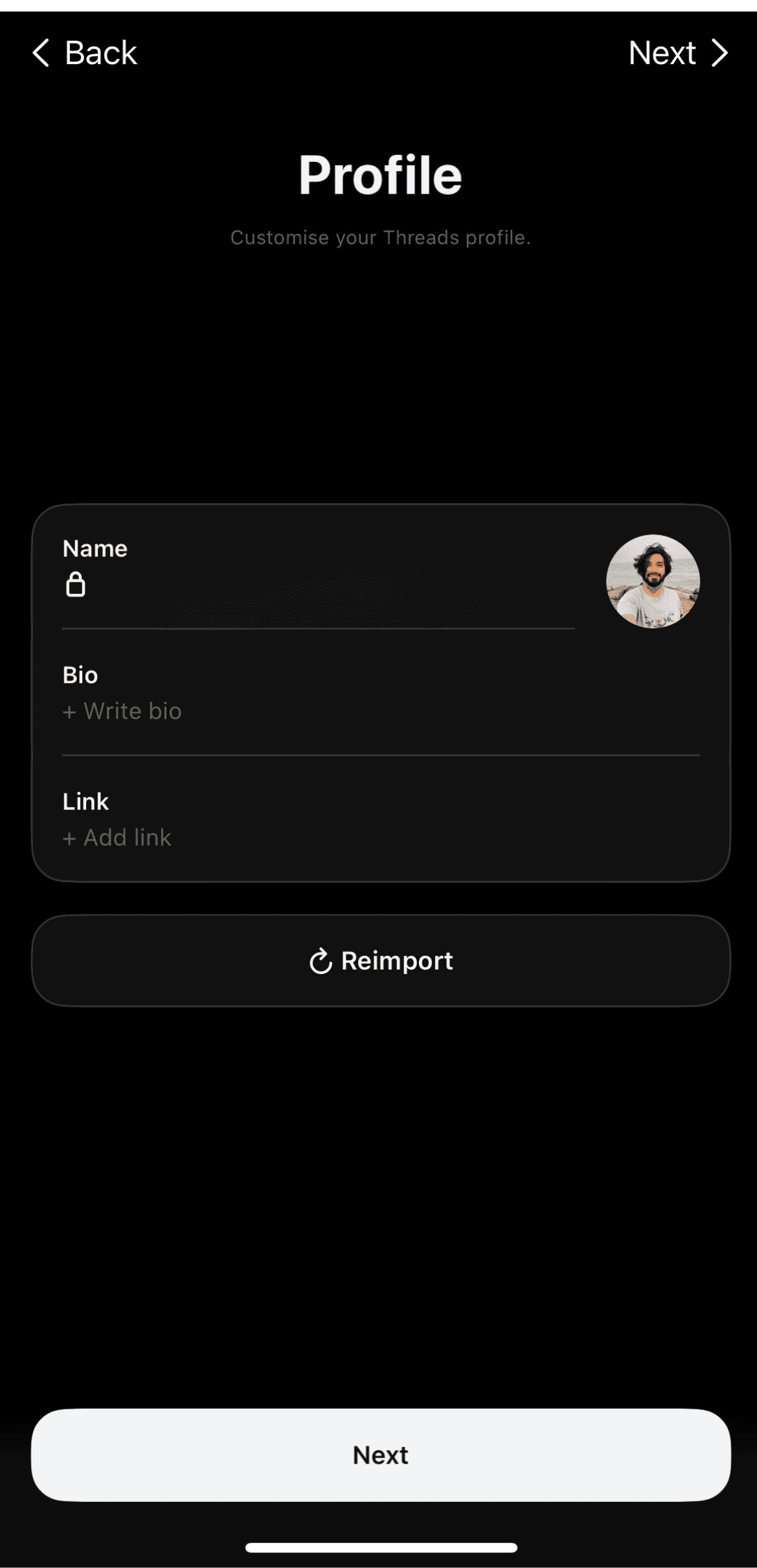 Step 6: Once you are satisfied with the profile details, hit the "Next" button on the bottom or on the top right corner of the screen.
Step 7: The next step to building your profile on Threads is to choose which kind of account you'd like to have — 1) Public profile, where anyone on or off Threads can see, share, and interact with your content, or 2) Private profile, where only your approved followers can see and interact with your content. Remember, users can have different privacy settings on Threads and Instagram. So, you may choose what suits your purpose on Threads, and click on the "Next" button at the bottom.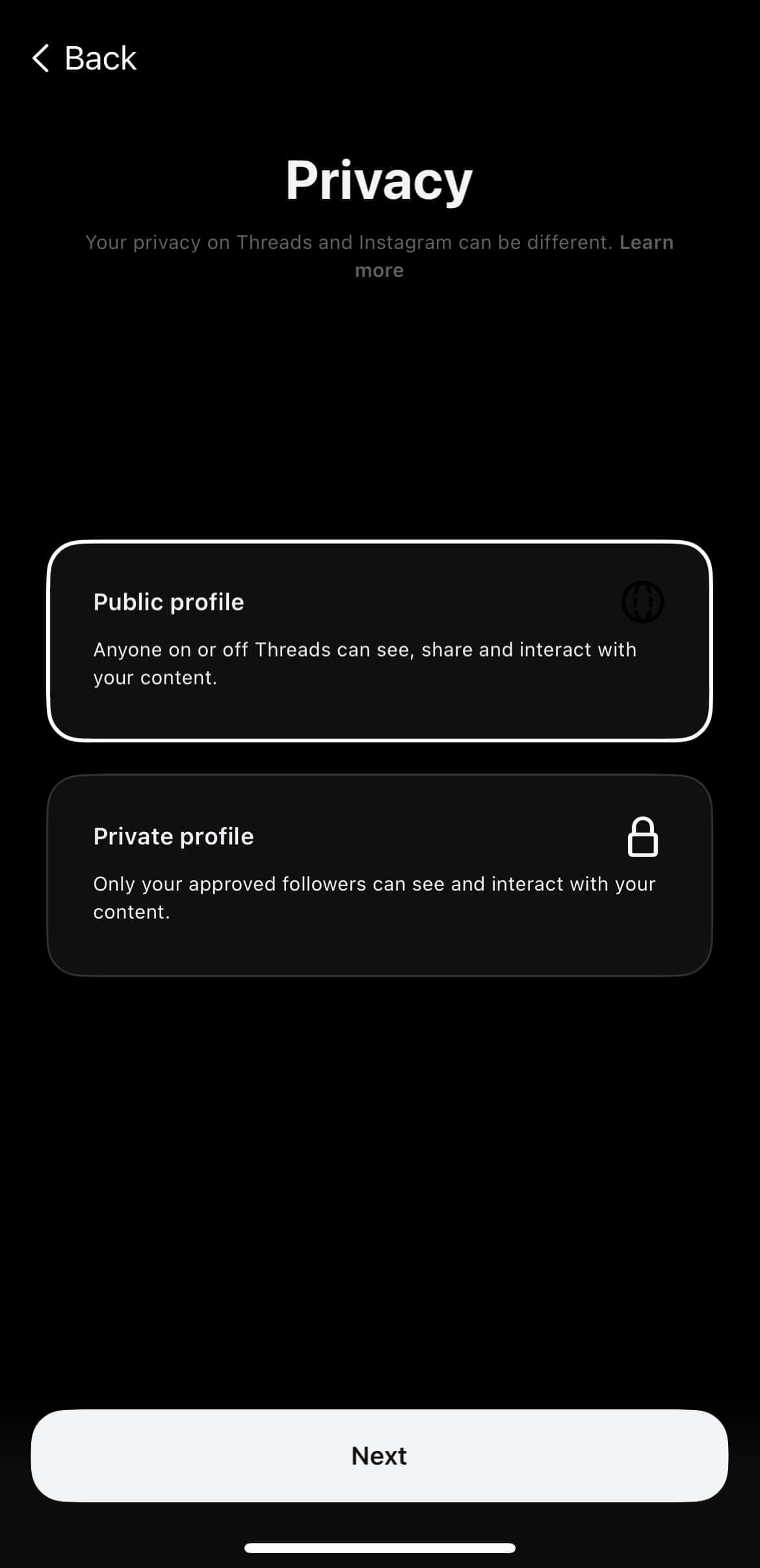 Step 8: Now Threads will ask you to make connections on the application. To do that, it asks if you want to follow the same account you follow on Instagram. You can use the Search bar on the screen to search for specific accounts you want to follow or simply tap on the "Follow" button against the accounts shown on the screen. If you find this task exhausting, don't worry, Threads has your back. Just tap on the "Follow All" button at the button and you are all set!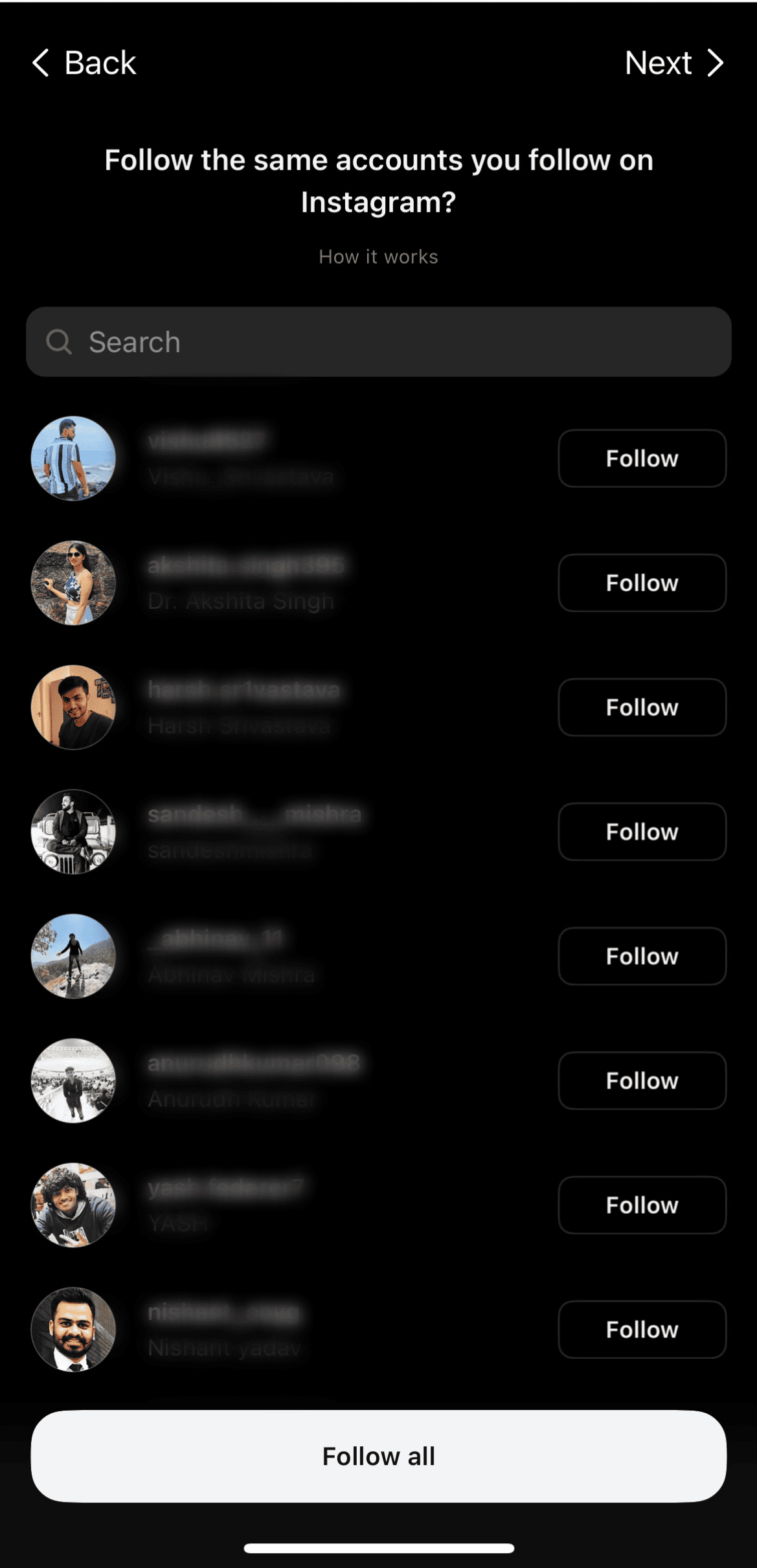 Step 9: We have arrived at the last step in the sign-in process. Upon making connections, you will see the screen that helps you learn more about "How Threads Works." It talks about how it is powered by Instagram and how the future versions of Threads will contribute to Meta's vision of building the "Fediverse" — a new type of social media network that allows people to follow and interact with each other on different platforms, like Mastodon. The screen also confirms that by joining Threads, you are agreeing to the Meta Terms and Threads Supplemental Terms and that you acknowledge to have read the Meta Privacy Policy and Threads Supplemental Privacy Policy. Well, the usual stuff. Once you are satisfied, tap on the "Join Threads" button at the bottom. Voila! You are officially on Threads, an Instagram app!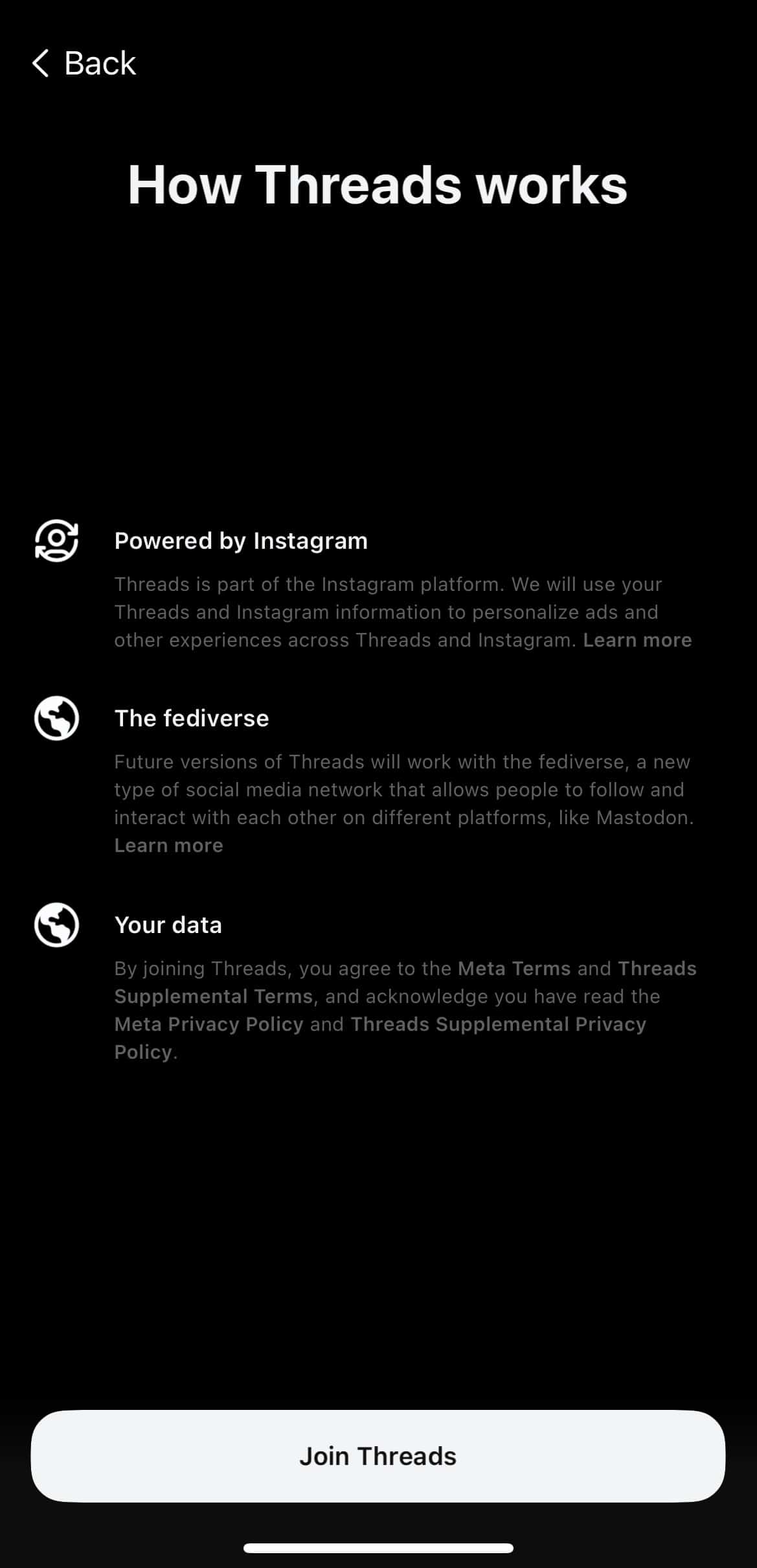 Step 10: Once you are in, you will be asked to set the notifications and tracking settings for the social media app.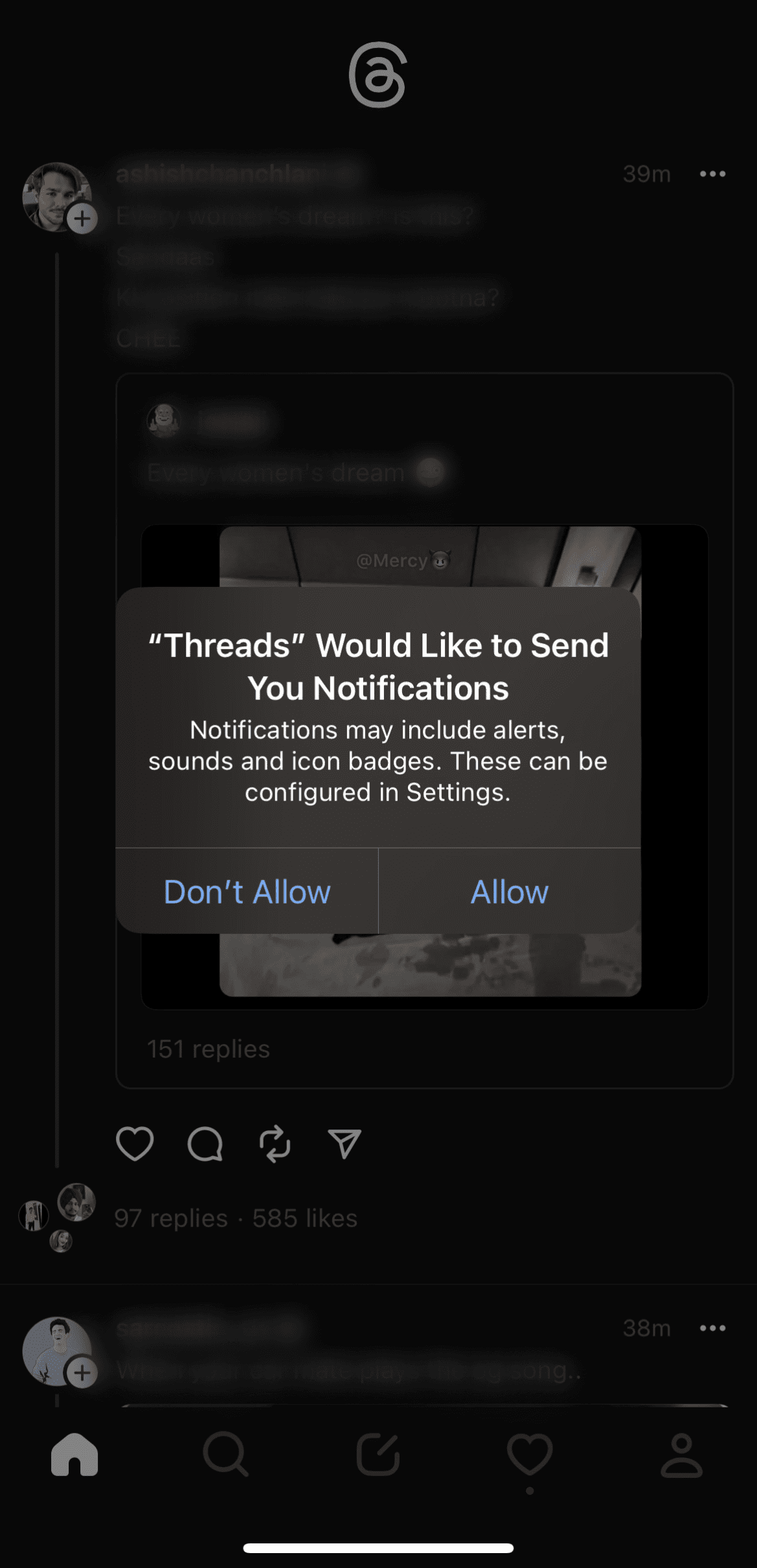 Finally, you can scroll through the "Feed" and here's how it looks —
Understanding different tabs on Threads, an Instagram App
Everything on the Threads app is now set. You can go ahead and explore the social media app. Regardless, we are here to help you understand the user interface of the app. There are five different tabs on the initial version of Threads — 1) Home, 2) Search, 3) New Thread, 4) Activity, and 4) Profile. Let's walk through each of the tabs to understand how to make the most of them, shall we?
The "Home" is the first tab on Threads and just like Instagram, it shows posts from the accounts you follow and the ones recommended by the app. It not only shows the posts but also gives suggestions for accounts users must follow. In the future, the home tab will also showcase paid ads and sponsored posts.
Then we have the "Search" tab. This tab on the app is quite simple as it allows users to search for their favorite accounts by typing on the Search bar at the top. The tab also lists the top pages you can follow on Threads based on your activity on Instagram. However, it doesn't function like the "Explore" page that we are used to on Instagram.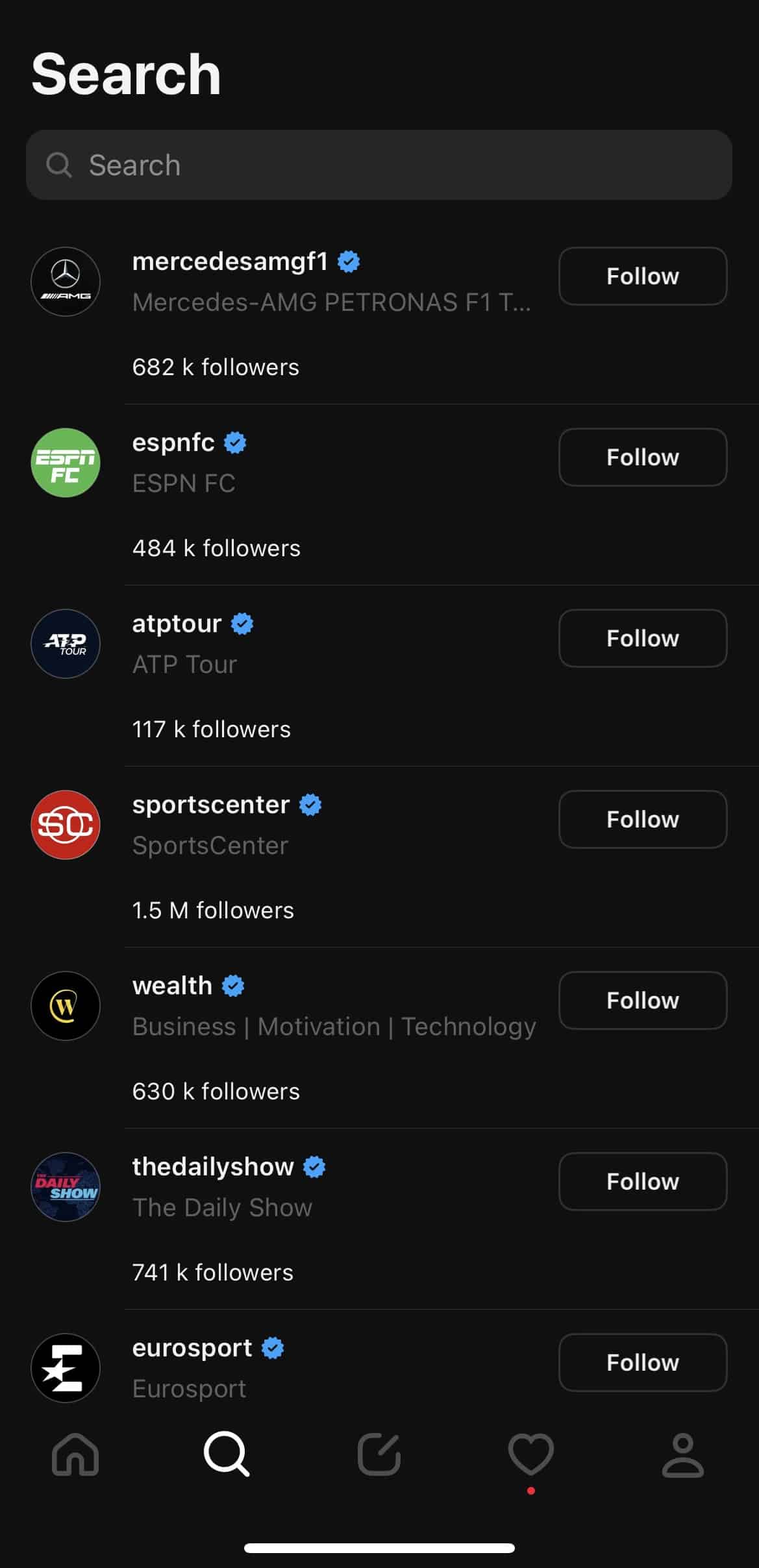 The "Activity" tab on the social media app simply mentions what you have been doing on it. The tab lists the threads you have been replying to and also shows threads where you have been mentioned. Not just that, it shows the accounts that have recently followed you on Threads. It will show follow requests, replies, and mentions. In other words, it helps you track your activities on the app.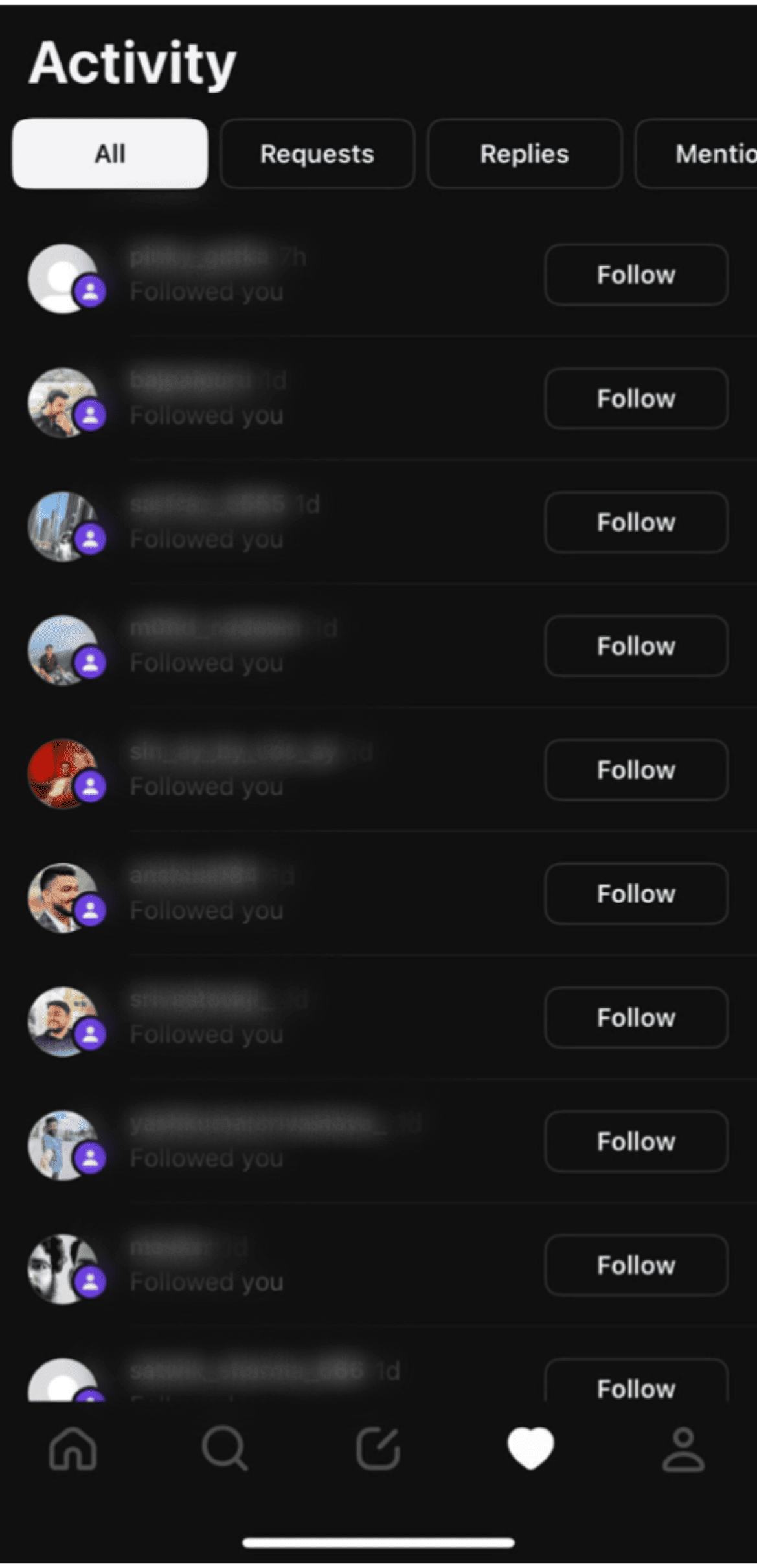 Just like Instagram and other social media apps, we have a "Profile" tab that gives you access and control of your account.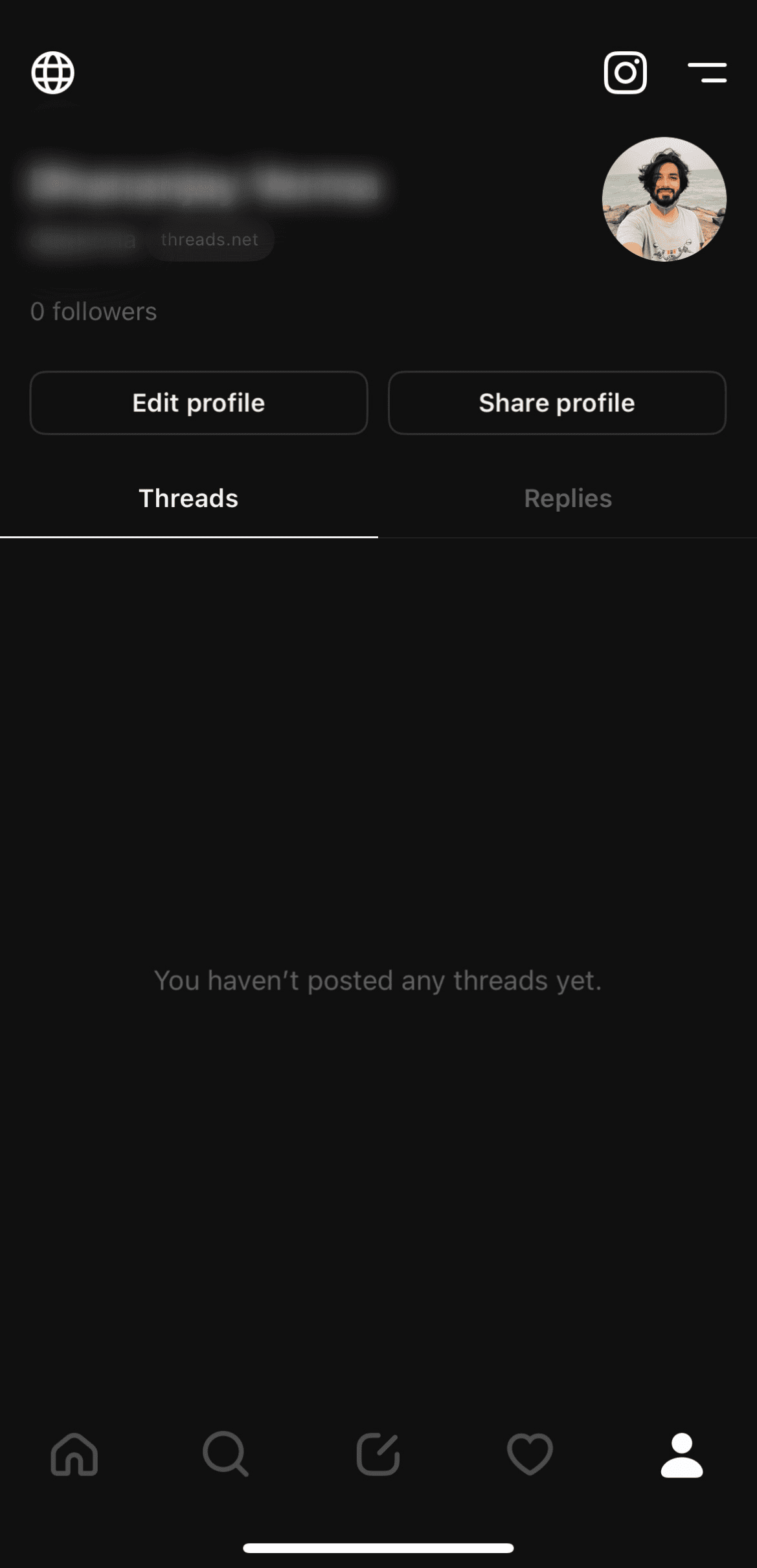 The profile tab on the app has several buttons and options that you should know about. Let's figure out what these different options on the Profile tab stand for.
Do you see a button on the top left corner of the screen on the Profile tab? It should look like a globe. Well, that's the "Privacy" button. When you click on it, Threads will open a screen where you can set your privacy preferences about making your profile public or private, regulate mentions, and check for muted accounts, hidden words, and profiles you follow. However, the privacy settings that apply to both Threads and Instagram have to be managed on Instagram.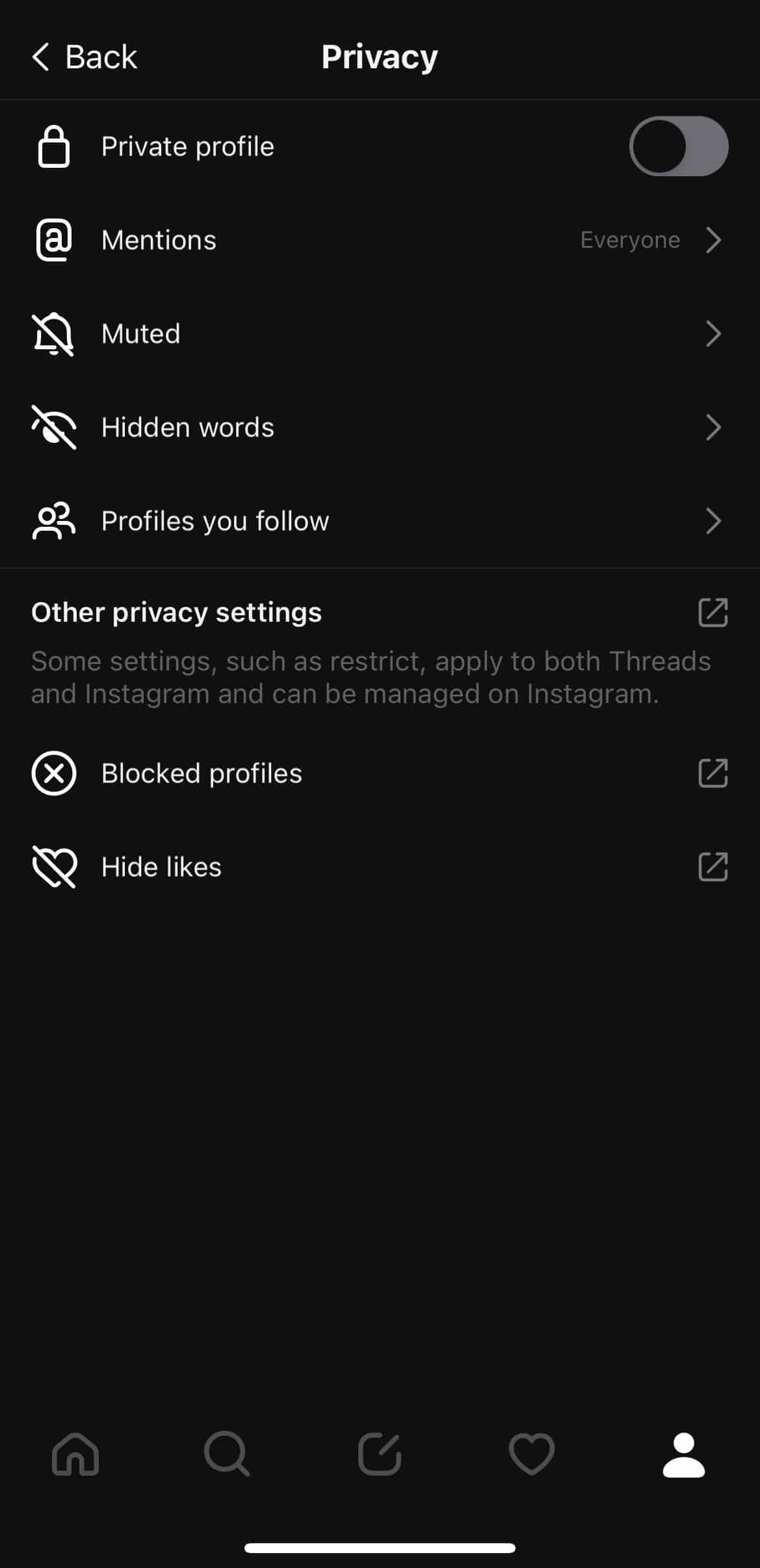 Just like you can move to Threads from Instagram, you can tap on the Instagram logo on the top of the profile tab to switch to Instagram and open the Instagram profile you have used to create a Threads account. That's all there is to that button.
At the top right corner of the Profile tab, you will see an icon with two short dashes. That icon is essentially the "Settings" button on Threads. Once you tap on the Settings button, you can access notifications, privacy, and account control.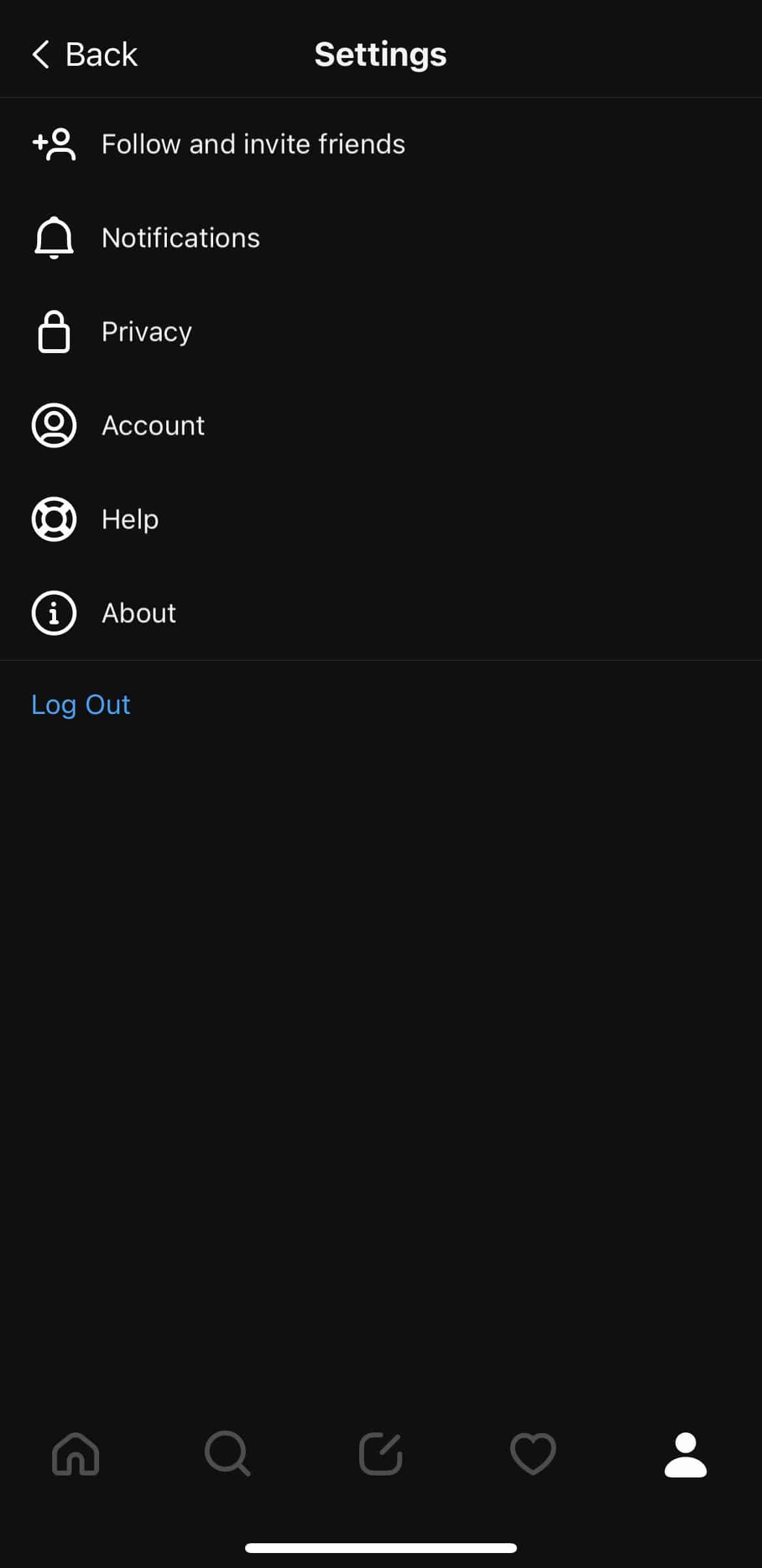 However, things get very interesting when you tap on the "Account" option. Here's what you see when you hit the "Account" button under "Settings."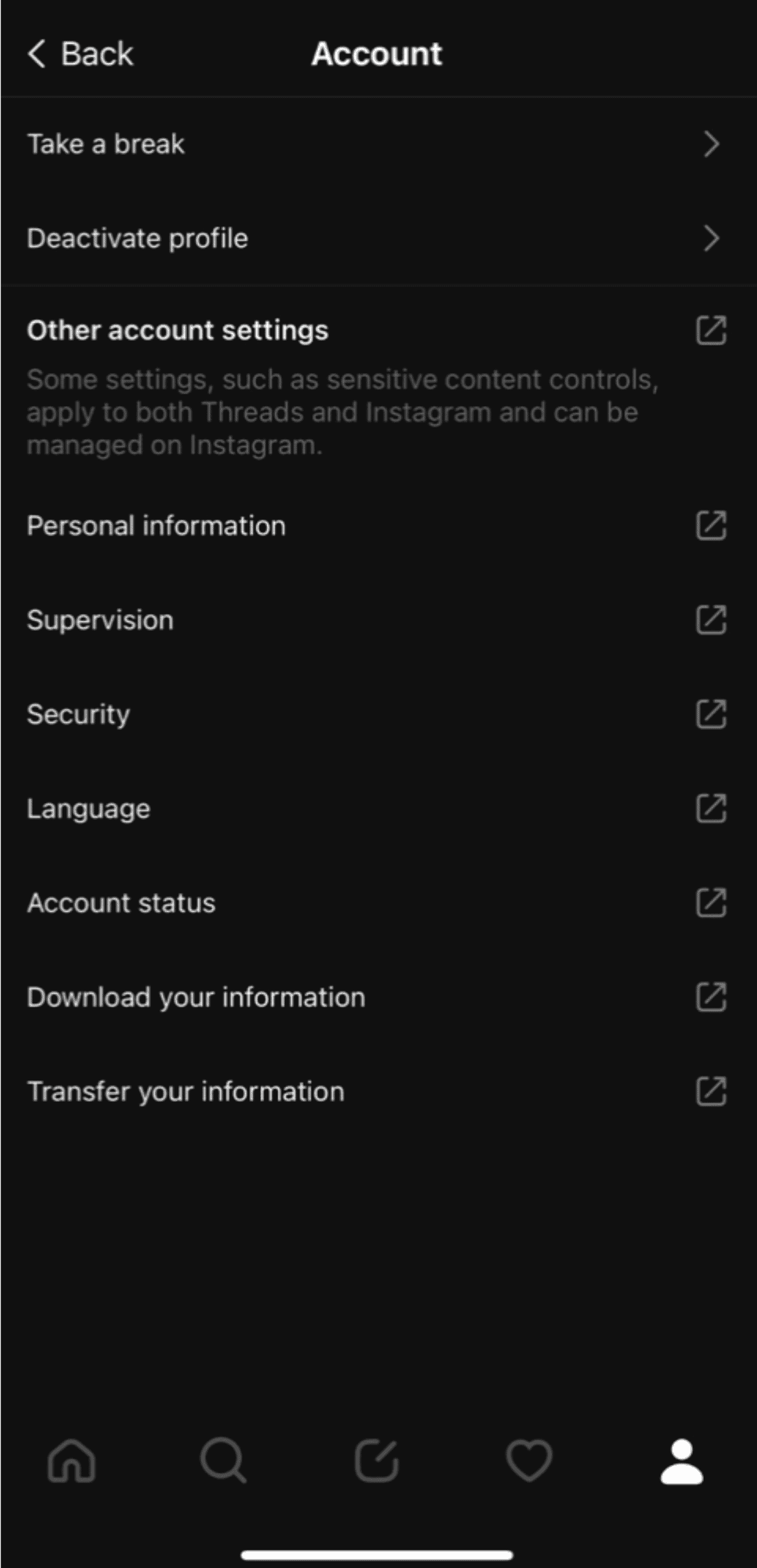 Under the "Account" option, you can set your preferences regarding personal information, supervision, security, language, and account status or even deactivate your profile. If you tap on "Deactivate profile," the following screen will show up —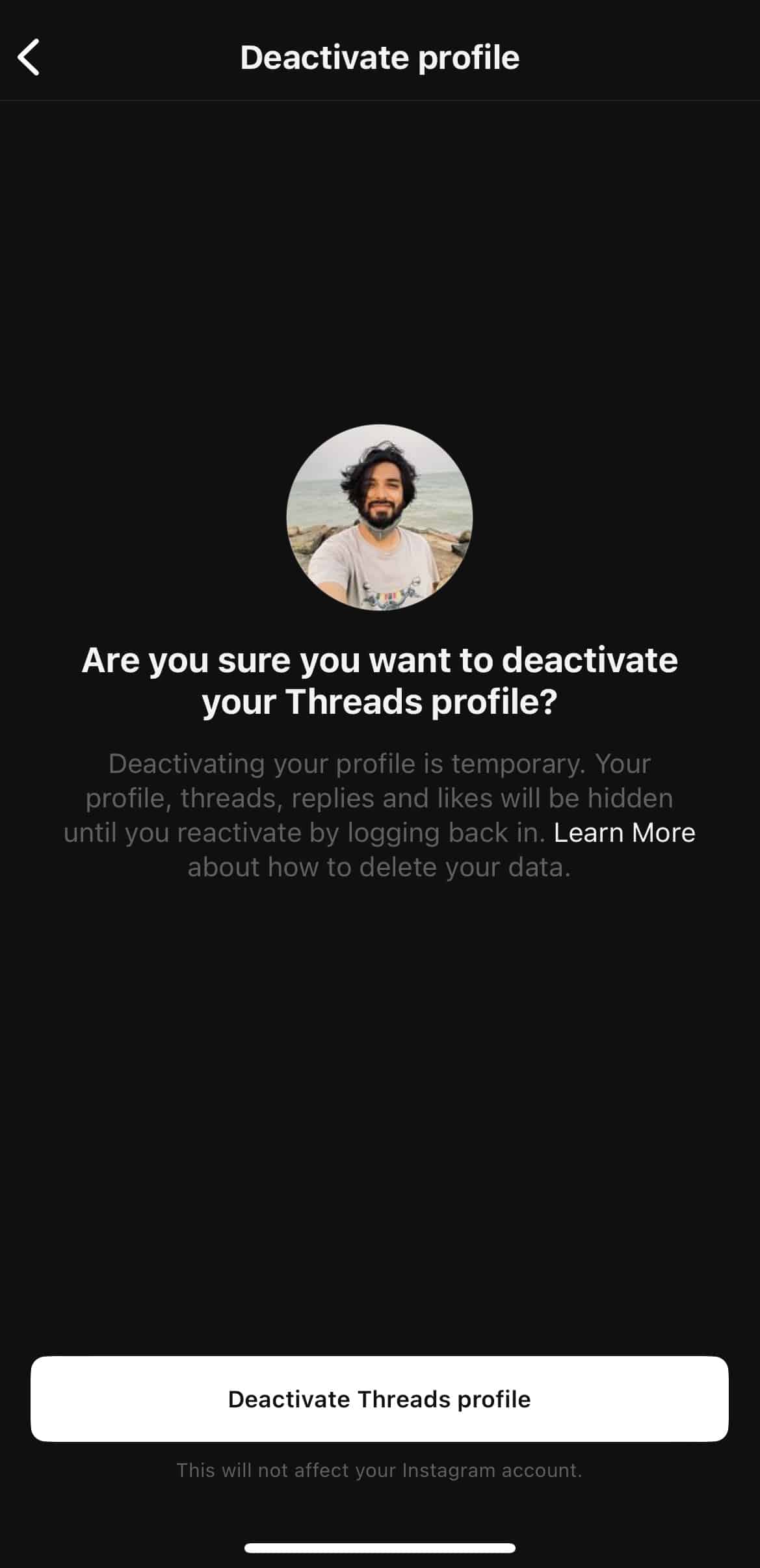 You can deactivate your current Threads account by tapping on the "Deactivate Threads profile" button at the bottom. 
But wait, do you see that "Take a break" option? Well, Threads allow users to set timers to regulate their exposure to the new social media app! Once users tap on "Take a break," the app will give them the following options to choose from —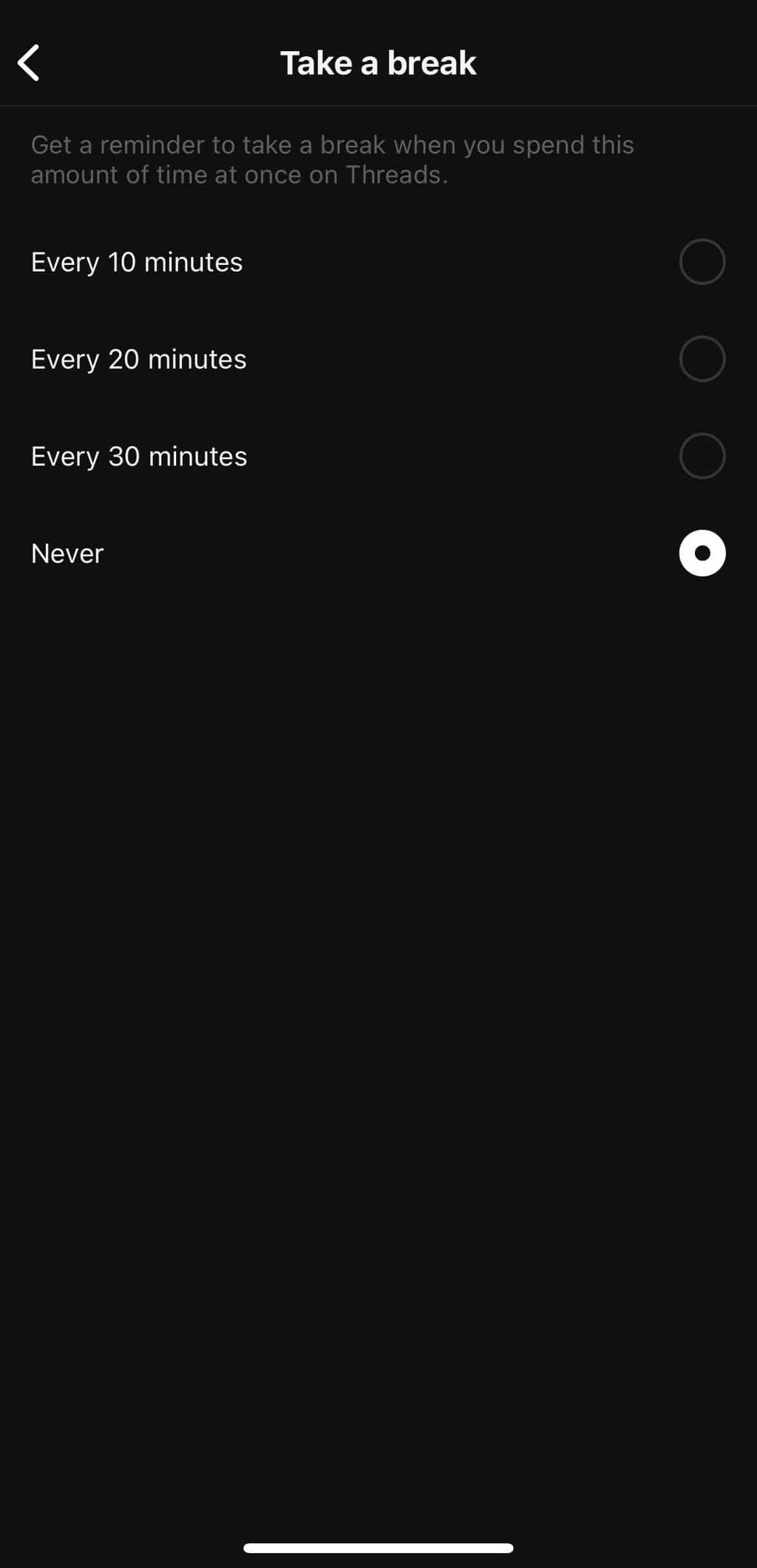 In other words, you can ask Threads to send a reminder to take a break after you have used the app for 10, 20, or 30 minutes. Or you can set it to "Never" and the app will not say a word.
Since the rest of the settings under the "Account" option are common on both Threads and Instagram, the app will take you to Instagram's settings tab to make the changes. Well, the move makes sense as Instagram is the parent app.
The "Edit profile" button on the Profile tab is simply to make changes to your profile. You can edit your name, bio, link, profile picture, and profile status upon tapping on "Edit profile."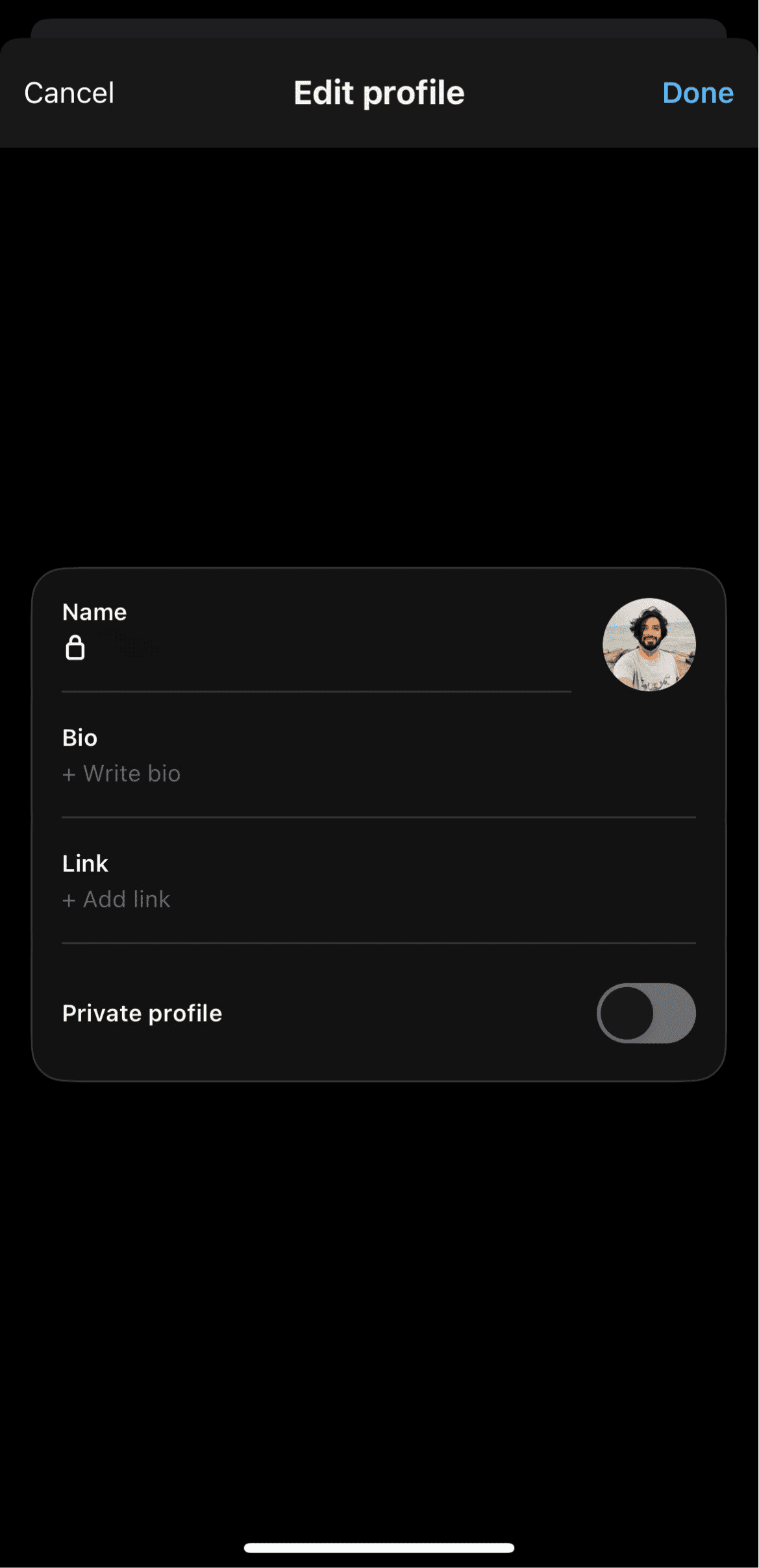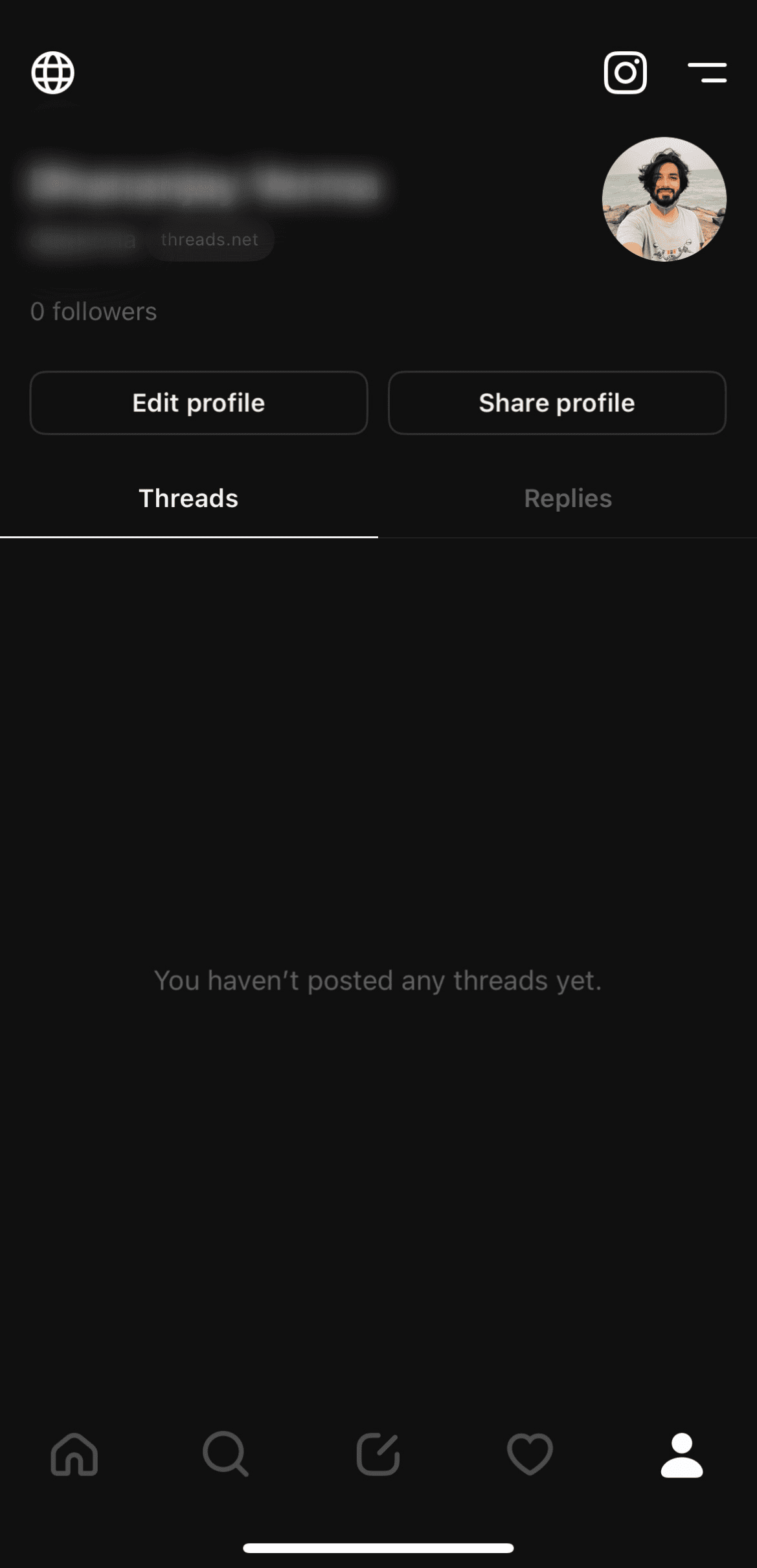 On the Profile tab, you will also see the big "Threads" tab which will show all your recent posts or Threads. We haven't posted anything yet, so it is blank at the moment. Stay with us as we will show you how to write a post on Threads. Then we'll come back to the Profile tab to see how it changed!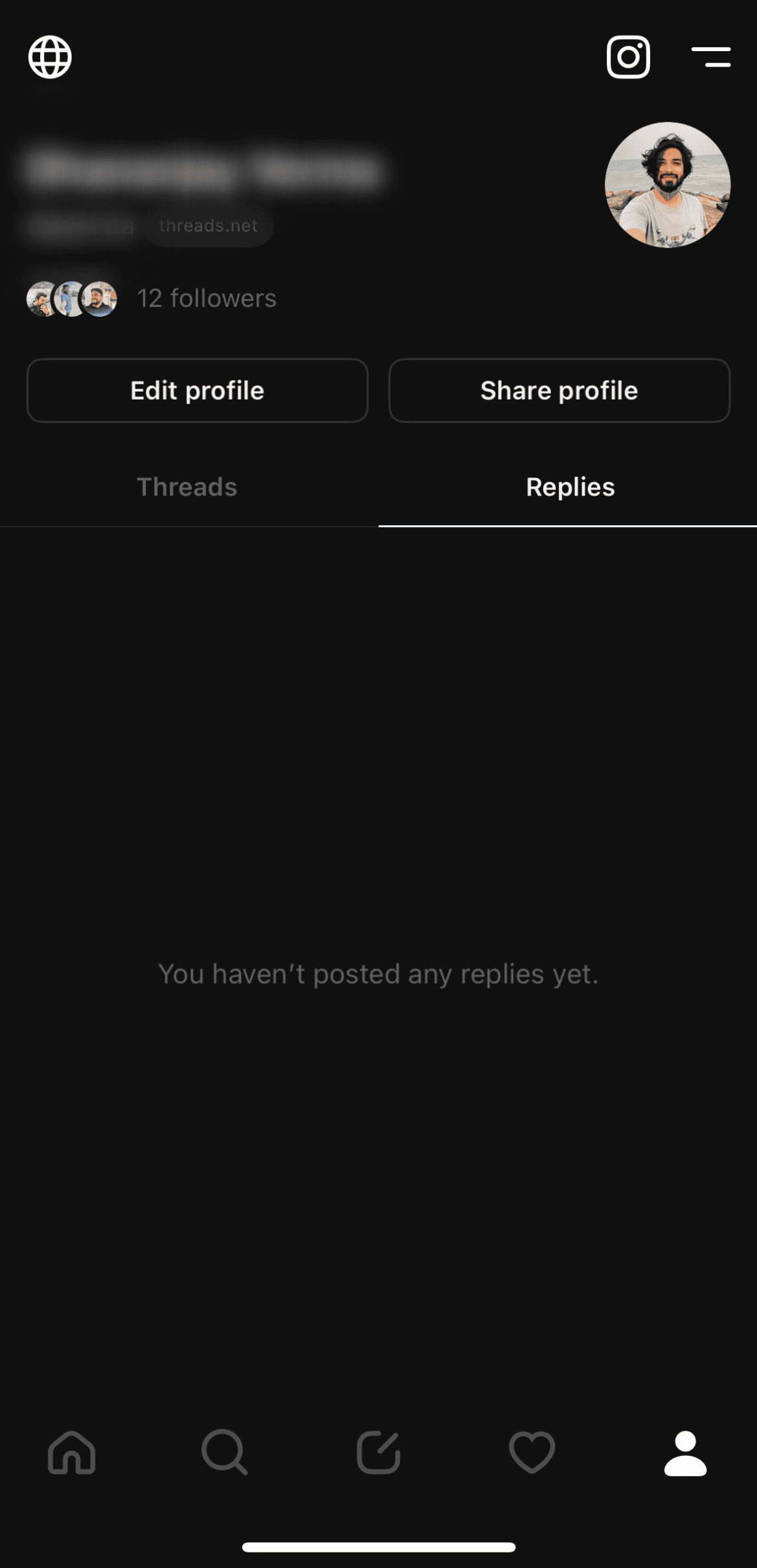 The "Replies" tab shows the Threads you have replied to. Currently, it doesn't show anything as we haven't interacted with any Thread as of now. Later in this guide, we will try replying to some Threads and see how the tab changes. 
How to create a post on Threads, an Instagram App?
We have successfully walked through the app and understood all the options Threads has to offer. It's time we get cooking! Let's write our first Thread on this new social media application, shall we? Oh, this is so exciting!
Alright, in the earlier section, we mentioned how the Threads app has five main tabs. We discussed four of them because one was about creating a post or Thread. Here, we will show how you can post a Thread on your account. Let's dive in!
Step 1: Tap on the "New Thread" tab on the Threads app. It is the middle one at the bottom. The following screen appears.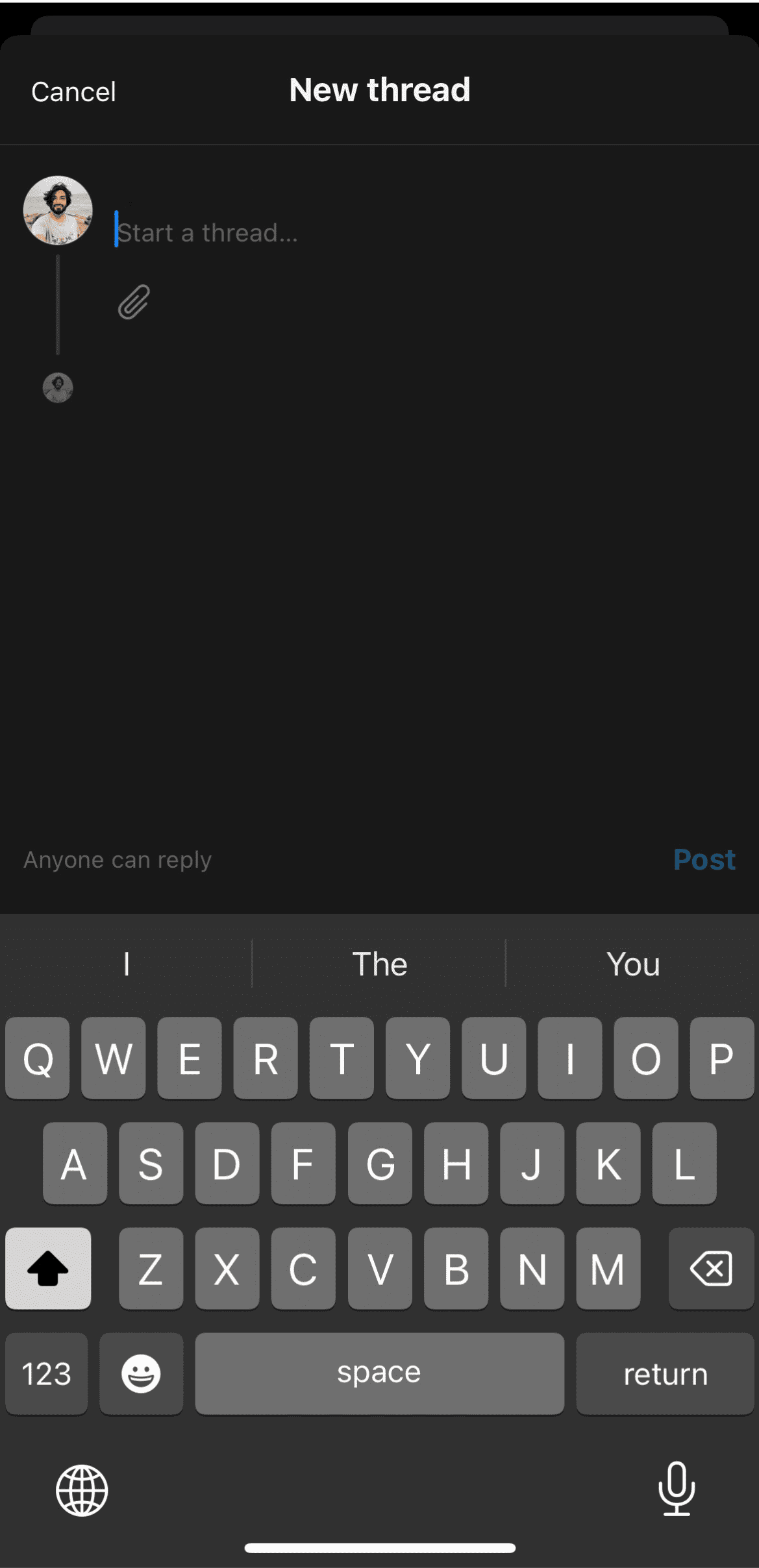 Step 2: Tap on "Start a Thread" and the keyboard will appear. Type away anything that you want to talk about on the new social media app.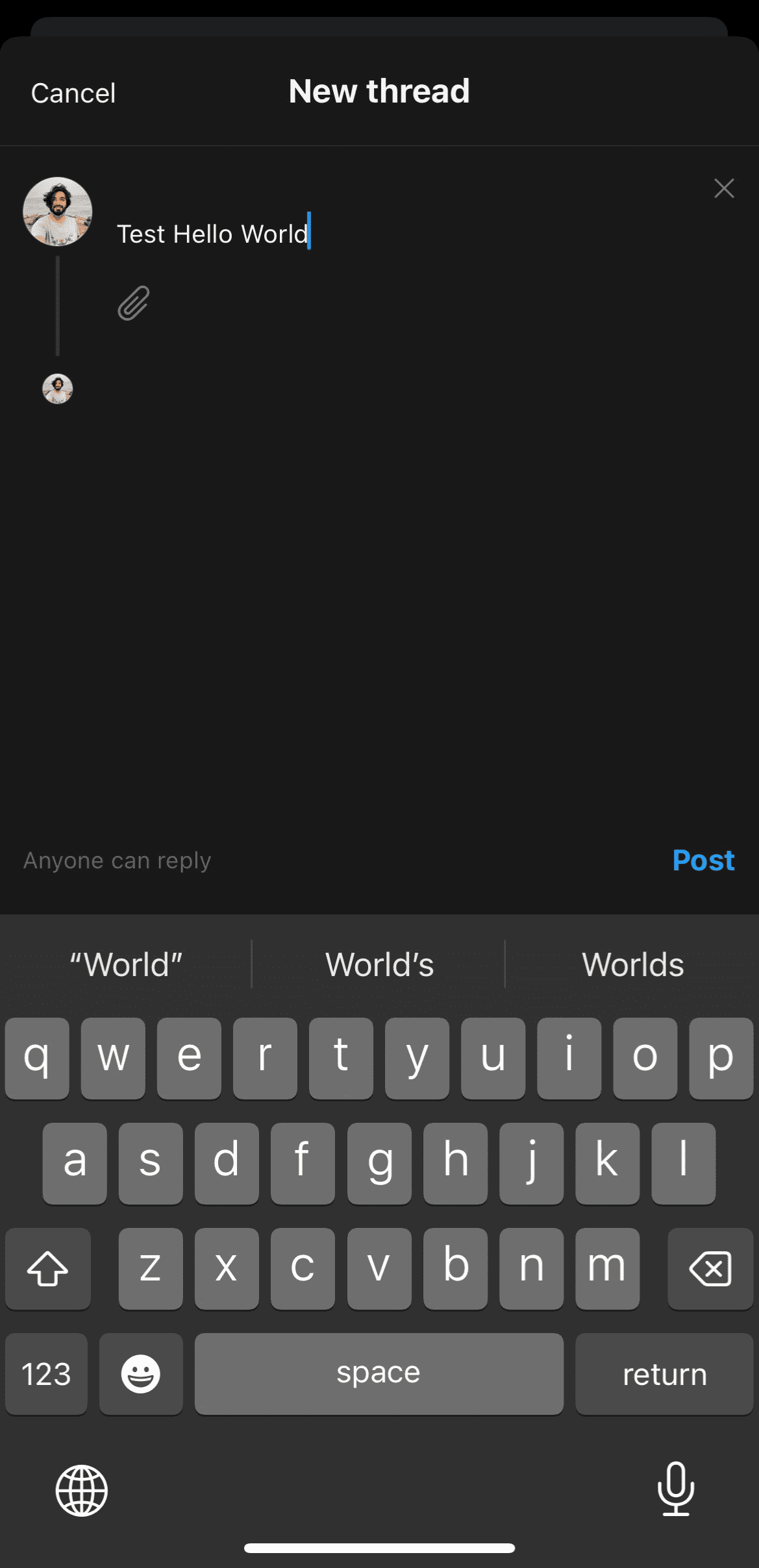 Do you see the "Clip" or "Attachment" button below the space where we have just typed? Well, you can tap on it to attach a picture or video! Also, you can set permissions for replying on the thread by tapping on the "Anyone can reply" option at the bottom left. It's pretty simple and neat.
Step 3: Once you are done, tap on the "Post" option at the bottom right corner. Threads will confirm if it has posted your new Thread. Voila! You have your first Thread on the Threads app!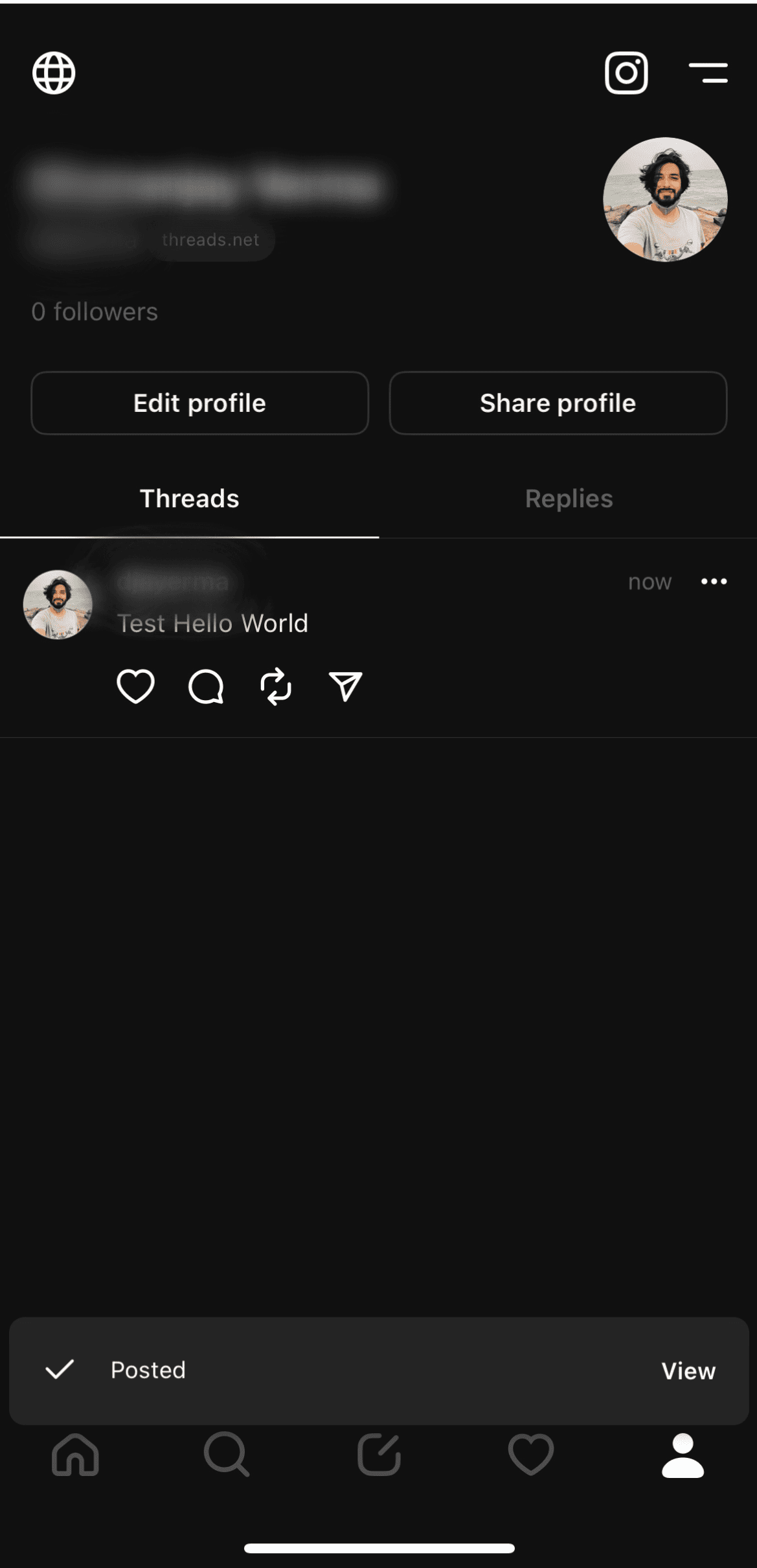 Look, we have our first Thread showing up under the Profile tab! Well, as usual, we keep our promises.
How to interact with a Thread on Threads app?
That was all about creating a Thread. But, how can one interact with a Thread that has been created by someone else on the social media app? Let's find out.
Umm, let's go with this Thread by the glorious Chef Gordon Ramsay (@gordongram). We found this when we were scrolling under the Home tab.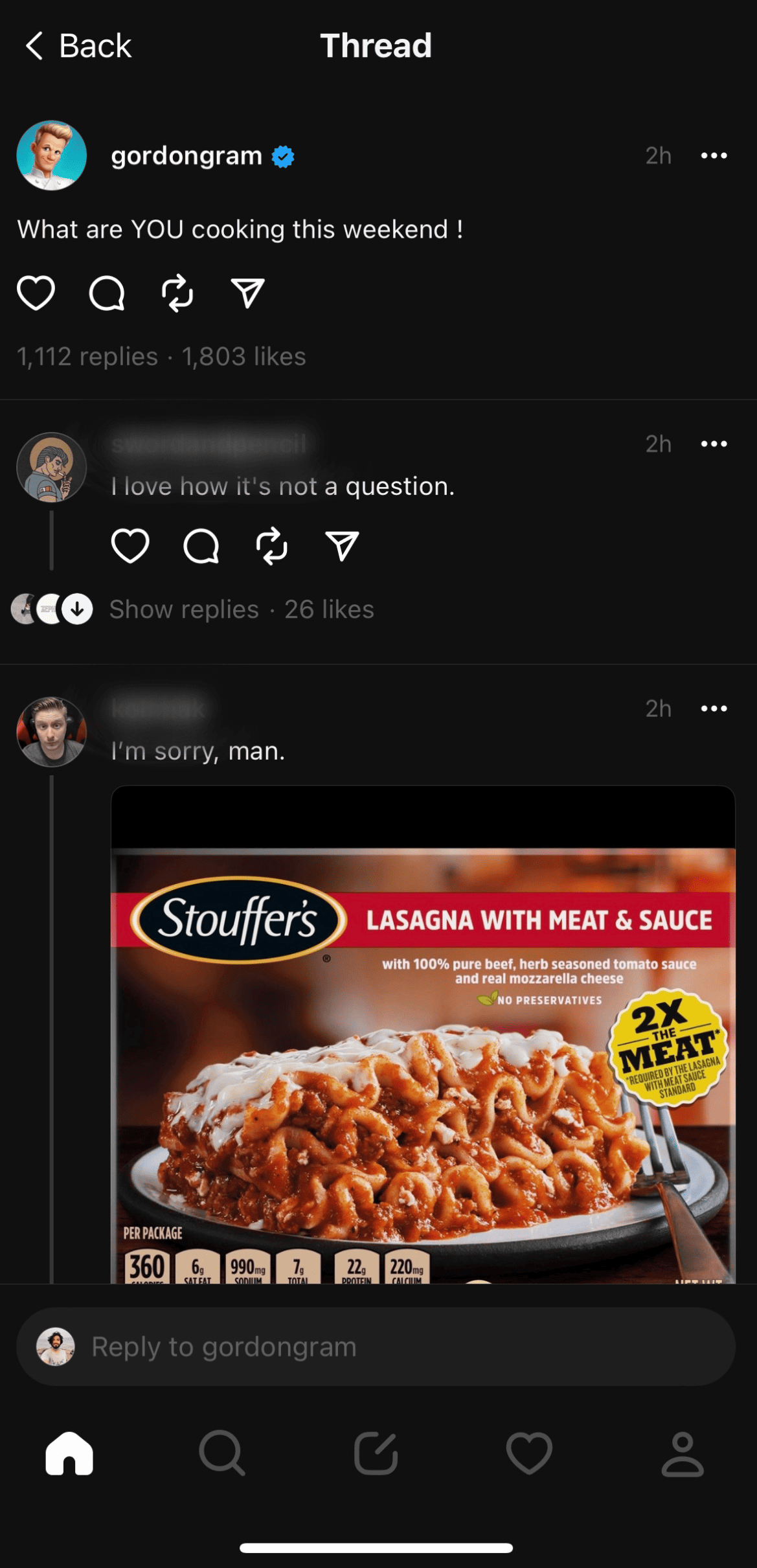 Now, as you can see, there are four ways you can interact with this particular thread. You can like it, reply to it, repost/quote it, and share it on Instagram as a Story or on Twitter, or copy the link to the Thread.
What did we do? Well, we replied to Gordon Ramsay.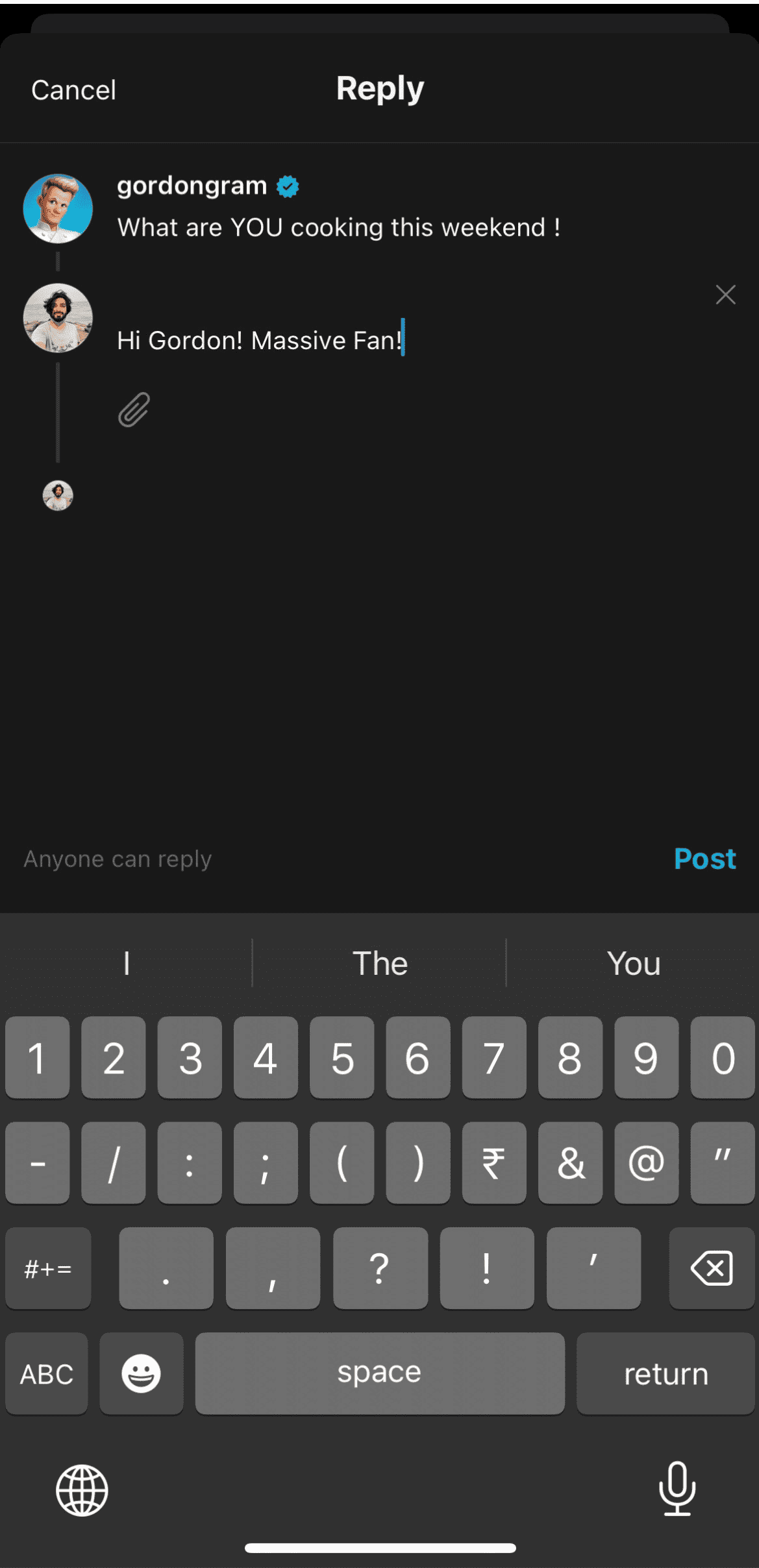 The moment we replied, our reply started showing in the group of people that had earlier replied to the Thread.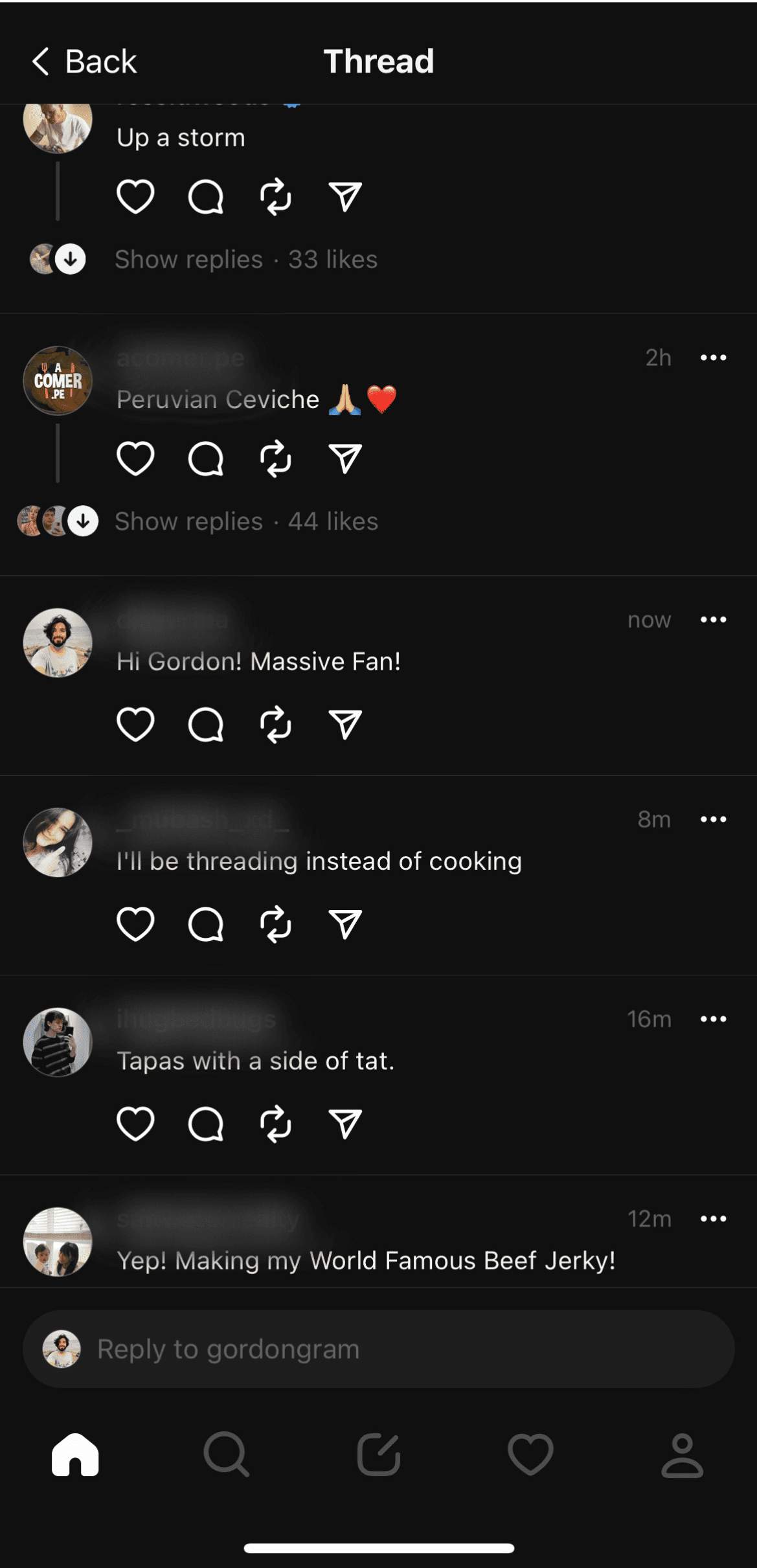 And as a result, our reply also started showing up on our Profile tab under "Replies."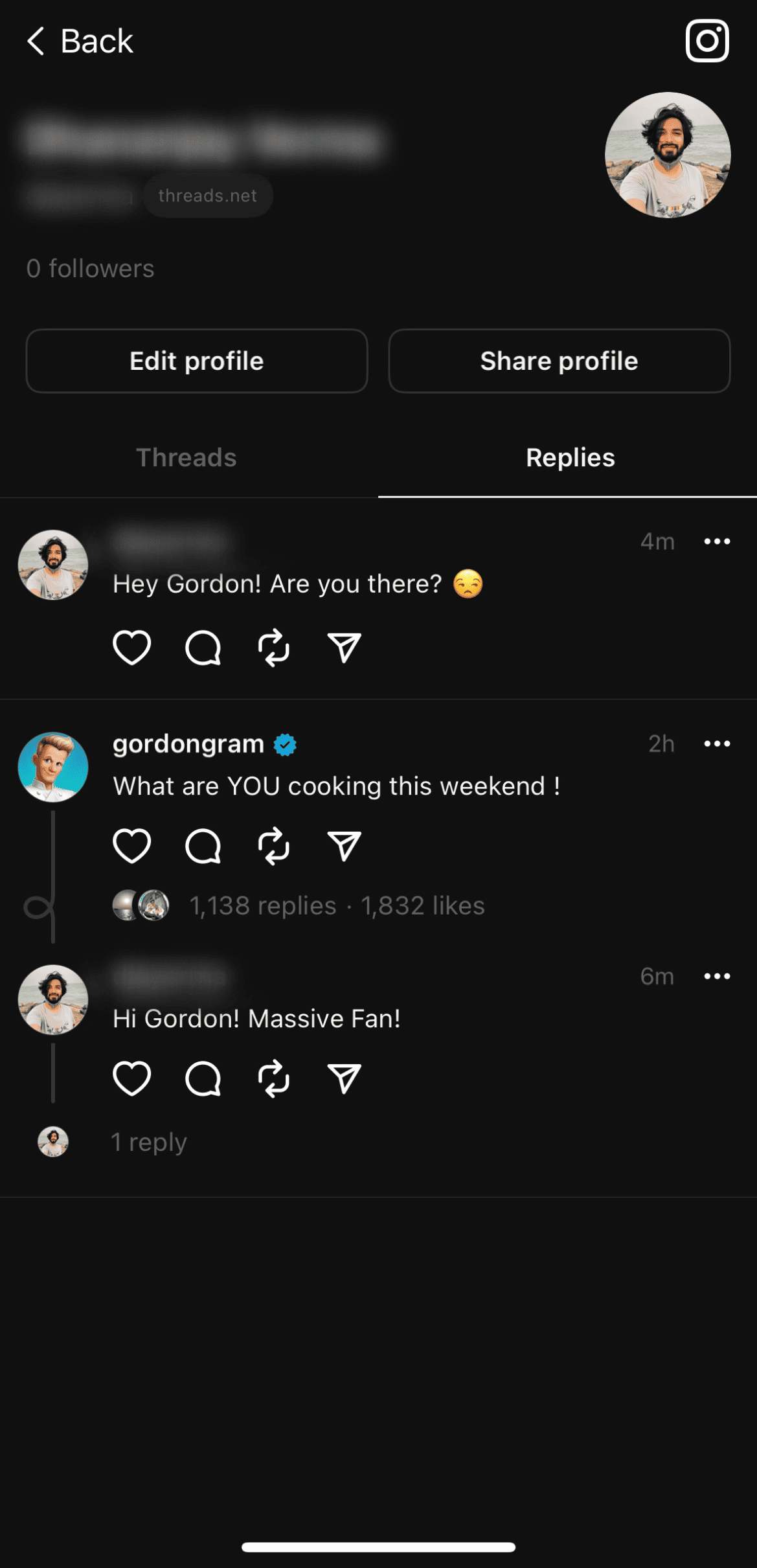 Hence, we have finally learned how to write a post and reply to one on the Threads app!
What is the impact of the Threads app on Instagram?
Once you create an account on Threads, you will notice several changes on your Instagram profile. The most significant of the changes is the placement of your Threads badge on your Instagram bio. Look at the Instagram bio here (we have erased the bio so you can focus on the change) —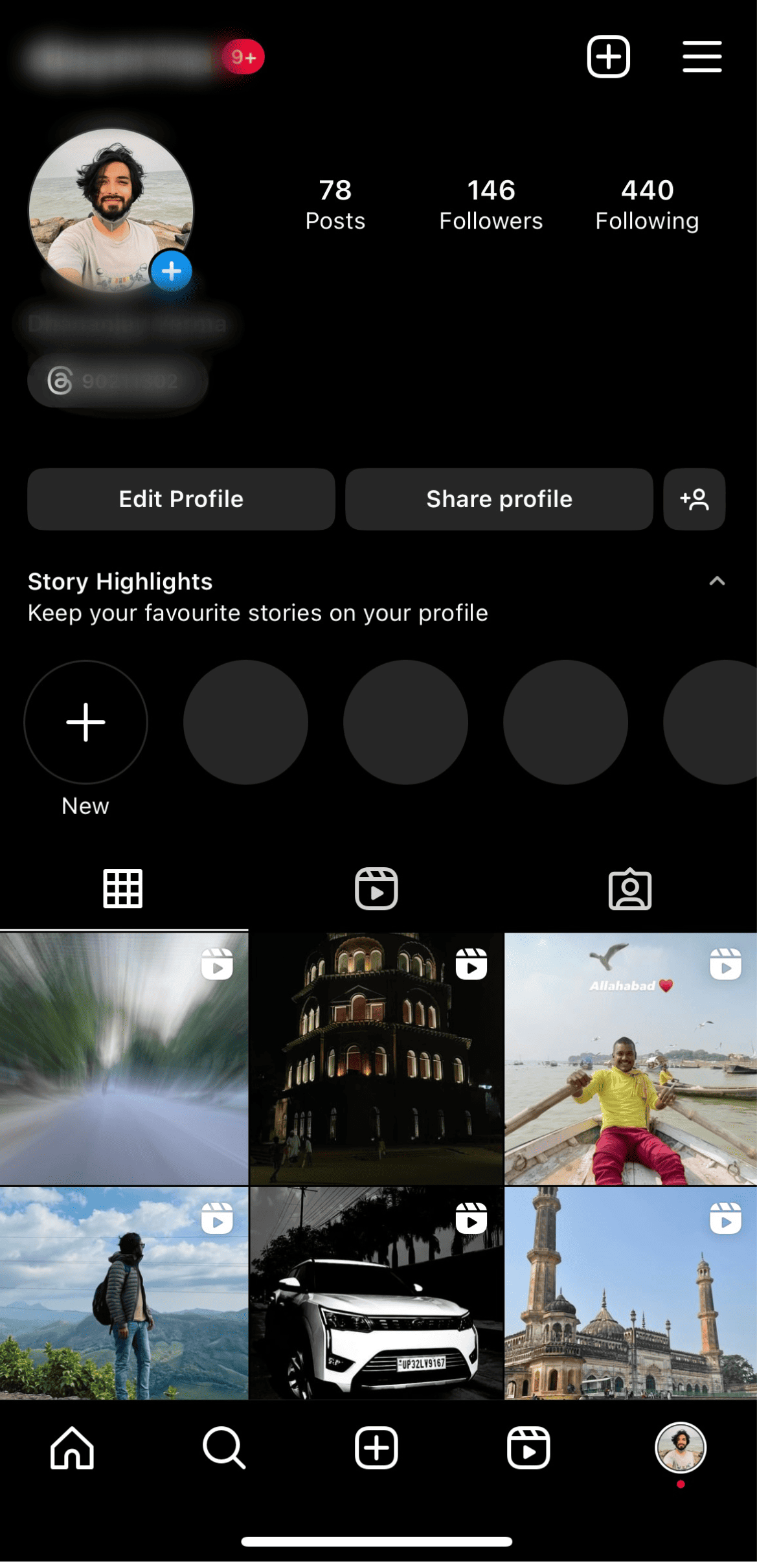 Note that you can always hide this Threads badge from your profile. While you don't take any action, it will keep showing up on your Instagram profile if you are on Threads. This is done to help your followers access your Threads profile on Instagram and follow it. Again, a measure to move more and more users from Instagram to Threads. In other words, users tapping on this Threads badge on your Instagram bio will be able to find your Threads profile instantly.
Once you tap on the Threads badge, this is what happens —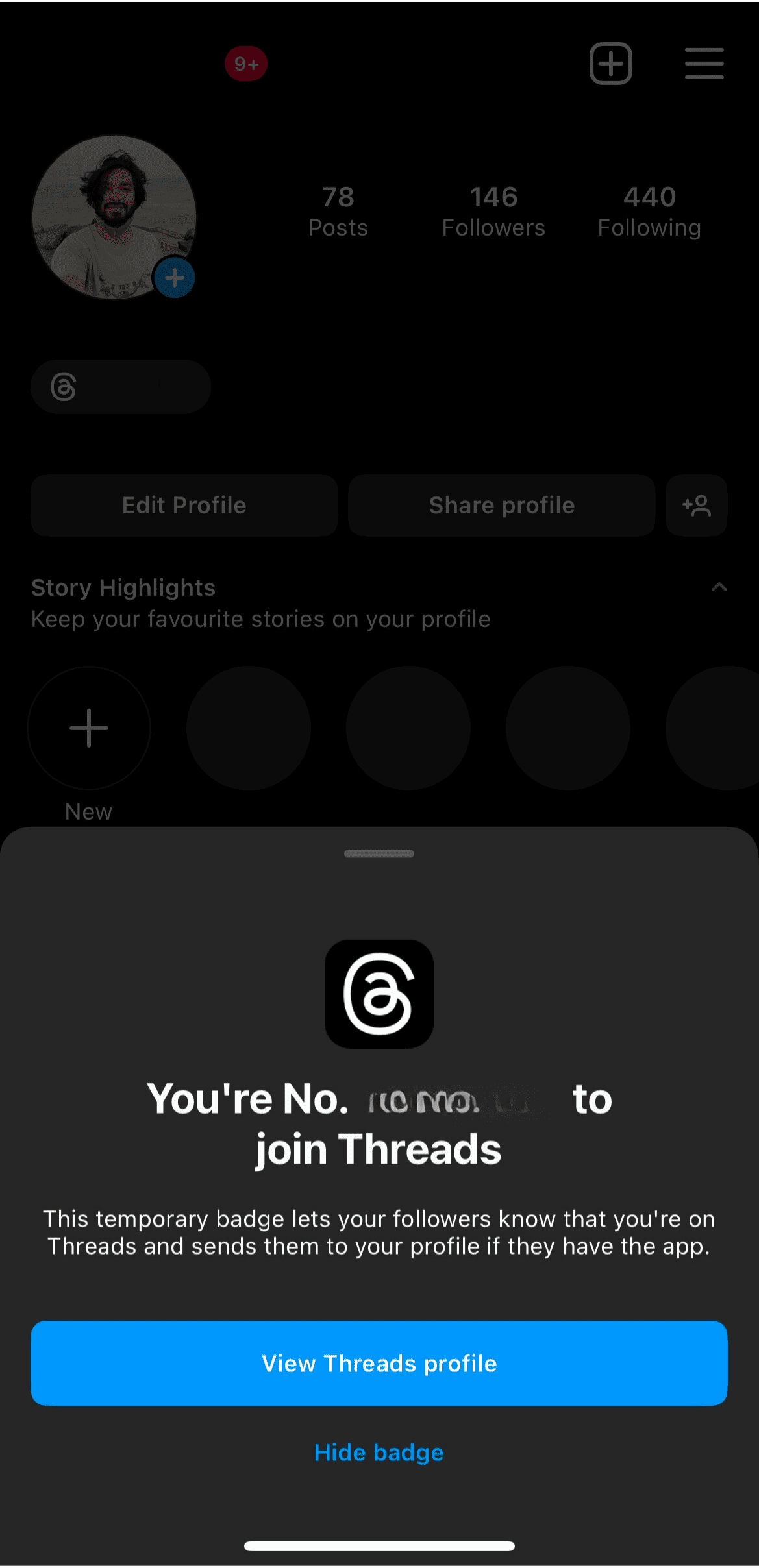 Your followers tapping the Threads badge can now tap on "View Threads profile" to check your Threads profile. Since we have tapped on our own badge, Instagram shows the option to hide the badge. And we are not going to do that, for sure!
How can brands use Threads in 2023?
Threads, for sure, functions as a social media app. But, the app is still in its initial stages. As a brand, you should be looking forward to becoming an early adopter of this social media revolution. Therefore, the very step to making the most of this opportunity is getting on Threads, an Instagram app.
Create your business profile on Threads and begin searching for other brands in your industry that have made the transition. Take note of how they are dealing with the transition and whether or not they have devised a Threads-specific marketing strategy. Although it is too early to strategize, your competitors might have started experimenting with different types of content on the social media platform.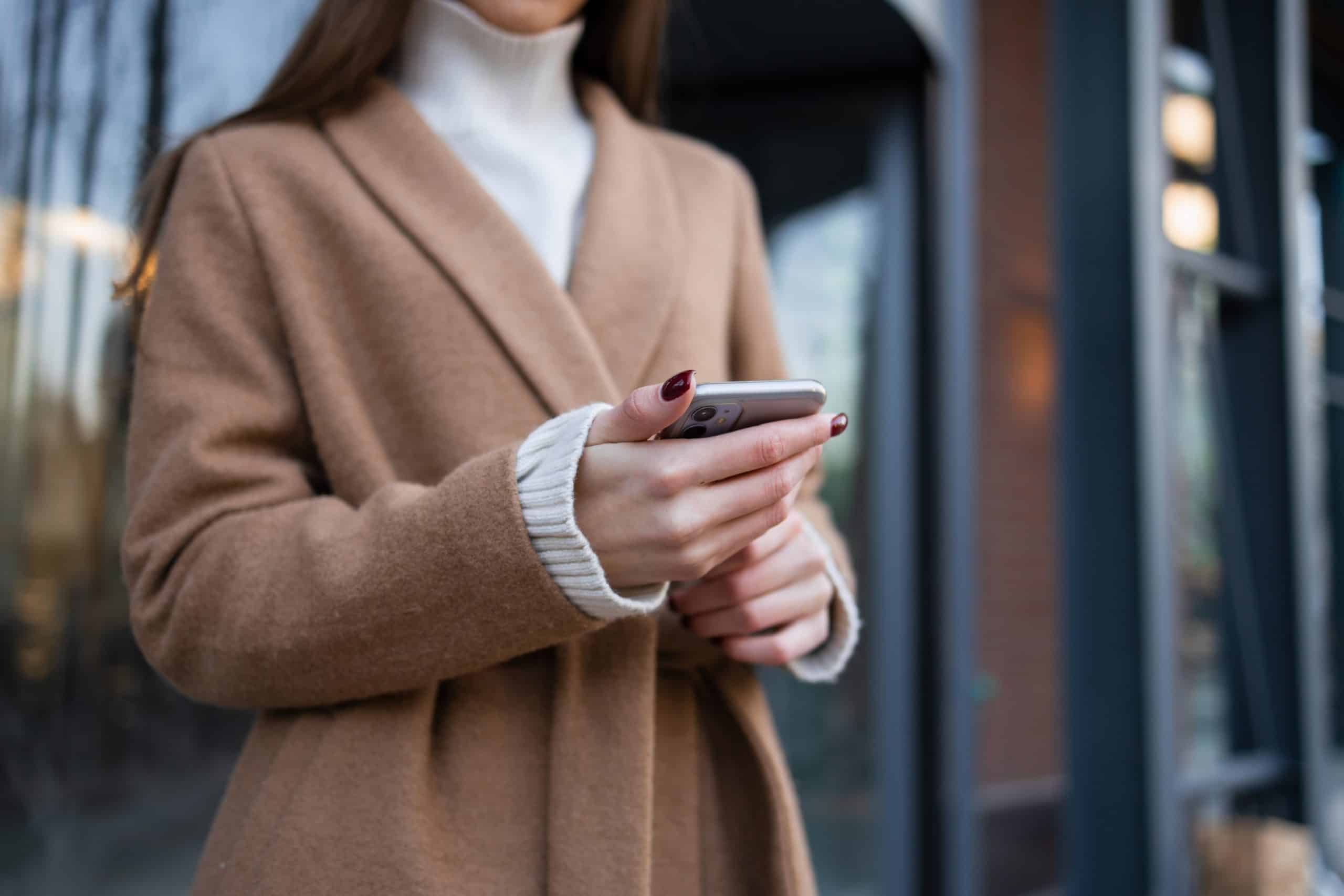 Follow their cue and develop your own content strategy that helps you extend an impact on Threads. Another way brands can use Threads is by making it an extension of their Twitter strategy. Since Threads is rivaling Twitter, there are excellent chances of the former following the latter's footsteps. Without a doubt, folks at Instagram will try to make Threads better than Twitter. Thus, your Twitter marketing strategy will give you an excellent foundation to build a promising Threads marketing strategy in the future.
But, this is all about using Threads as a medium for organic online marketing (minus direct messaging and hashtags). The new social media app doesn't support direct messaging, sponsored posting, collaborations, or paid advertising, yet. Once it does, your current Twitter advertising strategy will work just fine on Threads too. We highly recommend brands to come on Threads and be a part of a social media platform (owned by a social media giant) that is trying to grow from scratch.
Should you use Threads as a Twitter alternative?
Again, it's too soon to answer a question like that because the features and functionalities on Threads are quite limited at the moment. The team developing Threads has promised better versions of the social media in the coming weeks. So, certainly, one can expect Threads to function like a Twitter killer in a matter of a few months. 
You should not miss out on making your profile on Threads. But, using it as a Twitter alternative is not what someone in the right mind will do. Still, there are several pros to using Threads, even if it is still in its developmental stages. Let's discuss them, shall we?
1. Opportunity to beat competitors
Most brands hardly get an opportunity to dominate on a social media application. Since Threads is a new social media platform and is powered by Meta, it makes a perfect opportunity to beat competitors. Brands should be more than willing to create an account on Threads and get started with posting creative content before their rivals do.
2. Very similar to Twitter
The aesthetics on Threads are pretty much the same as on Twitter. The developers behind Threads were smart enough to keep the design elements that worked for Twitter while not holding back their creativity. There are no Threads reading caps on the new social media app, which is an excellent way to beat Twitter which only allows 500 tweets a day.
3. High standards of moderation
Inappropriate content will find it hard to stay on Threads, thanks to Meta's aggressive moderation team. One can expect the team to heavily review content on Threads as it wants to set the right standard. This means that people using the app will not find offensive content lurking on their feeds.
What should Threads do to beat Twitter?
Clearly, Threads is eyeing to become the next Twitter. Indeed, we are talking about the initial version of the app. But to compete with Twitter, Threads will have to man up and come up with some excellent features. Let's talk about what the good folks at Instagram should do to make Threads a true Twitter rival, shall we?
1. Let people use Hashtags
People love using hashtags. It's a feature that also allows creators and brands to categorize their posts and boost their discoverability. Users that want to consume content on a specific topic often rely on hashtags. Therefore, it is important that Threads add the hashtag feature and make the conversations on the application more relevant.
2. Add Explore or Trend page
How are the users expected to know what's trending on Threads when there's no Explore or Trending page on the app? Such pages on Twitter helped users get a real-time pulse of what is being discussed on the app and hit the ground running. Moreover, the topics being trended were based on the user's location and interests. A trend page is a must on Threads.
3. Allow direct messaging
We are sure the team behind Threads does not want users to converse on Threads while relying on Instagram for direct messaging. People just cannot keep switching apps to get the job done. It's crucial that Threads introduce direct messaging if it wants its user base to stay on the new social media app.
4. Don't make it an "Instagram-user-only" app
At the moment, only Instagram users are allowed to own a Threads account. This is by far the biggest setback as the internet users that do not use Instagram feel left out. The users that don't necessarily want to link their social accounts feel left out too! Such restrictions can quickly backfire for Threads as they threaten the app's growth.
5. Let Threads stand on its own feet
Don't make Threads an extension of Instagram just like you made Facebook Messenger an extension of Facebook, especially if you want Threads to rival Twitter. At present, Thread users rely on Instagram settings to customize their experience on the new app, which is ridiculous. Threads need to be decoupled from Instagram and marketed as a standalone application.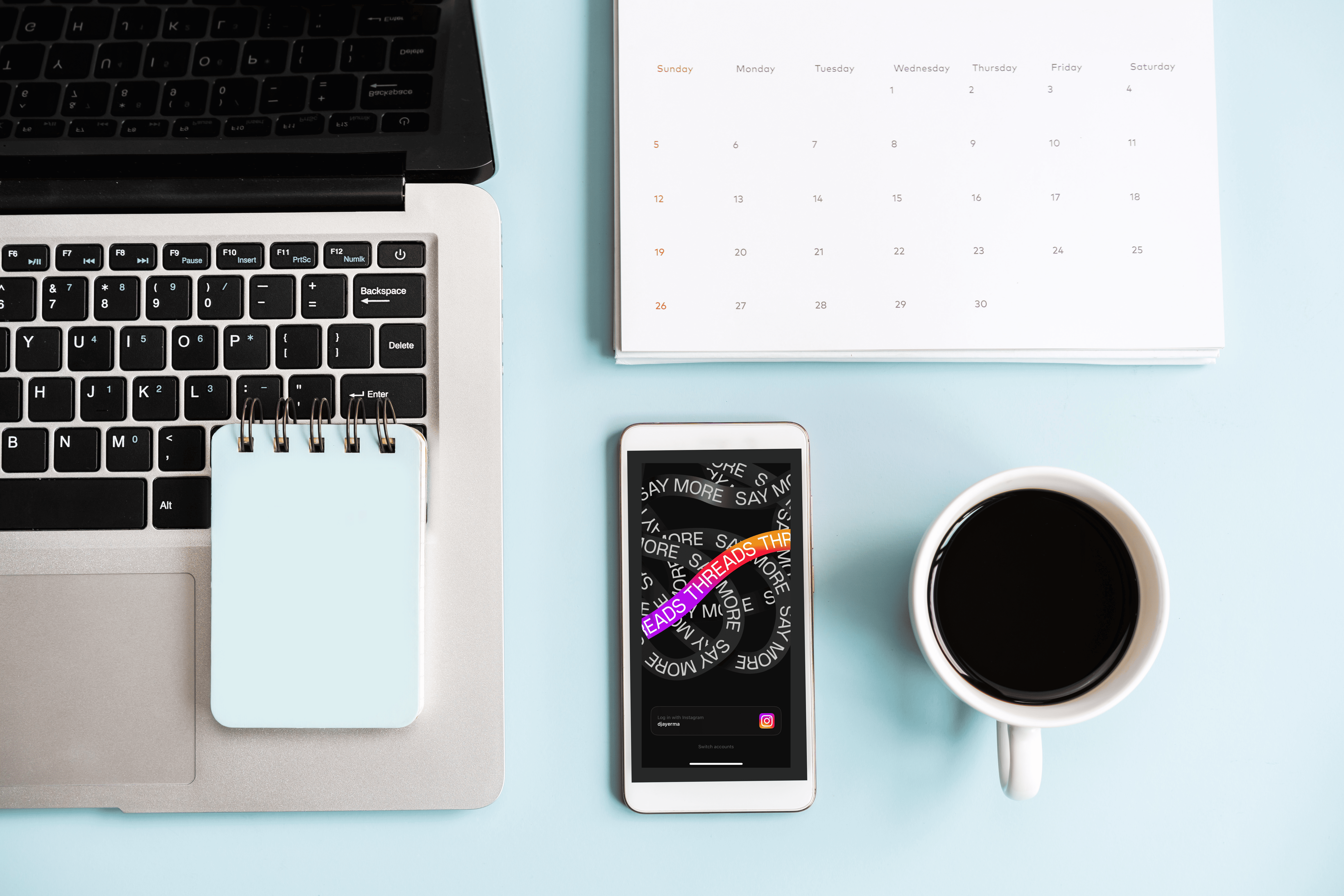 Threads' potential to compete with Twitter is immense. Meta's idea of extending compatible and open social networking protocols while prioritizing the development of interoperable services is quite revolutionary. The team behind Threads is currently building new features to add while improving users' transition from Instagram to the text-based social media app. It's working toward building a robust Search function to help users discover their communities, favorite creators, and threads. But, can we call Threads a "Twitter Killer?" Well, as we mentioned earlier — it's a long way to go and only time can tell.
However, marketers and creators should certainly jump onto the app and begin experimenting with text-based content. After all, like every other social media app revolution, early adopters will pave their way to social media success. Did you find this complete guide on Threads useful? Let us know in the comments. Wondering what it will take to create a solid Threads marketing strategy? Stay tuned to our blog as we will share more about the social media app in the coming weeks. Don't forget to check out other informative posts on the blog!