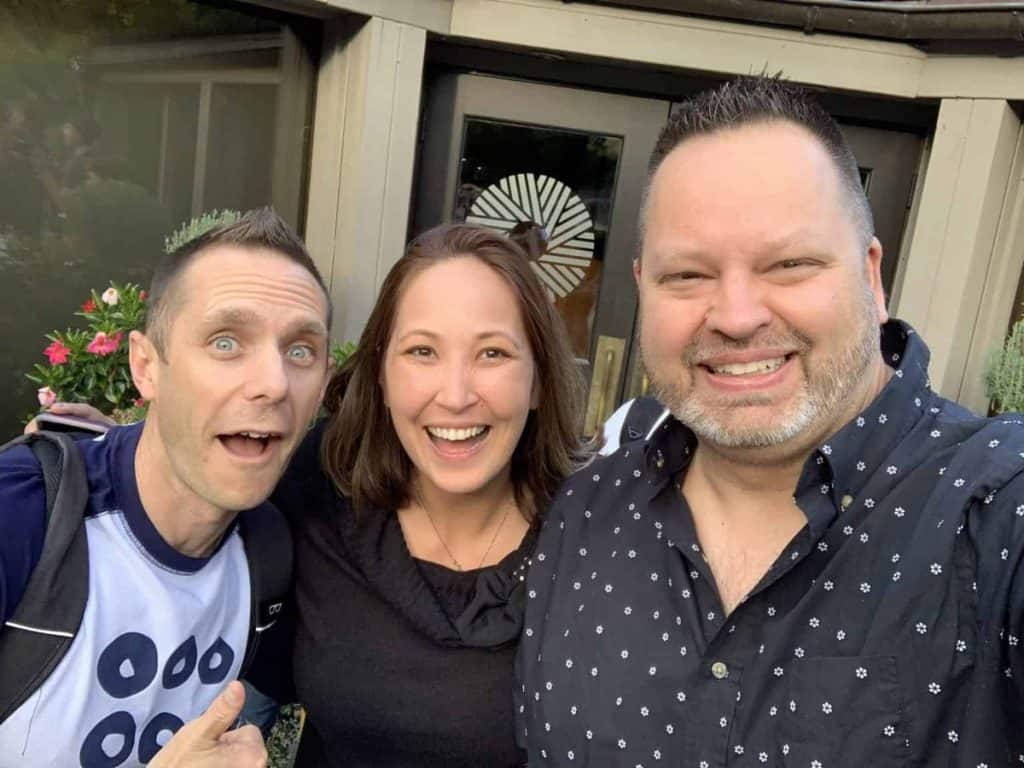 Today we officially start with Day 1, where we talk all about the vulnerabilities in our business..things that have come up that we may have NEVER experienced.
Have you been feeling a little exposed? You're not alone and we chat about this in today's video with Stu.
And then after baring it all, we dive into an action item to open up your mind to new opportunities that are waiting for you.
Let's do this!
Get Free Membership Tips at: FreeMembershipTips.com
This amazing training includes a Free PDF and searchable video series showing the exact strategies and tactics that 6 and 7-figure membership owners used to dramatically grow their business!
Subscribe To The Show
---
FreeMembershipTips.com – This amazing training includes a Free PDF and searchable video series showing the exact strategies and tactics that 6 and 7-figure membership owners used to dramatically grow their business!
For a list of our resources & recommendations visit: InternetMarketingBiz.com/links/
Connect with us on social!
Join the Online Marketing Podcast Community, our private Facebook group dedicated to those that want to learn the in's and out's of online marketing for their courses, memberships and coaching programs. We share tips, tricks, techniques, resources, and more!
Instagram: @realpaulpruitt & @realmelissapruitt
Facebook: @realpaulpruitt & @realmelissapruitt
Subscribe To The Podcast
And if you loved this episode, please share with a friend and leave us a
review!
Read Full Transcript
Melissa: Welcome to day one of business reboot camp. And I am so excited that you're here. I'm really proud of you too, that you wanna reboot your business and look at things differently and we're kicking it off with day one. So today we are talking to our business mentor, Stu McLaren, and he's gonna introduce himself and talk a little bit about his journey and some of the chapters of his life.
So, as he's talking about his chapters of his life, I want you to think about the chapters of your life and what got you to where you are today. Then we're gonna do a deep dive and talk about looking at our business a little bit differently and looking at some of the vulnerabilities that might be in our business, things that we weren't even aware of until challenges started to arise.
So this is gonna be a great opportunity to look at your business just a little bit differently. Do a deep dive and look at those vulnerabilities that might be challenges for you but from there that is gonna open up our mind to opportunities that we can serve our people at an even deeper level once we identify those vulnerabilities.
So let's go ahead and dive in for day one. Hi, Stu. It's good to see you.
Stu: Yeah. Awesome. Thanks for having me.
Melissa: Oh my gosh. We're so excited. So one of the first things that we wanted to talk about is really how did you get started in your entrepreneurial journey and taking risks and just, you know, I would love to hear, have everyone hear a little bit more about how you got started with all that.
Stu: Well, I don't know if anybody can relate, but I felt like a square peg and a round hole. When I was going through business school, you know, like everybody was all set to go into corporate Canada or corporate America. And you know, they were comfortable in suits and ties and I was just like, that was the most foreign thing for me.
Like, I just felt like a fish outta water. And so I did, when I graduated, I got my honors business degree and I had signed on the dotted line to go work for this, you know, big corporation here in Canada. My parents were ecstatic, cuz it was like everything that they had hoped for and more, you know, great pay and benefits and company car and all that stuff.
But something just was eating away at me that that was not the right path. And so I knew right there and then I, I actually resigned before I started, because I kind of figured, like I had just graduated university. So I was used to eating peanut butter and jam sandwiches. So if there was ever a time when I was gonna, you know quote risk, you know, going out on my own that was it.
And so I did. And so I started first speaking to . High school and college students about how to use creativity because it had taken me from, I failed outta my first year university to getting back in and then eventually like graduating top of my class. And the reason was because there was one class we saw a video of a guy named Doug hall and he owns a consulting company in Cincinnati Ohio
And he helps big corporations like Disney and, Proctor and Gamble and Ford like come up with new product ideas and in the video. He was wearing a Hawaiian shirt, shorts, no shoes or socks. He was shooting Nerf guns at these corporate CEOs. And I was like, that is what I wanna do with my life. so I read his book and it was all about how to think more creatively and come up with ideas.
So I started applying them to my schoolwork and my grades took off. I started applying them to, you know job applications and I was getting jobs like offered all around. I even applied it to eventually winning my now wife, Amy, over on, on our first date.
Melissa: I love it.
Stu: yeah. So that's what I started doing is I started teaching that stuff and then that led me to realizing like schools could only afford so much.
I could only speak so many times a year. So there was a cap. And I wanted to break beyond that. And so I started learning about how to package what it is that I know that eventually led to where I was doing a lot of consulting and consulting was a great business model. Except for the fact that it required my time.
It was dependent on my time. And I'd gotten to the point where I had a very successful consulting business, but I had no more time to give. And so something had to change if I wanted to be a present husband and eventually a present father. So I started looking for alternative business model and a friend of mine suggested a membership site.
This was in 2008 and I had no idea what a membership site was, but he explained it to me. He's like, look. He said you could teach people what it is that you do, but you'd be able to do it in a far more leveraged way, because you wouldn't be limited in terms of the number of people that could sign up for your membership.
I was like, okay. So I did. And, but back then, the technology then was not what it is today. And so I was into like server settings and HT access files. And I was just like, it was way over my head and I was frustrated. And so I was expressing my frustration to a friend of mine, Tracy. And he said to me, he's like, well, dude, why don't you just create your own solution?
And I was like Tracy, are you hearing anything that I'm saying I'm, I'm telling you, I'm struggling with tech. I can't program my own solution. So long story short, he said, look, why don't we team up? He's like, I've got a programmer that I've worked with for years. He's great. So we did that led to the creation of wishlist member.
Which went on to become the world's number one membership platform for WordPress. When I sold my shares in the company just a few years ago, we were powering over 70,000 online communities and memberships. And that's really where I learned like what business owners were doing to grow recurring revenue memberships year over, over year.
And so I just doubled down my attention on that. And now I get the pleasure of literally helping thousands and thousands of new business owners every single year. Launch grow and scale, highly profitable memberships in our program.
Paul: So hold on. You mean you didn't wake up and you just weren't here already.
Like you, you actually had to get, you were failing college,
Stu: dude. If you had asked me to go
Paul: with like new ideas.
Stu: Yeah. If you had asked me then what a membership site was, I'd be like, what are you talking about? Like, no, no, you know, I never just woke up. And all of a sudden, you know, had a business where I was teaching business owners about memberships, but, you know, that's, I think part of it is.
All of our past, they all, they're stepping stones. They all lead, you know, like for me speaking at high schools and colleges, that was my first stepping stone to realizing like, okay, maybe there's another way to package what it is that I know. And then that led me to a lot learning a lot more about, you know, online marketing, especially, and, and that led to consulting.
And the, then that led to, you know, eventually wanting to create a membership and that led to the software and then that led to where we are now. So it's amazing how everything serves that stage or chapter of your life, which leads to the next one. And that's ultimately what's happened.
Paul: It's interesting, cuz I think a lot of people right now, cuz I think it's very timely that they have been on one stone for a while. And the reality of everything shifting and changing in the world is I think there's some blinders on like, this is the only way, like what I've done up until now is the only thing.
What I'm really excited about with reboot camp, with what we're doing here is there's potentially the opportunity of saying, you know, what, what is the next stone? Like everything I've done up until now. You know, can, do you have any examples or anybody that you know that, that maybe did a pivot? Cause I know I had my own pivot story of in 2008, losing everything financially going 3 million in debt, thinking that I was on top of the world and having to reinvent myself going from a real estate broker.
In the 2008 crash happening and then, you know, really reevaluating. And actually I pulled from a childhood hobby, which was photography.
Stu: Hmm.
Paul: And I was able to lean into that and create a, a whole new, you know, I wouldn't have met Melissa if I didn't do that. Mm-hmm, like, I wouldn't have the life that I've had right now.
What we're doing. If I wasn't open mind and leaning into what that next stone was.
Stu: Well, I think, you know, one of the biggest benefits of this whole experience, and I don't wanna say that, you know, I don't want to downplay the seriousness of what's happening, right. Both from a health concern. And also the ripple effect that that's having on the business.
Like I have dear friends of mine, one of the groomsmen in my wedding, you know, he owns a restaurant that, you know, has completely shut zero revenue coming in. One of Amy's really good friends, lindsay owns a brewery, zero revenue coming in. We have friends who own coffee shops, zero revenue coming in.
We have have friends who own retail shops, zero revenue coming. Why? Cuz it's all dependent on foot traffic. And so everybody there's no foot traffic. So what, this has done. I, I get the seriousness of that because I have dear friends who are, you know, in a midst of all of that. But what it's done is it's exposed vulnerabilities. Vulnerabilities that we may not have even been aware that we were there and I'm raising my hand because our nonprofit, Amy and I have our own nonprofit as you guys know village impact.
And it exposed the vulnerability that we knew about, but didn't have the urgency to figure out until now. And that is our fundraising model was dependent on live events. Well guess what? There's no more live events, which means no more fundraising. And so what it's done is it's sped up the urgency for us to also find an alternative way to fundraise.
And just as a side note, guess what we're looking to do, roll out a membership. I mean, but anyway, that's a whole nother point, but the bottom line is that it's, it's given people a chance to take a different perspective on their business and their ultimately their lives. And I don't know about you, Paul and Melissa, but I get most creative when I am most desperate.
And what we're starting to see is we're starting to see people who are innovating and they're doing things in a very creative way that they would never normally do. Like for example, last weekend the people who help us produce our live in-person event, Berry and blue they've had to do a major pivot because we're one of many clients for them they usually typically put on anywhere between 35 to 40 live events a year.
Well, of course their whole business, like, Ugh, comes to a screeching because nobody's putting on live events. So last weekend, they did something tremendously innovative. They with one of their clients instead of doing a live event, they did a virtual event and they helped produce that virtual event.
And it sparked all kinds of innovation for them. Now here's the amazing part, the way in which they did that they had more people attend. They had higher engagement. They had more people visiting sponsor booths, and you might be saying, well, how could they visit a sponsor booth? They did it virtually. And the sponsors were ecstatic.
They had more people engaging with them virtually than they've ever had in person at live events. They had more revenue from that virtual event and because it was virtual more profitability, so overall that forced them to innovate. And what do you know? It was more profitable to do it this new way than the old way that they have done things before.
But you're seeing people innovate in all kinds of ways. for example, many people in our community are teachers like Anna Delio or pat Patty Palmer, as an example. And they have membership sites that serve teachers. So they create lesson plans for teachers.
Well, they recognize that. Oh, my goodness. There's a massive opportunity right now. Cuz there are millions of parents who are at home with young kids, not knowing what to do. Right. Like what we do know is we don't want the kids on TV. We don't want 'em on the iPads all day. And so. What do we, but what do we do?
How do we structure the days? And so Anna, as a part example, she recognized that she immediately made a pivot to create lesson plans for teachers and same with Patty Palmer and that's boom taken off. In fact there's another woman in our community. Her name is Anna Willis. She has a membership site that focuses on homeschooling parent, boom.
Her business is taken off or there's another example of like Dave, who's my trainer. So. You think about it, you got like all these physical gyms, like brick and mortar gyms who obviously have closed now, does that mean that the millions of people who typically would go to a gym and work out, stop having a desire to, you know, take care of their physical fitness?
No, but what it does mean is that Dave recognized, okay, now there's millions of people at home who wanna work out. But may not have the equipment and may not know what to do. So he's been releasing body, weight workouts and has been growing his audience, serving people with where they are at. And so there's so many great stories of businesses that are innovating.
I heard of speaking of like you know almost gyms like spin cycles, you know, like the spin studio, I heard about them, like, Innovating. And so instead of they had all these bikes in their studio that weren't being used, so they started renting them out to their clients and customers. So they're generating revenue, you know, during this time in a way that they wouldn't normally be doing by making use of that equipment.
I've heard of A furniture shop, basically they put, they moved all the furniture into a warehouse and the owner goes live every day and does a walkthrough with, you know, showcasing people, you know, furniture. And he's been selling thousands of dollars of furniture every single day, just doing it that way.
So there's lots of ways to innovate. And I think that this an amazing time to think more creatively to open ourselves up because we get most creative when we are most desperate and many times that's where we're at right now.
Melissa: Absolutely.
Paul: Oh, my goodness day one was so incredible. I mean, what are all the vulnerabilities that all of us have been exposed to over the last several years and how we can lean into these different and new opportunities?
Melissa: Yeah. And we have a special tip sheet for you too, if, especially if you've been thinking about these vulnerabilities and how you can get past them, if you go to freemembershiptips.com, you could actually learn from other membership owners and what they've done in their businesses to make a membership work for them.
Paul: So just go over to freemembershiptips.com.