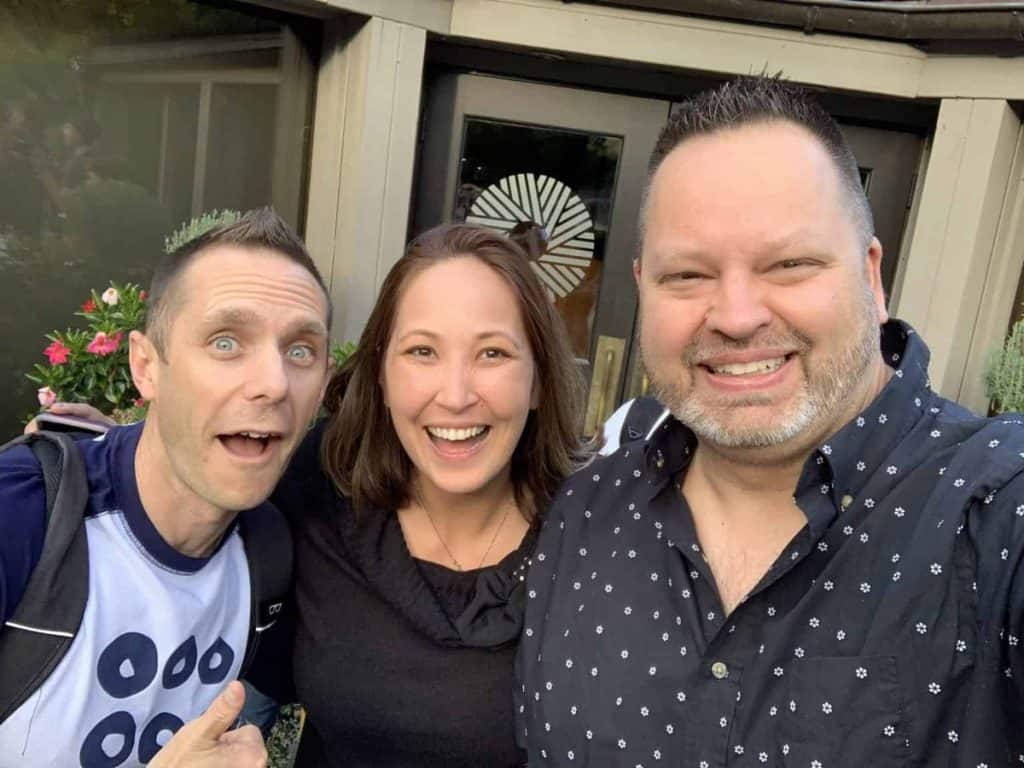 Your clients are feeling like Jay-Z with 99 problems.
You know..that's a good thing and we talked about that in Business ReBoot Camp's Day 2 video with Stu.
Hold up…problems are good? Stay with us here.
When problems arise, this is our chance as the entrepreneur to figure out new solutions to help people out.
New solutions that make things possible for people.
And new solutions that people are willing to invest in.
We dive into some major mindshifts today that will fire you up and an action item to get things going!
There's lots of great ideas flowing and we're having a blast!
Get Free Membership Tips at: FreeMembershipTips.com
This amazing training includes a Free PDF and searchable video series showing the exact strategies and tactics that 6 and 7-figure membership owners used to dramatically grow their business!
Subscribe To The Show
---
FreeMembershipTips.com – This amazing training includes a Free PDF and searchable video series showing the exact strategies and tactics that 6 and 7-figure membership owners used to dramatically grow their business!
For a list of our resources & recommendations visit: InternetMarketingBiz.com/links/
Connect with us on social!
Join the Online Marketing Podcast Community, our private Facebook group dedicated to those that want to learn the in's and out's of online marketing for their courses, memberships and coaching programs. We share tips, tricks, techniques, resources, and more!
Instagram: @realpaulpruitt & @realmelissapruitt
Facebook: @realpaulpruitt & @realmelissapruitt
Subscribe To The Podcast
And if you loved this episode, please share with a friend and leave us a
review!
Read Full Transcript
Melissa: Welcome back to day two of business reboot camp. I'm really excited. And I'm super proud of you. I know by now you're already thinking of all the different opportunities that are just waiting for you in your business. And we are just getting started. So today we're talking about mindset and shifting our mindset and Stu is gonna share some things about looking at our business and what we need to do to keep moving forward.
What we need to do to keep looking for new possibilities. Now with possibilities. This relays into new problems, new problems that our clients are experiencing right now that we weren't even aware of up until now. So with those new problems as entrepreneurs, it's up to us to figure out solutions to help them.
And we're gonna talk all about that today for day two. So let's go ahead and get started.
Paul: coming into today, I'm just, I'm just curious, because we we're talking about people that have been innovating that have been shifting, changing, leaning into new things, but. I think there's a lot of people also that are frozen, that are paralyzed right now that are afraid to lean into something new or different.
Do you know, like common limiting beliefs that, that kind of entrapped people, either making that new decision, making new investment, leaning into something new, have you seen this through the years? Like where people might have self-sabotaged any insight that you have where. You know, just that that indecision itself might have impact them versus people that we have been talking about.
Stu: Yeah. Well, listen, no decision is a decision.
Paul: Yeah.
Stu: That's the first thing everybody's gotta realize, like, not doing anything is a decision to not do anything. You know what I'm saying? And so like, here's the reality. we think that during this time, People aren't spending it's, you know, everybody's just kind of, kind of stick their head in the sand and just, you know and, and hope that things will get back to normal when we come out of this.
But here's the reality. There is a lot of businesses that are challenged by this time, as I was mentioning to you, I got dear friends who are challenged by this time, but there's another side of this coin that is not being talked about right now. And that are the online businesses that are thriving during this time.
And, and people may not realize this, but this is really what I wanna encourage people to open their minds up to, is the fact that there's never been a time in our history when there's more people online than right now. And not only that, but more people spending more time online than right now. And in fact, in our community and you guys see it every single day, businesses are thriving right now.
Whether it's like Emily Jeffard who Just closed to launch of her membership that serves artists. She welcomed 367 new members into that membership or Tamara Bennett. She just closed her launch welcoming 420 new members bringing her total up to 1,127 members and her niche. She helps people paint decorative door hangers
or there's Levi Kula, who he was he, he admitted to me, he said, Stu, I was reluctant to look at my stats because I figured that everybody would be canceling my membership during this time. But his community manager, Allie came to him and said, Hey, Levi we just crossed a pretty major milestone. And he's like, well, what are you talking about?
She said, we just crossed 7,000 members. He's like 7,000 members. So he went and looked at his stats. His sales had been tripling during this time. Why? Because people wanna be productive during this time. And it was interesting this week, in fact, this week a study just got released by a company over in the UK.
They survey a 2000. People who had been quarantined and they were asking them questions, what they had planned to do during this time. Now there's some very interesting stats that came out of this. One of them being that 69% of the people surveyed said that they wanna come out of the quarantine with a new skill.
And so they're looking to learn things like, you know, painting or playing a new instrument or writing or gardening or coding. They're looking to learn. They want to come out of this in a better position than when they went into it.
57% of the people said that they were looking forward to pursuing activities that they've always wanted to do, but didn't have time for.
And so I share this because this is why, and we're seeing this reflected in our community, why online businesses and particularly memberships are booming right now. And so what we've gotta do is we've gotta show, shift our mindset to the fact that what does this make possible? You know, this is a great question that I love from a dear friend and former business partner, mine, Michael Hyat.
He said when we're challenged with unforeseen circumstances and, and challenges like this, we have to ask ourselves the question, what does this make possible? And what I'd encourage everybody to do is to camp out on that, because what it makes possible starts to turn your brain on to what we could do, the things that we and do, how we can move forward.
And it's a great time to try stuff because here's the other side, that's again, not being talked about. More people online than ever before, spending more time online than ever before. So what does that mean? It means engagement is up, webinar attendance is up. Email open rates are up. Clickthrough rates are up.
Video views are up, podcast, downloads are up. Like all these things are up and therefore it's a great opportunity to get in front of your marketplace and show up and serve. And that's what I'd recommend everybody do right here. Right now.
Melissa: So, I mean, it sounds like this is really the time that people are investing in themselves and, and these new opportunities from what you're saying, I mean, it just it's, this is the, this is the perfect time ,
Stu: they want to make use of this time, you know, like going back to that survey, 80 plus percent of the people said that they wanna see a silver lining in all of this.
So they're looking for like, okay, Yes, this sucks. Yes. This is devastating in terms of like the impact it's had,
but what can I do to make the most of this? And what it's doing is it's opening up time for people that they didn't normally have. So it's just like the calendars wide open, you know, like, so, you know, and that's the opportunity that it's created for people is it's given them breathing room and, and they, now they can pursue things that they never normally wouldn't have had time for.
And that creates this amazing environment where people wanna learn. And here's the other thing, not only are memberships booming. But number two is that like people crave community and you know, they can't get it in church or in schools or sports teams or the pubs or the clubs or wherever they get it, you know, they can't get it in the traditional format now.
And so this is why memberships are perfectly suited to serve people because they still crave that connection. And so memberships feel gap. And then the other side of that I was saying is that like this whole thing has just created new problems. We've touched on it. The millions of parents who are at home with their kids.
That's a new problem. You know, they've been thrust into becoming teachers. The vast majority of us have no idea how to do that.
You've got millions of people who, as I said, can't go to the gym. They doesn't mean they don't wanna stop their, you know, physical activity. You've got New services that are being innovated on all the time.
Like you guys know Amy, but she is, she loves to order fresh, cold juices. And so she called up this company because she's trying to her whole Amy's whole thing. And she's like, I gotta keep the family healthy. So we're getting all the juices we can get. And, and so we, we call this company and, So we ordered like 24 juices and Amy said to the woman, she said, can you just like, do you have a subscription where I could just have this on like, you know, on a weekly order?
And the woman's like, no, no, I don't. And I'm sitting there going, oh my gosh, like lady, you got people who wanna give you money. Give just, we wanna give you money, just give it to us automatically. You know what I mean? And so this is a time to innovate and recognize that. There's new problems that have emerged, which are waiting for entrepreneurs like us to create solutions, to solve those problems.
And people are willing to pay for it. People haven't stopped spending money. It's just that they're looking to spend it in different ways right now.
Paul: Oh, my goodness. I haven't ever thought about that before. So when we have new problems that we get presented with, it actually creates brand new opportunities for new solutions.
This is so awesome.
Melissa: Yeah. It's pretty amazing. And for anyone that's really interested in how to apply this, we want you to head over to freemembershiptips.com because this is where you're gonna learn from other membership owners about ways that they've gone into their businesses and looked at a membership model and made it work for them.
So again, it's freemembershiptips.com. Go over there and grab that tip sheet.