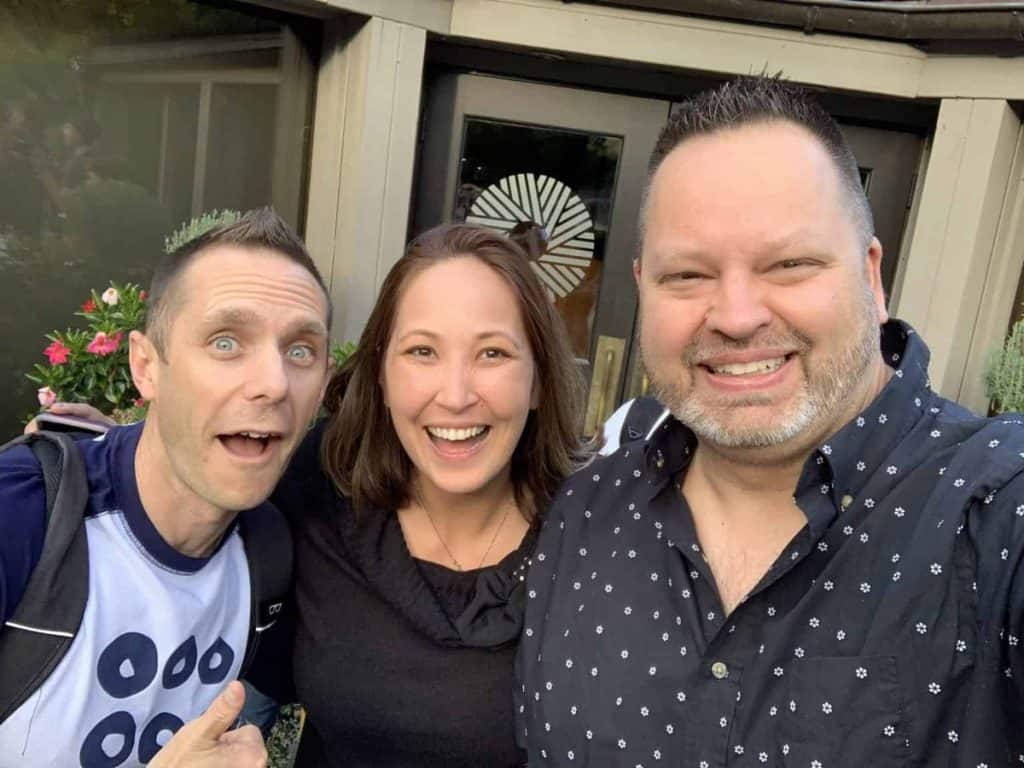 What if we told you you can work less and make more? That's what we're diving into today in Business ReBoot Camp Day 4!
Today we are busting the myth that hard work equals financial success. You may feel a little funny about this because for most of us that is what we were taught.
Instead, we are going to focus on leverage points in our business and how to get more out of your business with less.
Stu shares his journey with debunking this belief and we have a super fun action item planned for you to think outside the box!
Let's keep the momentum going with Day 4 of Business ReBoot Camp. We're so excited that you're taking this journey and love seeing all the ahas happening! Let's finish strong!
Grab the Free Membership Guide at: FreeMembershipGuide.com
This Free PDF resource shows the exact steps to take to build a successful membership business around what you already know, love, and do!
This is a great first (and FREE) first step for anyone thinking about starting a membership.
Subscribe To The Show
---
This Free PDF resource shows the exact steps to take to build a successful membership business around what you already know, love, and do! This is a great first (and FREE) first step for anyone thinking about starting a membership.
For a list of our resources & recommendations visit: InternetMarketingBiz.com/links/
Connect with us on social!
Join the Online Marketing Podcast Community, our private Facebook group dedicated to those that want to learn the in's and out's of online marketing for their courses, memberships and coaching programs. We share tips, tricks, techniques, resources, and more!
Instagram: @realpaulpruitt & @realmelissapruitt
Facebook: @realpaulpruitt & @realmelissapruitt
Subscribe To The Podcast
And if you loved this episode, please share with a friend and leave us a
review!
Read Full Transcript
Melissa: Welcome to day four, a business reboot camp. And I just want to say, thank you so much for joining us for bootcamp. Paul and I don't take this lightly. We know that you're investing your time with us, and we're just so excited that you're looking at your business differently and wanting to do a reboot on it.
And what better time than now to look at things just a little bit differently and see what we can do to serve at an even higher level. So we're on day four. Can't believe it. It's right here now, already. And we're going to be talking today a little bit about leveraging and looking for leverage in your business leverage points.
So this is going to question the nine to five mentality that's out there and really looking at our business on how we can get more out of our business. With less, it's kind of a counter-intuitive and it's a weird concept for some, but it's a very interesting discussion that we have with Stu. So we can't wait to dive in with that with you.
And we're also gonna be talking about new business opportunities and looking at your business differently, again, continuing that conversation, but doing this. No matter what size business you have, no matter what size audience you have, no matter what kind of business you have, just the new opportunities that are out there and looking for those leverage points so that we can get more out of our business for less.
So let's go ahead and dive in to day 4
Paul: so welcome back now, Stu, what I'm really excited about over this past several days we've been talking about because I think for me, it's one of the biggest shifts. I just, I remember when I had my real estate license as an agent. That no matter how hard I worked, I always, because growing up there was this thing, you know, trading dollars for time and effort, you know, the amount of effort that I put in.
So the harder I worked as an agent, the more sales I would have, then it would be beat up. Like if I wanted to be a top producing agent, I would just be beat up. And then somebody made me realize years ago, like, you know what, you're only as good as your last transaction. Like you can be an incredible agent. Over and over and over again.
But if you mess up that one transaction, like you don't have this pipeline anymore because people then know you for that. Right. So I always had to work hard for the one transaction, one transaction, one transaction, and then leaning in it would last several years. And this came, this re manifested when it came into photography.
We're only as good as the next headshot that we did. We were only like the money only came in because the next new client that we created would come in the door and that in the moment that we service them, like there was not an option. They weren't going to come back next week or next month for another headshot.
You know, when you buy yourself a house it's like every seven to 10 years. Right. So it's just like coming into this world though. We've been talking a lot this week about memberships. And they manifest it. I would never imagine that there's somebody out there making the kind of money that you said the other day that, that are teaching like families or kids, how to twist balloons.
You know what I mean? Like I think we think like memberships have, we have to have like this high level expertise we have to have like, you know, we have to be so far along. And like, so like for me, I would have had to teach something about real estate, you know, or something, or, you know, leaning in photography.
I would've had to teach something like this high level expertise. But like we have friends that they, they have meal plans. They, again, balloon animals, like painting re or creating Reese or door hangers. It's like lettering. All these things that we just take for granted. And what you read is that once you create this client, at least from our perspective, is that it is, you've been referencing reoccurring income several times throughout this week.
And I was just wondering, can you give some more examples? Cause I, I feel like a lot of us are in this. Like you got to work hard because this is what our parents did, what our grandparents did. You got to work really hard. And then that amount of effort, you know, should translate into some type of, I have to say for us, like we went into last year, How do we make more with less effort and time and allowed us more financial freedom to be able to travel, to do the things we've been wanting to do.
And it's been a beautiful, like where we don't take for granted what's going on in the world right now. And we're very in tune and aware of that. Cause it's affecting our family and people we know as well, not just. But it's just, there's a beautiful thing. That effort doesn't necessarily equal, you know, in the amount of time that you have to put into something, because I think a lot of us are in this nine to five mentality, this 30 year job career thing.
Stu: I totally agree with that. And I, and I had that realization when I was young because. You know, I grew up with two tremendously hardworking parents, you know I come from a blue collar family and my parents, they both worked two full-time jobs. My dad would work nine to three in a high school with kids with special needs.
And then four nights a week, he would work from eight at night, till eight in the morning in a group home with people's special needs. I don't know when he slept. I really don't know when he slept. And my mom was the same way. My mom worked nine to three. And an elementary school with kids with autism. And then the three nights a week that my dad wasn't working, she would work in a fine dining restaurant.
So my parents worked all the time. They were always there for every sports game and, you know, whether it be basketball, soccer, track, whatever it was. So I don't know when they slept and, but they worked hard and that was always their Mo was just to work hard. So I can totally relate to what you're saying.
And I had this realization when I was young, which I was right around 12, where nobody worked harder than my parents. And yet we weren't the most financially successful family. So I was like, there's a disconnect here. Like hard work doesn't equal financial success because my parents, nobody works harder than them.
And if, if that were true, that we would be the most wealthy family around, but that isn't true. So what, what gives here? There's something that's not not right. So that seed was planted early for me. And later in life, like I've realized that We have to look for leverage points. You know, we have to look for leverage points where as you said, we can get more by doing less.
And that is completely counterintuitive. And this shows up by the way, even inside of membership sites, like one of the rules of thumb as it relates to content is that you actually, you know, we naturally think the more content we create, the more value we create, that's not true. That's not true. Being behind the scenes for 12 plus years, helping tens of thousands of business owners in all kinds of different markets.
I can tell you the number one reason that people cancel from a membership is overwhelm. So it's not that the content isn't good, it's that there's, there's too much of it. And they, they can't use it. And if they can't use it, they start feeling guilty about paying for it and they bail. And so it's counterintuitive to think the less I do, the more money I make.
But what it does is it forces you to think about leverage and that's exactly what I would encourage all business owners to think about is like, how do I get more with less? And when you start shifting your brain that way you start to realize about different business models. And, you know, I had a consulting business for years, but I realized like if I wanted to be a present husband, if I wanted to be a present.
Burning the candle at both ends, which is what I was doing. I was up early in the morning. I was working late at night. Was not the business model that was going to help me design the life that I wanted, which was I wanted to be present for my wife. I wanted to be present for my kids. And so something had to change.
And so this is when we S I started shifting from trading my time for money to looking for leverage and being able to serve instead of one-to-one one to many. And that's exactly what memberships provide is that ability to be able to do the work once and serve hundreds, thousands, tens of thousands of people simultaneously that is leverage.
And that my friends is when you and I are able to take what it is that we know and serve so many more people. And at the same time, grow our businesses without any type of limitation or restriction. And so I think the other, you know, real rewarding thing of this. We do get to serve a lot more people and that, for those of us who genuinely care and obsess over the people we get to serve and, and helping them make progress, there's nothing more rewarding than that than being able to serve more people and help them in all these different ways.
As you said, like there's so many crazy markets, you know, that I have been introduced that I had no idea even existed, you know? And it's so fun for me to see how the principles we teach are getting used in all kinds of different ways. You know, I just had an interview with her name's Leslie, and, you know, she said to me, she said, Stu, like, it was an amazing experience because I didn't have a huge audience. She said I had a tiny audience of 87 people. She said 87 people Stu.
And she said, but I followed what you talk about with your founding member script. And so I went out to those 87 people. It was just an experiment just to see what had happened. And she said 15 of them joined my membership.
She said that in and of itself, the founding member lawn generated several thousand dollars for me. She said that was life-changing. She said that just opened me up to, oh my gosh, this is real. This is possible. And we hear these stories all the time. Like people who don't have massive audiences of tens of thousands or thousands, but just a few hundred people, whether it's Wendy.
Who helps paint store retailers like talk about a tiny niche. Like she helped, you know, brick and mortar stores who sell paint and she didn't have a big audience. She had 354 people. Well, she did a founding member launch and ended up welcoming 50 to generating $2,800 a month in month number one. Now she's since grown that to hundreds of people, but that's where it started.
That's amazing. Or. Didn't have a huge audience, 326 people. She helps infertility practitioners, but because she did a founding member launch, she generated over $5,000, 5,000, $24 in the first 24 hours. And that, that created momentum for her that got her going.
And so more than anything, like I'm passionate about this now more than ever before. And I think a big part of it is just seeing the leverage that it creates for people seeing the transformation. It creates for people seeing the stress, it relieves for people seeing the stability that it creates for people. And that is something that all business owners need to have in their business because at the end of the day, We can do this and it works and it works again and again and again, but we've just gotta be willing to take that first step to put things into practice and to get and to keep moving forward.
That's the most important thing
Paul: I have to say we can speak firsthand of that because it was January of last year that a simple, you know, two sentence Facebook post on my personal profile, no advertising, no list, nothing. Help create what has allowed us to retire from the photography business. So inside of that year, we were able to duplicate our income to the point.
And it all originated from a simple Facebook. There's no list. If we, introduced an idea and we're like, if you're interested private message us, And we filled 20 spots within about 72 hours.
Stu: That's amazing.
Paul: It set us on a trajectory last year to be able to lean in, to do what we're doing right now.
So, so we were very blessed and thank you because I think a variation was that that founding members script is, this was about,
oh my goodness. I love this. This is our mantra. Work less and make more. Definitely take your business and use those leverage points. That was so vitally important.
Melissa: Yeah. And for anyone wants to take this to the next level, Stu has this free membership guide that talks more in detail about this.
So go to freemembershipguide.com. Grab the guide, learn how to make a membership work for your business and work less and make more. So again, it's freemembershipguide.com.