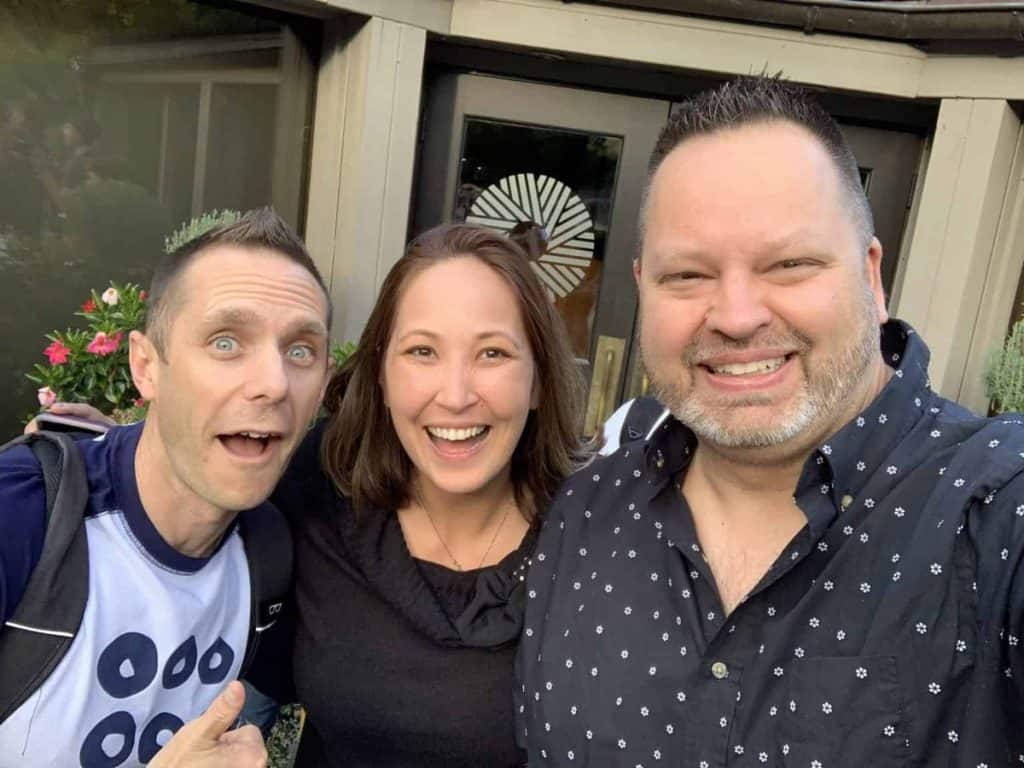 HUGE ANNOUNCEMENT!!!
You did it!! We are at Day 5 of Business ReBoot Camp and all we can say is WOW!
Now that your mind is open to all the opportunities that are truly out there just waiting for you, your next question might be "How do I put this all together?" Well, we just made a very special announcement today that's going to help you out!
Join us at FreeMembershipWorkshop.com
This is Stu's signature, free 3-part LIVE workshop titled "Turn What You Already Know, Love, And Do Into A Profitable Membership Business." He only does this one time per year so make sure you join today!
Subscribe To The Show
---
This is Stu's signature, free 3-part LIVE workshop titled "Turn What You Already Know, Love, And Do Into A Profitable Membership Business." He only does this one time per year so make sure you join today!
For a list of our resources & recommendations visit: InternetMarketingBiz.com/links/
Connect with us on social!
Join the Online Marketing Podcast Community, our private Facebook group dedicated to those that want to learn the in's and out's of online marketing for their courses, memberships and coaching programs. We share tips, tricks, techniques, resources, and more!
Instagram: @realpaulpruitt & @realmelissapruitt
Facebook: @realpaulpruitt & @realmelissapruitt
Subscribe To The Podcast
And if you loved this episode, please share with a friend and leave us a
review!
Read Full Transcript
Melissa: You did it it's day five of business reboot camp. And I'm so excited for you. You have done so much this week, so many opportunities, possibilities are opened up in your mind. I'm sure by now, and you did the work, so congratulations. You did it, and I'm really proud of you. I'm going to go ahead and turn this video to Stu he's going to share with you an opportunity of a workshop that he is actually hosting that Paul and I have been part of. 
We absolutely think it's wonderful for any entrepreneur, that's looking for more opportunities and possibilities in their business. So let me just go ahead and turn it over to Stu as we wrap up with day five. 
 Okay. Stu. So we've been talking a lot about new opportunities and memberships, and I know you have something cooking right now.
That's coming up. So we would love to hear about a special workshop that you're doing. 
Stu: Yeah, well, listen, as you've probably heard me throughout the week talking about like, I'm really passionate about this stuff. And so every year, once a year, we do and host a free workshop. And this year I'm going live three separate times where I'll be teaching different components of this.
So if you've been thinking about a membership or there's a seed of an idea in there, and you're, you're wondering to yourself, You know, will this work for my market? Well, in the first live training, that's the question we're going to answer. Number one is a membership right for your market. And if so, what type of membership site would be right for your market and for you?
And so that's what we're going to cover in that first live training in the second live training. This is where we kind of unpack, like, what do you actually provide inside of a membership? And if you've been following along, you know, that I've talked about the fact that you know, people often think the more content I create, the more value I create, but that's not true.
In fact, the number one reason that people cancel is overwhelm and none of us want to create a membership where we are quote, stuck on a content treadmill. Like that's the opposite of what we wanna do. So in this live training, I'm going to show you and unpack exactly what to provide inside of a membership so that your members make massive progress.
And so that they stay month after month after month. And that it's easy for you to deliver that content. So we'll talk about that in the second live training, and then the third live training, I kind of zoom up. And I talk about the five key areas of a successful membership, starting with your foundation strategy, your content strategy, your marketing strategy, your retention strategy and your growth strategy.
And in fact, we unpack all of these areas. I give you this meaty mind map, which goes into all the areas in detail. We've had people who have launched off the back of just this mindmap. Sam B launched her membership just on this free training. And this woman, Julie who sent me a message a few weeks ago, sharing with me that she launched her membership.
Welcome three over 300 plus members in her membership, just off of this free training. And so we go live and then the very next day I go live again, answering any questions as people are looking to implement. So come join us. It's an amazing workshop. We do it one time a year and it's free
Paul: [00:03:00] Thank you. And again, we just want to thank you for helping teach and, and share your knowledge and expertise to this entire weekend, his entire experience. I'm going to go ahead and include the URL so everybody can jump in on this and you want to make sure that you dive in this is what led us, this simple workshop and the first version of it.
And it's gotten so much better since then this free workshop that it allowed us to expand and grow and change our lives. And we just know that it's going to help everybody that's been following us and our friends and family members that are part of this group as well. Any parting words, anyone 
Melissa: and I would love to hear just any final thoughts about memberships, where we are right now, what people can do today.
Stu: Well, listen. As I have said in the days leading up here, it's an amazing time right now, you know, and it's an amazing time because people are wanting to learn. They are wanting to improve themselves. They're wanting to invest in themselves and we're seeing it. We're seeing email open rates are up.
Click through rates are up. Video views are up, podcast downloads are up. Engagement is up, webinar attendance is up, sales for memberships are up. And so I'm sharing this with you because there's never been a better time. There's never been a better time because more people are online than ever before. And more people are spending more time online than ever before.
And so I just want to encourage everybody come join us for the free workshop, because you're going to hear tons and tons of stories of people who had no audience and grew a small audience and launched. You'll hear from people who had an audience, but didn't have recurring revenue in their business and launched a membership.
You'll hear from people who had established memberships, but had plateaued and you'll hear how they, boom, made a couple subtle shifts and the memberships took off. And there are so many stories of people in all kinds of different markets, from photography and calligraphy, to fitness and finance and music and art and health and dog training and so many more.
And I want to encourage you to come and join us because we'll show you how to add recurring revenue into your business and how to create that stability that will support you in good times and especially in challenging times. So come join us for the free workshop is going to be amazing. 
Paul: And can't wait.
Thank you. Oh my goodness. What an incredible week we are, we just finished day five. And how are we going to put all this together in Stu talked about. 
Melissa: Yeah. So we are super pumped because once a year, he hosts a free membership workshop and we want to invite you to come join. So go to freemembershipworkshop.com.
Join the workshop, learn all about memberships, how to put all this together. It's a blast. We're going to be there again. It's freemembershipworkshop.com. Come join us.