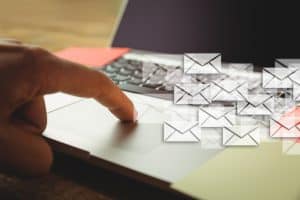 List building is an important piece of your business because that's where you're going to get the people that will be part of your memberships and programs and all the things.
Now, when you're starting out that list might be small but it's important to keep in mind that having a small list with the right audience is better than having a large list of uninterested people.
Focus on building your list the right way from the beginning. It's time to dial in and attract the right people into your audience and it starts with having the right type of list builder to do that. But, how do you know which is best?
We are going to help you out! We have our Highest Converting List Builders PDF for you. Now this PDF is really going to dive in on and help you figure everything out.
Grab our Highest Converting List Builders PDF here: https://onlinemarketingpodcast.com/highest-converting-list-builders/
Subscribe To The Show
3 Big Take Aways
Why size doesn't necessarily matter when it comes to email lists
What are the highest converting list builders
What is going to bring the right people into your world?
---
Adaptive Inner Circle – The Adaptive Inner Circle is an epic 12-month experience for online business owners, coaches, course creators, and membership site owners who aspire to create financial freedom and a lifestyle they want for themselves and their family and also create a positive impact in their community and the world.
Adaptive Marketing Program– The Adaptive Marketing Program is an exclusive opportunity for online business owners, coaches, course creators, and membership site owners to play bigger and bolder in their business and explode their bank account with more clients!
For a list of our resources & recommendations visit: InternetMarketingBiz.com/links/
Connect with us on social!
Join the Online Marketing Podcast Community, our private Facebook group dedicated to those that want to learn the in's and out's of online marketing for their courses, memberships and coaching programs. We share tips, tricks, techniques, resources, and more!
Instagram: @realpaulpruitt & @realmelissapruitt
Facebook: @realpaulpruitt & @realmelissapruitt
Subscribe To The Podcast
And if you loved this episode, please share with a friend and leave us a
review!
Read Full Transcript
Melissa: All right guys. So it's finally time. We're ready to make our big announcement about business reboot camp, and we're starting off with an awesome pre party. We have our special guest Stu McLaren. Hello, Stu. 
Stu: Yay. 
Melissa: We're so excited to have you come on being part of business reboot camp. we're gonna be diving into a lot of really good nuggets.
I would love to hear, you know, what are we gonna be talking about this week? 
Stu: Well, listen right now is an amazing opportunity for business owners, whether we realize it or not. And what we're gonna do is we're gonna highlight this other side of the story that is not being told, but we are on the ground floor of it, seeing it unfold every single day.
Where people are launching exciting membership sites in all kinds of different markets. They're actually seeing a boom during this time. And so we'll talk about what that means for all of you as a business owner, whether it means that you have to make a slight pivot, whether it means you have to double down on things that you've already done.
But here's what I can tell you the way in which we do business is changing forever. And this, what we call the membership movement has been happening for quite some time. It's why you see big companies like the Amazons, the Apples, the Netflix obviously have all merged towards a subscription based business, but even companies like burger king burger king for crying out loud, have their own subscription.
Even car companies like BMW and Nissan are rolling out memberships and subscriptions, even crusty old companies like Walmart have memberships and subscriptions. 
But what we're also gonna do is we're gonna highlight and talk about businesses, just like ours, who have memberships too, and how they are thriving during this time.
And so I'm super pumped and excited. I'm grateful to be here and thank you guys so much for putting this all together. 
Melissa: We're so excited to have you here. We cannot wait. We know there's gonna be lots of knowledge nuggets dropped this week. 
Stu: Yeah. 
Paul: All right, here we are. We just wrapped up the welcome party. We are gonna have an incredible week this week. We're super excited with business reboot camp, but before we begin tomorrow, Stu has given us an incredible gift. 
Melissa: Yeah. So for anyone that wants to get a jumpstart on things we have free membership tips that you can download and grab and learn about memberships and how to make it work for your business.
So go to free membershiptips.com and you can go ahead and grab that.