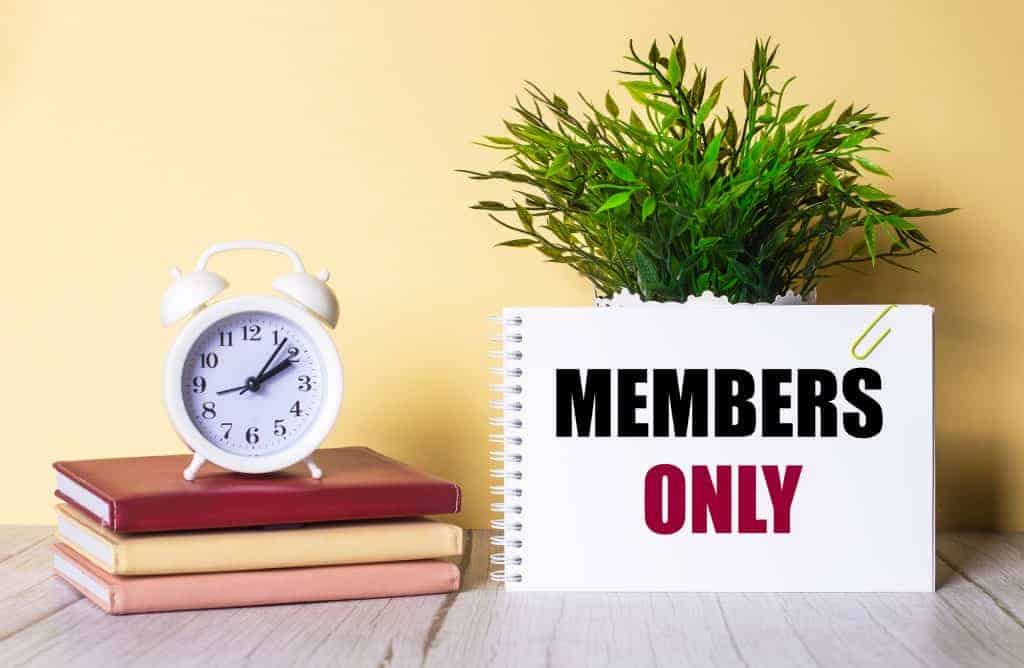 Sometimes we bottleneck ourselves.
A lot of times it's our mindset and our confidence that stop us from asking for the prices we would like to have.
In this episode of our Mastermind Series, we are discussing how to raise your membership price while protecting your time and energy resources.
Subscribe To The Show
3 Big Take Aways
How to create a deeper level of connection with your members
How to raise membership fees without adding anything to it
How to avoid burning out & protect your time and energy resources
---
Adaptive Inner Circle – The Adaptive Inner Circle is an epic 12-month experience for online business owners, coaches, course creators, and membership site owners who aspire to create financial freedom and a lifestyle they want for themselves and their family and also create a positive impact in their community and the world.
Adaptive Marketing Program– Adaptive Marketing Program is an exclusive opportunity for online business owners, coaches, course creators, and membership site owners to play bigger and bolder in their business and explode their bank account with more clients!

Voxer – combines the best of voice, text, photo, and video with walkie-talkie messaging (Push-to-talk PTT) in one free, secure messaging app.

Marco Polo – is a messaging app where users can send video and text messages to others that they can watch on their own time, rather than committing to a video call or posting content publicly.
For a list of our resources & recommendations visit: InternetMarketingBiz.com/links/
Connect with us on social!
Join the Online Marketing Podcast Community, our private Facebook group dedicated to those that want to learn the in's and out's of online marketing for their courses, memberships and coaching programs. We share tips, tricks, techniques, resources, and more!
Instagram: @realpaulpruitt & @realmelissapruitt
Facebook: @realpaulpruitt & @realmelissapruitt
Subscribe To The Podcast
And if you loved this episode, please share with a friend and leave us a
review!
Read Full Transcript
Melissa:  All right, so let me move to Gina. What are some good ideas for having a high level, second level of a membership?
So, Gina, did you want to tell us a little bit about what you're thinking? 
Gina: Yeah, so I have one membership right now and I'm going to start a second membership then. So my current membership I basically, I have one level and I want to upgrade it. I want to get a second level and I, I don't know what to offer as a second level.
That's not going to be extremely time-consuming because that's why I got into membership stuff was not to be doing like all one-on-one work trading hours for dollars. So, I just wondered if anybody had any suggestions of what they've done 
Melissa: Can you just give us a quick little synopsis of who you help and how you help them in the membership now?
Gina: Yeah, so my current membership is basically an empowerment and spirituality membership and a it's more of a community, I guess. So right now I'll do like lessons every month. I'll do group sessions and I usually do either I'll have a guest or sometimes I'll do workshops that I include in the membership, that short workshops that they can attend.
So I'm sort of looking at what can I offer as a second level that would work for me. And yeah. 
Melissa: Awesome. Awesome. 
Paul: Are you able to give us the current price point that you have this current membership and what you would desire in the Uplevel membership? 
Gina: Yeah, so right now I charge $111 a month in the membership per month and, or they could do $1,111 per year.
Paul: And what would you like to get in the new, higher level? 
Gina: So I don't know. I was thinking maybe somewhere around 200 to 200, I don't know, 200, maybe it's like double kind of double up. 
Paul: Yeah. 
Melissa: Excellent. 
Paul: Okay, great. 
Melissa: Awesome. So I see Belinda has her hand up. 
Belinda: Yeah, I'm going to be adding a top tier to my membership as well.
And I started talking to the members and sort of going, okay, if this was going to happen? What would it look like for you? Like what would it, what would you want? And I'm like, I offered a couple of options, like another coaching call with me with a small group and stuff like that. 
And a lot of my members, when we, we are definitely interested in this and while we love the idea of another call, we're not going to turn out to another call.
We don't need more calls right now. And so what I settled on is some implementation mechanics. And so I know groups do working hours and that like implementation. So I'm actually going to trial this month where I'm going to teach a thing and then we're going to do a thing. And then I'm going to see how well it works.
But what it came down to for me is helping people actually do the things rather than having more call time with them where they can ask me more questions or even offering more advanced things. Implementation seems to be the thing that got everyone's attention. 
Melissa: Love that. 
Gina: Thank you.
Melissa: And see you Nina.
Paul: Hey, 
Nina: hi. I was just gonna say following on from that, that I am going to try in December for the first time I do implementation months. So my membership works on like it follows the academic year. So I have three terms and then school holidays, December, April and August are implementation months and December is coming around.
My clients are single moms. So holiday season is like not an implementation month. Like no one has got time for that. So we're doing while week, which is a week of workouts and we're basically going to do a week of drop-in sessions to help them at all the different stages of the success path. So I have five different stages Monday to Friday, there'll be a drop-in session Q and A, where they can jump into zoom and wherever they are, I will help them to work out what they're working on at the start of the holiday season.
And the week before that I'm doing a five day challenge that I'm inviting them to be part of if they want to. That is a kind of public challenge, which is preparing for like all the tasks that you have to do as a separated family to get your holiday calendar. Set up and sorted. So they got holiday calendar week and then they've got wow week and then they can switch off and they probably will get more done in those two weeks than they usually do in the three months.
So I don't feel bad because I'm a single mom with three kids. I don't feel bad that I'm going to disappear by and large for at least Christmas week and new year week, because while week kind of kicks everybody off and then all we're going to have for the sort of second, third, fourth week of December is connect calls, which are not coaching.
They're just social connection calls. So yeah, I don't, I don't know if that's helpful to anyone, but while weeks have been really like taking my, taking a load off because it compresses that implementation space and you can really get a buzz around it. 
Melissa: I love that. I love that. And Lisa, you have your hand up.
Elisa: Yeah, just an idea that I heard recently. I've not ever done it, but one way to add an extra VIP sort of level is to add I think it's called Voxer access to you. So you know, you're available within, business hours for people to check in ask a question, get your feedback about something.
And the fellow that was talking about that mentioned he was asked, well, you know, are they abusing it? And the answer was no they're paying a higher level. So they're, they're much more respectful of your time and being efficient with their questions and in the back and forth. 
Paul: Great.
Gina: That's good. 
Paul: Okay. Any other input? 
Melissa: I was going to add to you cause you got me thinking with the Voxer cause really when it's a higher level, I love the thoughts about implementation. Being able to not just learning things, but actually do the things. And then it just that deeper level of connection.
So the Voxer is great. Also there's another app that's out, that's called Marco Polo. That's like a channel that they can have conversations on and chat and go deeper and create connections. You can hop on there, but it's not necessarily you teaching them anything.
It's just, you know, you're just having like a, a channel to chat and have these deeper conversations that's private just to those people at the higher level, because it's just, it brings them into a closer circle, a more intimate circle, which is really, that's what it's all about. Just going deeper with them when they're paying that higher level tier in the membership.
Gina: Nice. Very nice. 
Paul: All right. So I'm going to throw a curve ball and
why don't you just raise your price to $200 a month? Yeah.
I want to be protective of your time and energy resources. And sometimes we focus on that we need to create another thing, and sometimes it's just us owning. You created something that people are willing to invest $111 a month in what you're giving them now, which tells me that you can go out and bring them to $200 a month right now also because you've already got them over the three digit mark, like the moment that you get somebody over the 97 and the $99 thing.
Gina: Yeah. 
Paul: They're already in a three digit decision. So there are different buyer . To begin with. So. Is there, there might be a reason you might've hit a target market and your audience is like willing to pay that amount. And all of us should feel out to see if we can go above. And if you find a fall off that's there, but sometimes we bottleneck ourselves.
You know, the decision that we've made on our pricing is based on where we were before. In a lot of times it's our mindset and our confidence and it's something. Yeah. Have you progressed and have enough social proof where you can grandfather everybody in that's at the rate that they're in right now.
And you could make a decision that this is valuable, like what already giving his VIP rights. And you could just naturally without having to create another thing, just go out and position and bring people in at a different buying decision. So I just at least wanted to give that opportunity because a lot of us, yeah.
Oh, we brought all these people in now. 
I'll give you an example that years ago, when we launched in the photographer space, we did a founding member style launch. It was, we call it a beta launches back then and we put it out to people that bought our courses. We had lack of comments, like, we'll be, well, we were in a photographer space, well, photographers, pen spend money on this or whatever.
So we did $97 a year. Like, and we actually had a couple hundred people come in on that. So it was like, ah, well, you did what we were doing a lot of work and update. And as time progressed though, did we keep it at that rate? 
No, it eventually got to like 47 a month and everything. But here's the interesting thing that I just want you to think about.
As time progressed though, we in our minds thought that these people would only be willing to give it cause 97 hours a month is like $8 and 88 cents a month. Or, you know, if you get that a year, it's $88 and 88 cents a month, we in our own mind thought that these people that's what they would only invest in.
And then we got to the point, we were just like, you know what, let's test something. Cause when I used to have my real estate office, I used to pay a higher level to get, you know, I paid over a hundred thousand dollars a year to get into a mastermind. So and did one-on-one coaching with brokers and things.
So I was like, you know what? Let's just because, just because we didn't ever offer this, let me just see if any of our members are willing to pay more money if they had a different level of access. So we create a thousand dollar months coaching and we only opened up the 10 spots. And we filled all 10 spots of our current members.
They were always willing to give us more money. We just didn't. We just never asked. Okay. So we left a lot of money on the table. Cause we just assume people would only come in at this lower price point. Now here's the irony here. We are fast forward. Like six years later, we have our Inner Circle membership.
And as the, as the, the recording of this it's 997 a month we have members, they used to pay us $97 a year that are paying us 997 a month because it's not about the deliverable. It's about the transformation. It's about the promise and what you're going to get people. It doesn't, it's not the deliverable.
A lot of us focus on. So in your mind, you're thinking, oh, it has to be a Voxer call or it has to implementation or it has to be. It's your promise. It's the transformation I'm gonna get, and you're gonna attract a different person at that different dollar amount. So I just, want all of us to be careful, some of us, yes, because we're in this internet marketing world, Ascension is sold on us all day long.
We're sending in certain programs and products, but we have a lot of people that come in to our Inner Circle that they didn't have to get a freebie to then get into a low-level membership to then come into another thing to then come into our $500 a month thing. We had people that said, you know, Paul Melissa know what they're doing.
They're worth the investment. I'm coming in day one at that price, I've never walked into Ruth's Chris steak house and said, you know what, I'm only going to give you a dollar for this steak until you prove to me that it's a hundred dollars steak. Like we don't do this in any other world. And any other businesses, we do not do that.
Well, we get groomed and trained. Like this is the only way people are going to come into us. That's true. So it just, when you think it's, it's the transformation, it's the promise and it's the people, their desire and their relationship to that. It's worth the transformation because for all of us, there are tens of thousands of people out there right now.
That's the thing that we do in our membership. They're only on YouTube and they're on blogs and they're in free Facebook groups and they're not willing to pay a dime. Also today. I don't care what the thing is that any of us do, there is somebody in the world paying 10,000 or a hundred thousand dollars to get the same solution that you're giving right now for your thing, they just value the solution.
They're a different person. There's no right or wrong. 
Gina: So true. 
Paul: I just want you to think, like, do you need another thing? Cause that for some of us that's going to burn us out. We don't have a staff of 20 people. To create another thing and to create another thing to create another thing. 
Melissa: And I know, I know that was one of the things that you were just mentioned at the beginning too, that you didn't want to make it so heavy too.
Gina: Yeah, yeah, yeah. Cause I know a lot of people say, oh, we'll offer one-on-one coaching and raise your price, but then I'm back to where I was before. So I don't really want to do that particularly. 
Melissa: Mm Tazeem you have your hand up? Do you want to add something 
Tazeem: Listen to these guys, you really know for sure.
Paul: I'll just say that, you know, with my membership that I just did, I, honest to God was not going to offer a VIP option and I chose to not do a two month discount cause I don't believe in discounts. So I did the value add, but very, very limited and honest to God. Probably 85% of the people that signed up bought the VIP option, which I was absolutely my job, Florida, that I was like, what the hell?
So, you know what it's and the thing is, what do you have to lose to try? Right? If you offered this grandfather, the people in love on them and then offer it, like, there's no reason that you cannot go back and edit your price. Like we want to be able to give value, but we have a life. I mean, I've learned so much from Paul and Melissa about just valuing who you are in your time.
Like, I was exhausted in the same boat as so many of us. And so I'm like, why can't you offer that? Get over yourself because often it's us holding them. Right? And so if you put it out there and say, you know what, I'm super excited. I'm opening up the doors again. Nobody needs to know what you offered it for before.
Just almost promoted as a brand new thing and just show people that I'm bringing incredible value. This is what you're going to get in the process. And if someone's like, oh my God, but they got it for whatever, 111. Yeah. But they, they committed to me when I was brand new and I'm loving on them. So this is what it is now.
I mean, in fact, I'm just editing a document right now and doing the same thing with another group that I'm now opening the doors again for two weeks. And the price is already going up, not by much, but it is going up because the people that trusted me enough to join me when I opened the doors and gave them seven or eight days to do it, they jumped on board.
Things are tough everywhere in the world right now. But like Paul and Melissa said is that people have money or they're prioritizing to choose to work with you, so you know what? You've got nothing to lose. And like, I was so floored. I had, I just had no idea I was gonna have that money. And then people who didn't even know that had never even spoken to me that must have seen my content.
And I didn't do any ads. Mine is all based on, on groups that I belong to, but I was blown away, blown away. How many people bought into the VIP of high level. Cause I was like, this is crazy, but if you you're sending in your way, right. So just try it and got nothing to lose and possibly so much to gain so much to gain.
Gina: So thank you. 
Tazeem: Thank you, Paul and Melissa, for constantly, I'm believing that I can do it right. So because we can all do it. It doesn't matter what your membership is and it doesn't matter that somebody else is offering it for half. What you're selling it for. It doesn't matter. Don't even put your blinders on and just know that what you're going to give is amazing value to your members and that if anybody loves you, it doesn't matter.
Paul: It's completely irrelevant. What's the Joe blow down the road is doing. Even if they've got everything that you've got, it doesn't matter. Just do what you gotta do and love on your members and, and, and do it because you believe that you are worthy. 
Gina: Yeah. 
Melissa: Awesome. Awesome. Do you think, add some things to think about to now?
Gina: Yeah, absolutely. 
Melissa: Good. 
Gina: Thank you.
Melissa: You're welcome.