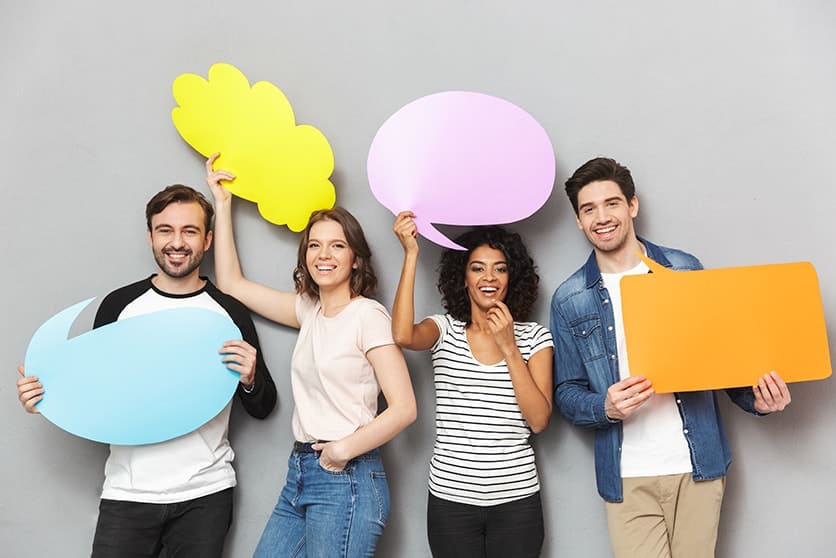 In this episode of our Mastermind Series, we are discussing how to get more engagement in your Facebook groups by building personal relationships and how to avoid creating roadblocks by overdelivering.

We also talk about why up-leveling your onboarding process can save you and your members' time while enhancing their overall membership experience.
Subscribe To The Show
3 Big Take Aways
How to shift from content creator in your groups to becoming a community creator instead
How to avoid creating roadblocks by over-delivering
How to up-level your member's experience through a clear onboarding process
---
Top Membership Niches Guide – Grab our Top Membership Niches Guide to learn more about the best and most lucrative types of memberships and get started with brainstorming how to create the right membership for your business!
Online Marketing PodSquad: Our Exclusive Community where we talk all things about Online Marketing! From list building, building an online course, starting a membership, putting together a marketing campaign, paid traffic, creating an awesome online offer…we'll dive into all of it!

Each month we'll host a FREE live private training on Zoom, where we'll pull back the curtain on some of our best marketing and selling strategies, along with an opportunity for you to ask questions.

All you have to do is sign up & we'll give you a heads up on when our next call will be.

Sign up today at OnlineMarketingPodcast.com, it's free to join us on these live trainings & we can't wait for you to join us!

Adaptive Inner Circle – The Inner Circle with Paul & Melissa Pruitt is an epic 12-month experience for online business owners, coaches, course creators, and membership site owners who aspire to create financial freedom and a lifestyle they want for themselves and their family and also create a positive impact in their community and the world.

Adaptive Membership – Adaptive Membership is an exclusive opportunity for online business owners, coaches, course creators, and membership site owners to play bigger and bolder in their business and explode their bank account with more clients!

For a list of our resources & recommendations visit: https://onlinemarketingpodcast.com/learn-with-paul-melissa/

Connect with us on social!
Instagram:@realpaulpruitt & @realmelissapruitt
Facebook: @realpaulpruitt & @realmelissapruitt
Subscribe To The Podcast
And if you loved this episode, please share with a friend and leave us a
review!
Read Full Transcript
Melissa:  So we're going to go to Rose next. 
So my question is I have a Facebook they're not engaging in that like whatsoever anything I tried. It's only 8 people and all the seven can be on Facebook. One is a China, no access to Facebook. So she to just keep it running because I'm also starting  Facebook ads. I'm opening up my membership newly to grow it a little more.
I'm not doing like a big launch. I'm just like going to be running ads so I can bring in a few more people to grow it a bit or should I leave it for now? 
Secondly, in terms of the onboarding process, since not everything is in place, I don't have a great onboarding yet. And  I'm going to open up the membership again.
So I guess biggest question would be if an new person comes in, my people know founding member launch, people know, opening it up again and I raise the price by $2, two, still to make it a little more expensive, but stay below $40 a month. What is the biggest recommendation with the Facebook group?
And also the onboarding bringing in new people in a running small intimate membership right now, I want to add that the onboarding is happening sort of Facebook group right now, meaning, you know, like this whole like facebook go through these different postings, introduce you or solve. And that was like a drag to get people to do that actually, I also have a questionnaire for the people I did that questionnaire for my founding members, so they can put something at stake, what they want to get accomplished basically, I still have one person who didn't do that. And since I have Searchie and a Searchie heart, you know, my plan is to do the welcome video to hub, to video, to Facebook, to a video. Those are not the foundations aren't in place yet.
 I did have a success path videos, prerecorded, and not even to people in my membership go and watch those. Nobody has actually 
Paul: Okay. That's okay. All of us will have that at different levels. So let's go ahead and open up to the group. So does anyone have any input as far as going from a engagement into a Facebook . Group  or also onboarding process suggestions? Yes. I see Jackie. 
Jackie: Yeah, Rose. Especially when you're starting off, like I help clients with their onboarding, create planners and things like that to help manage their members and give them a good experience. But I would say when you first starting just start making a list with what you have already,
like don't look at all the things you haven't got yet compared to other people, especially when they've been going for so long. Like it's, it's so easy to do that to think: "Ah, I'm not there yet", . But you've got members and they're staying, so they're staying for a reason. 
So write down the things that they with what you have already. And I would just start making a checklist for that. And you add to it as you go, that's how you get to where you want to be one day. 
So yeah, that's one thing I would recommend with your onboarding. The other thing with your Facebook group I've heard and other people could probably chime in it can really be hard to get interaction until . You're over 20 members , you need a bigger number before you really start to get that interaction. So my advice is to actually make the opportunity and get engaged and send them personal messages, like start creating that . Relationship between you and them personally. 
And then as they grow and become more comfortable in that and time passes and they're engaging and enjoying your membership, the opportunity will come without, they'll be ready to join together and experience that with other people in your group. 
But yeah, don't see it as a lack of engagement. We do like Paul suggested earlier and I thought he was spot on, you know, we're looking at specific things for an indication for the health of our memberships.
And he was exactly right, because I can be one of those that don't really chime in or watch a replay because the time zones and to me, it's so super valuable, but I know for the membership owner, they'd be calling of going well, is she even like, does she care? But I think it's, you know, the best thing.
So yeah, just start where you're at, make that list. And can I just say start building those relationships personally. 
Paul: I . Love it. that aren't watching the video and  they're hearing us on the podcast. Well, listen, Melissa & I are like shaking her head up and down and agreed. So, Christine. 
Christine: Yeah. When I started my Facebook group, 
I initially made the mistake that only focused on adding value, meaning what I considered like educational value content, because I thought that's what my members signed up for. And those, yes, I think my members appreciated them, but you didn't get much interactions. What you really got interactions with is the more fun social posts. So I really focus on twice a week, at least put in some funds social posts.
 So they might be post a photo of your fur baby and tell us the story or a photo of Paris. And I say, if you could be in Paris tomorrow, where would you go? And who would you take? So those kinds of more people have a much easier time engaging with those kinds of posts then with the more formal kind of educational posts.
So I really try to mix them in and it actually makes it easier for me to come up with content because that means that two out of my regular posts every week, it can be these fun kind of social posts 
Paul: And think of just real quick, think about that. Like in like the real world, you know, back in the day we used to say water cooler talk, like when you're at work, right, you don't do water cooler. Talk to talk about work, you know, you're like, Hey, did you catch that show last night? What did you think of blah, blah, blah. 
You know, like you're chit chatting about something that you have in common with the other people that has nothing to do with work.
Cause you're trying to escape for a moment. And if we're just beating on that drum in our communication, that's always just about our thing. 
Again, it's the a hundred percent thing that's for us, but it's probably just a small percentage of their daily life. Like they might not wake up every morning on, oh, I can't wait to get into groups so I can still talk about what you're interested in.
Like it's just a smaller piece. So I just think what christine said was wonderful. So we're going to go over to Sharon. 
Sharon: So one thing that I've done in my group that I wasn't planning on doing, but I think is brilliant is I actually use other people's resources. So if I find a video, somebody done on something, I post it so that I'm not the content creator.
Paul: I am just someone giving them stuff that I find all over the place and you're plugged in to your area of interest. So you will find these things and then it, it takes a lot of the pressure off of you. I love not having to be a content creator, but to be a community creator. And what's been interesting is the people that are in my membership.
They like the content. But when I asked them before I did my last launch, what's the most thing that you love about this. It was about community. It wasn't about the content. So I think that's that the whole membership idea really needs to come from that point of community because people need that connection. Yes, they need the teaching and stuff,
but it doesn't all have to be from you. Fantastic. And just before Jackie goes, just real quick, how many of us, even in normal social media where like, you know, I talk about my thing all the time and I only get like 12 views. And then I shared what my favorite color was yesterday. And like I got 45,000 people that commented on this.
I don't understand like what's going on. Like we all have those moments. Right? Cause that's something that we all can connect with. You know, it creates conversation. It's not just about our business or thing. So I go over to Jackie. 
 Jackie: There was one other thing I wanted to add on to when you're developing those relationships, especially in the early stage. And it's actually a really great place to be. I know we all want heaps and numbers and you know, that can seem really exciting. 
But the amazing thing is when you start to build those relationships with your people and especially unlike the others were just talking, you know, about creating that community and being just, you know, ourselves, not our content is that you're getting to know your people and that's, that's actually going to help you as build and grow, know what to add into your membership. 
But more importantly, what you can take out and leave because oftentimes we're putting roadblocks in front of our people and we don't even realize it out of our own insecurity of you know, not getting enough engagement or what we think is not enough engagement or, are they getting enough value? 
And so we wanted to add, and I have clients going. "So, you know, one of the most exciting, latest things that, you know, I can add?" And I'm like, wait, wait, wait,  hang on.
What do your people like? Always ask yourself the question. When you go to add something, will this help them take action easier and get results faster? And if it does awesome, test it out, try it, see if they really do respond that way. But if not,  don't even put it in.
You don't want to add those roadblocks. So I think you're in a wonderful stage to really learn who your people are, what they like and just grow from there. 
Paul: Love it. Love it. Let's go back over to Christine 
the other minor point I wanted to make is one of the advantages of having few members in the group is that you can be really customizing it for them and treat them very special.
So one of the questions I have put, because I have a very small group as well, so I can completely relate. one of the three questions I ask when you bring them into the Facebook group is I say, I love celebrating birthdays. Would you mind sharing your birthday with me? You don't need to tell me the year and then add a smiley face.
And then I actually put that into my personal calendar. And every time that somebody's birthday, I create in Canva, a little nice picture and I post that in the group. So I don't think I could do that if I had thousands and thousands of members, but because I, I couldn't do it because it's a smaller group. So kind of treat them special while you have a small group take advantage of that.
Melissa: That's awesome. 
Paul: I love . It. I love much. So do you have any perspective? 
I think everyone I'm just going to chime in and tag along. It is all about creating the relationships. So I love the ideas. Everyone shared here about making it more  personal,  a mix of the business teaching type stuff, as well as the social asking questions of your members and getting to know them as people is a great way to build those relationships and also to sharing bits of your life and behind the scenes, not just with business, but just in life too, and makes you more relatable. 
I think Meg had said that in the chat being relatable, so sharing those bits as well to be relatable, opens it up for more conversations. And then the more that they get comfortable, the more they're going to participate in the group. 
And as you build that group, it is a number when you have a smaller group, it's just gonna be less people in there engaging initially. But as you build that, you'll have some more people chatting amongst themselves and getting to know each other.
And then as far as onboarding, there was a couple of suggestions that are really great. And I'll just come back to a biggest thing with onboarding is just making sure people know where to find things. I think that's just the biggest thing. 
And so whatever you can do to support them, to let them know where to find things, as far as like, if there's a calendar, I know you had said you've done things in the Facebook group and it was a little bit harder. Maybe even take that same type of sequence that you did in the Facebook group. 
And translated in more to an email because some people they just might do better that way than with Facebook group, they just might not naturally do it in a Facebook group, but maybe if you had that same sort of onboarding type of process, just in an email, just as a text, really simple, like step one, step two, step three type thing. It'll just get them the information. 
So it's really just pointing to people to where they need to go. And thinking ahead,  what are the questions that they would have on a regular basis?
How do I find things, where do I find the schedule? Just make it as easy as possible for people to find things and then you'll build on that as you get more and more processes in there too. 
And couple of little things that we do  through time and feedback. So definitely always be listening because if you hear a question over and over again, that means that is an absence between your sales message and people coming in and experiencing your membership. 
So you always want to get ahead of the questions. So when somebody is asking a question, it means they just couldn't reasonably seek it out and good, better and different. We're a little bit in a lazy societies these days. So people don't hunt and go find things.
They just it's easier for them just to ask and get a quick answer. So allow that like change the meaning of what that is. So instead of constant being frustrated, like here's the zoom link, here's the zoom link. Oh my goodness. Here's the zoom link. It's like, just embrace it. This is part of the membership. 
You're probably going to give the zoom link like once a week, every week indefinitely, and that's just part of your deliverables. Just that way you don't get frustrated at it that it's just there. But knowing that that's a common question you could get ahead of it. 
That's  why even for instance, in our "Inner Circle", and I don't know if you have this with "ADaptive" right now, we might do this later on, but Melissa has a post, you know, that we have prescheduled and it just reminds the members about a resource that's inside the membership. 
So in the Facebook group itself there pre scheduled posts, that's like, "Oh, oh, by the way, there's this thing, that's in the membership. Oh, by the way, here's the zoom link for all of our calls."
And it just drips out that way. It's just a slow drip to kind of re . Remind people what they've invested in as well. We are always growing and getting feedback also. We just got some great feedback this week. Somebody that just came into "ADaptive', they made a couple assumptions and we're like: "Oh, that's really great feedback!"
That was through an email and and that caused Melissa, to go in and say, you . Know what, I'm going to change a couple of the forms here on our reviews or weekly reviews that we do for sales pages and emails and everything that our copywriters do for our members. And that way there's more clarity because if this one new member vocalize that, 
that means, and it was reasonable, we looked at it. We're like, oh, this causes like, I can see where that's confusing. So let's go ahead and add an extra line in here so that it clarifies that. 
So they don't like a new member. Doesn't, you know, our goal is not to make people frustrated or confused or overwhelmed.
So like, why not add that extra little piece and then always just be looking, is there something that kinda is like a void that could just up-level the experience also. 
So I'll get those of you that are on the call cause this, this will make it into a podcast for like a year and a half from that, because they're so far ahead of our podcasts.
So just a little sneak peek of those that are on this call catch the replay in "All Access" is that just brought on two tech coaches inside of team. Now they are being introduced probably tomorrow and we'll actually be on call starting next week for our "Inner Circle" members. 
And these are experts that know everything from infusion soft to Kajabi, to, you know, making all the pieces, work Zapier and all the other things ClickFunnels, you know, so they they're actually going to be on live coaching calls to help our "Inner Circle" members over the next several weeks. And then the first week of next month, we're going to be introducing them into a new schedule inside of "ADaptive" as well.
So, we want to test out the, see where it is. Now, part of that process though is one thing that we thought would be really exciting is to do part of our new onboarding experience. And I'm giving you something that is not released anywhere. So all of you getting the, the ends up, but one of the, one of the coaches that we have on team used to be a onboarding coach for infusion soft and part of their process for many years, was to take people through an onboarding process to figure out what their tech stack is, what their current needs are and what they need in the future. 
 so inside of a half-hour call, they can identify these things to make sure that they are invested in the right technology and that they get rid of things that they're overpaying for, and that they simplify the process, but also that they can grow into their choices. 
So she is going to be doing this in our "Inner Circle". So we have a couple "Inner Circle" members that are on here. So they're giving the insight right now that are on  the call so  she's going to be available. We're going to go through all of our members to make sure they have that accessibility.
And then we're going to be looking at that as an"Inner Circle" onboarding process, as well as an "ADaptive" onboarding process in the future. It's not going to be immediate and adaptive, but it'll cause we, I can't flood this one individual with like a hundred plus people all at once. Like we had to trickle it. 
And so, but that's us looking at it just saying, you know, one of the stumbling blocks for a lot of people when you're talking about marketing sales and all this is the tech, like just freezes, paralyzes people, you know? And it's like, they have great idea, but now they're inside of a Kajabi account and they don't know how to set something up, you know, and then they just get frozen.
So just . Always be listening. 
It looks like Jason, you got your hand up.
Jason:  I just want us to jump in quickly because of what you were saying there about leaning into that whole process of it not being an irritation anymore. I've got a client who funnily enough, used to lose quite a lot of their members at the end of that first month, first two months. 
And she said, one of the things that they identified internally was this idea that they just got annoyed with people, keep asking for exactly the same things, completely turned it on its head in the last six months that she ended up taking on a team member whose job is entirely to look after that now as part of their ongoing process, just to make sure they don't do it, they embrace it. It is what it is. Get on, move on with the next bit. 
And it's just free her mentally now to say, I know that's being dealt with and it's not me. Who's doing it. I get to go on and do my thing. So yeah, thoroughly recommended on that.
I just wanted to back that up from a bit of current experience. That was all. 
That's awesome. 
Paul: Thank you so much.