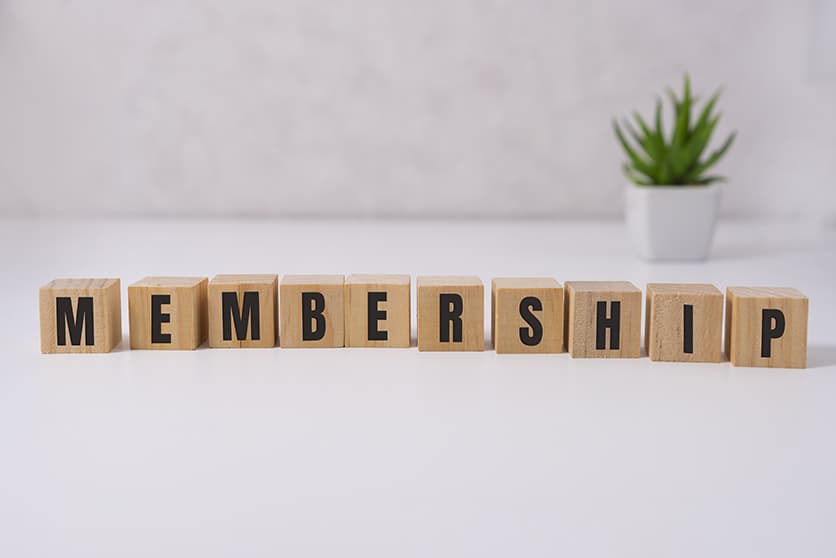 Memberships are a win-win for both, business owners and clients.
In this episode, we are discussing how memberships can spare you from the ups and downs of other business models and create more stability in your business through consistency of income.
While at the same time, you will able to provide a higher level of service to your clients, build long-term relationships and help them to achieve real transformations.
Sign up for the Top Membership Niches Guide: https://onlinemarketingpodcast.com/topmembershipniches/
Subscribe To The Show
Membership advantages versus creating single clients each time from scratch
Why your clients will benefit more from memberships as well
What we learned from memberships that we've been in
---
Resources

Top Membership Niches Guide – Grab our Top Membership Niches Guide to learn more about the best and most lucrative types of memberships and get started with brainstorming how to create the right membership for your business!
Online Marketing PodSquad: Our Exclusive Community where we talk all things about Online Marketing! From list building, building an online course, starting a membership, putting together a marketing campaign, paid traffic, creating an awesome online offer…we'll dive into all of it!

Each month we'll host a FREE live private training on Zoom, where we'll pull back the curtain on some of our best marketing and selling strategies, along with an opportunity for you to ask questions.

All you have to do is sign up & we'll give you a heads up on when our next call will be.

Sign up today at OnlineMarketingPodcast.com, it's free to join us on these live trainings &  we can't wait for you to join us!

Adaptive Inner Circle – The Inner Circle with Paul & Melissa Pruitt is an epic 12-month experience for online business owners, coaches, course creators, and membership site owners who aspire to create financial freedom and a lifestyle they want for themselves and their family and also create a positive impact in their community and the world.

Adaptive Membership – Adaptive Membership is an exclusive opportunity for online business owners, coaches, course creators, and membership site owners to play bigger and bolder in their business and explode their bank account with more clients!

For a list of our resources & recommendations visit: https://onlinemarketingpodcast.com/learn-with-paul-melissa/

Connect with us on social!

Instagram:@realpaulpruitt & @realmelissapruitt
Facebook: @realpaulpruitt & @realmelissapruitt
Subscribe To The Podcast
And if you loved this episode, please share with a friend and leave us a
review!
Read Full Transcript
Melissa: So who's planning on starting a membership this year. 
Paul: Me, well, you know what? We're really going to be jamming on memberships. We've been talking about this recently, and I'm so excited about this because I tell you what it seems like the entire world, no matter what market, what niche, what product, what service, whatever it is.
It's been leaning into the membership model. I'm super excited. 
Melissa: Yeah. Yeah. Memberships are hot. Memberships are everywhere. And we're a jam on that. Just a couple minutes on the ways that we've experienced memberships in our own life.
 Everywhere you go, there's a membership because it really allows the audience, the customer to experience a product, a service on an ongoing basis and give them a higher level of service.
That's what we love about memberships as well. 
Paul: And if you think about it, we've been talking about this, like your, you know, business when you have that one-off sale, you know, it's like we're working all the energy, all the effort, the advertising, like all the things that we're doing, the relationships that we're building. And if we just had that one transaction.
Then that's what all that effort went into. Right. So what do we have to do? We had to go back out and do all those things all over again to create the next client, the next transaction. And in this case, we can actually have longer term relationships. We have more stability. Remember there's peaks and valleys that we talk about.
Like a lot of us experienced the seasons, the ups and downs again, cause we're out there and we're trying to get that next client, that next client, that next client. And you know, what I really love about memberships is that the transformation that people get it's over a period of time. Which then allows people to actually have real transformation versus somebody just like consuming a product or service, like immediately and then like it's gone and like you're truly, can't truly help them, you know, long-term. 
Melissa: Yeah, I know for us, and even our own memberships that we have, we've seen so many awesome transformations from when people started to where they are now and they're continuing to go.
And you can, again, like you said, track the progress that they're having. Ha, you know, go along the journey with them in that transformation. So overall memberships are great, not only for us as the business owner, but for our clients as well, because it really gives them an awesome experience and it gives them that true transformation over time.
Paul: And I really feel like that, like the old way was like one transaction and the new way really is like a subscription slash membership model. Like what let's think. Yeah. Cause I know we're in like the, the coaching, you know, helping online coaches and membership site owners and course owners, but like in the real world, like we probably take for granted a lot of memberships and just the industries and niches that we just never even could imagine years ago would have been actually a membership. 
Melissa: Can you think of a couple of, we have have a lot of memberships. I mean, one of the most obvious ones in this house is Peloton. That is the membership that you know, I go to over and over again, it's a recurring membership with the bike and also all the classes that they offer.
And again, talking about that experience what's great about Peloton is that they have ways that. Have, you know different badges and accomplishments along the way. 
So it gets me motivated to get on the bike. You kind of make fun of me about that, but I love to my badges, but that's an awesome membership that we're part of.
Paul: Yeah. And it's really like, think about that. I mean, I remember growing up and at my grandmother's house, she had that lime green exercise. Yeah. I had that little knob to be able to make the things and had a little speedometer thing on it. You know, I had to say like, in, in our household growing up though, like that's where the clothes hanger was.
That's where, like, you know, you didn't, you had that nice shirt and you didn't want it to go in the dryer and you just like put it on the hanger and like hung it on thatlime green bike and who, who would have thought like back when I was a kid like this, like this bike concept would have been one of the best all time membership models in the world.
And it's just incredible. So that's something I would've never, I could have never guess. That that somehow somebody was going to make a bike a membership. Now, now what's another thing that we, that you can think of in our lives. 
Melissa: Other types of memberships are things that are not so obvious. They're kind of ordinary things that we use in our everyday life.
So we've had a membership for toothpaste before. 
Paul: Well, that was kind of, that was, that was Quip. And that was I'm not sure how you you're a sucker for Facebook ads. So I didn't know. But it was like, oh, here's the electric toothbrush. 
And it automatically came with like, you know, the convenience factor I had to say, like, that's probably what got us originally was, you know, we had electronic toothbrushes, but it was like, we always had to think about going out and buying the new head and everything.
And while that wasn't a huge, real pain point per se it probably like we probably delayed longer than we should have on getting those new tips. 
So just to have something like delivered to us. And also it just, it came with toothpaste. I had to say that we had it, we had a backlog of toothpaste. I'm just letting you know on, on that membership, like definitely you always want to be aware of your, your deliverables.
You don't want to overwhelm people, even if it's a physical product. 
Melissa: Another one that's really ordinary that we did was a vitamin a membership as well. 
Paul: I wouldn't never thought about that. I really do remember the name was ritual. I was really, I was like, oh, really? I have to give him credit. Like they were a little, they presented differently package.
Yeah. It was like, it had very unique packaging, but then it was like a translucent, like a colorful translucent. Like you felt like, Ooh, there's vitamins in there. Like this isn't just some random, but they track like one thing I give them credit for this. This has nothing to do with anything else. But they put like some little sense that in it and it, everything smelled like mint.
When it, when it came to my vitamins, I mean, it was a really good thing. But it was just like how in the world did they take vitamins and kind of like make it sexy, you know, and, and really like an attractive offer. And I have to say it was all, we talk about it all the time. Like the packaging, you know, you don't have to have something completely unique or different per se, just like, how do you position your offer differently?
So it could technically, I mean, at the end of the day, like the vitamin, like what was inside the technical vitamin was probably the same, like every other vitamin company out there in the world, it's just how they package and how they present. That was really awesome. And so that was vitamin. So think about it.
We're talking about bikes like that. How in the world is that a membership? We just talked about toothbrush and toothpaste. How in the heck now we we've been talking about real world things so far. What do you know, a couple online memberships that we have? 
Melissa: So I know for sure. One of the ones that we use all the time, too.
Well, it's more technology is Netflix. Like Netflix we go to, we tuned in on that and that's a subscription where we get to watch all of our shows. So again, we had there's physical products or memberships, but then, you know, something like Netflix where you get that deliverable as like the subscription to all of our favorites shows.
Paul: Yeah. And we have things like Dropbox where we, have things where we share. We have a backup service. That's a yearly membership that is called Backblaze like memberships all around our lives. Like they either we're getting charged every month or we're getting charged every year. We just take these services and these things for granted, I think for a lot of us, the original membership, we're probably don't even see it this way, but our mobile phones that we have, like, we are all paying a fixed monthly fee and then probably some overages on that. 
But if you think about it back in the day, you were actually charged per minute on all these things. And then the minute type thing kind of disappeared through the years and everything.
Remember, this is going to age us, but you remember when that dial up and I like my sound that, you know, it was like we had to pay per minute to get on AOL. Do you remember that? 
Back in the day, it would get a busy signal and these days just take it for granted. Like we pay the monthly fee, they get on your broadband internet.
You're like, you're you're, you know, and but in a way that's, that is a membership because we used to pay per minute to access that. 
Melissa: Yeah. Yeah. And I think what the cool thing is that kind of explaining some of these different memberships that we have in our life. And as we jam on this more, there's memberships everywhere and they're all different too.
And it's a different experience. Some of them are just a deliverable on an ongoing. Some of them wrap an experience around it as well, a community around it as well. So as we talk about this, you'll see that there's lots of different memberships in our lives. Lots of different ways to present a membership.
And for us as online business owners, it's, if this is something that we want to add to our business, to have that recurring revenue coming in. It's a matter of for us to figure out what makes sense for us, our business and how we want to set it up. So it's a win for our audience and it's a win for us as well.
Paul: Yeah. And if you think about it, I think the most common thing when we talk to people, they mostly either like, okay, I almost, I hear you guys talk about memberships all the time. You're like, but like, my niche is different. Like my industry, no, that wouldn't work, you know, do they have, do we at least like put something together?
Maybe that could help our listener, you know, those that are watching or listening, like help them navigate this.
Melissa: You know, we did, we did. So we have an awesome guide for you to figure out really, if your niche is good for a membership.
 So we'll have in the show notes for you to grab, you can check that out and really determine how can you incorporate a membership into your business, how to really make it happen.
Again, to not only give your audience an excellent experience, but also to see how it's going to fit into your business model too. So make sure you grab that in the show notes
Paul: Yeah, and again, swinging back, you know, we covered a lot of ground today, like is a membership, right? For you. Have you been thinking about putting a membership?
Has that seed that little thought, like some possibility it could be something that you're already working on. Like we have members in our inner circle that within the last couple of years, they actually leaned in a completely different direction, a whole new niche, a whole new opportunity that just like lit them up.
Like they did their main thing for a living, but they're like, oh, it'd be really cool to do a membership every year. 
Has there been something that's just been inside of you like, oh, that would be really cool to do it because again, a membership model makes it so you don't have those peaks and valleys there's ups and downs.
You have consistency of income revenue coming in that lifetime value of a customer. You're not working off that one, that old way of that one off sale, you know, you have consistency of there's transactions that are happening over and over again. And also you, you have true transformation. Like you can nurture, you can.
Grow and evolve that relationship we didn't talk about, but, you know, I just remembered one of my most favorite memberships that we've had the massage membership because we weren't doing massages as frequently as we were, but I have to say like that personal care, that self care like having that was incredible.
But here's the thing. What I want you to think about is that you have the opportunity, not only just within your current opportunity, that you're in the niche that you currently serving. 
There's probably a different way of looking at your business and, or you possibly could expand into a new niche that is very popular, that could drive extra revenue, extra opportunity into a whole new type of business venture.
But Melissa did talk about it. There is an incredible download. And I think you should jam in on that. I think you should get that and we'll have that link for you. 
Melissa: Awesome. So remember if you love the show to subscribe to the show we talk about online marketing ways that you can work with your courses, your memberships, your coaching programs.
So please subscribe the show, share it with a friend, let them know that this is what we talk about. This is we jam on. We would love to have them take a listen. 
Paul: And remember until we talk again, marketing matters..