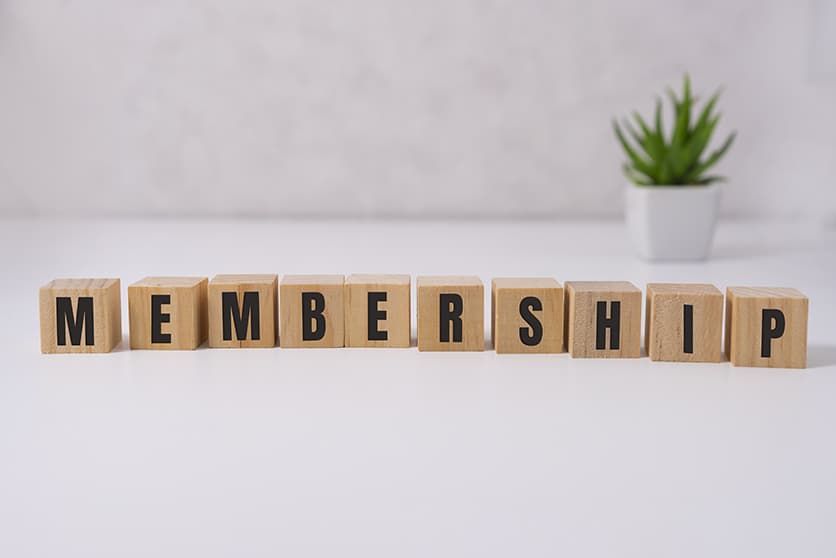 The biggest fear of many people is to feel tied down and restricted by their own memberships
They are afraid that they won't have any time off. They're going to be constantly dealing with members, questions and challenges, and it's going to be hard to go about their day, because they're going to be constantly in their membership, serving members.
In this episode, we are discussing how you can create a membership model for your business that just keeps rewarding you and enable you to serve your members at a high level while protecting your time, energy and financial resources.
Sign up for Make It A Membership MakeItAMembership.com – a program showing you exactly what you need to do in order to turn your offer or your idea into a successful membership
Subscribe To The Show
3 Big Take Aways
How to protect your time resource
How to create a sustainable business
How to outsource tasks to avoid burnout
---
Make It a Membership – a program showing you exactly what you need to do in order to turn your offer or your idea into a successful membership
Adaptive Inner Circle – The Adaptive Inner Circle is an epic 12-month experience for online business owners, coaches, course creators, and membership site owners who aspire to create financial freedom and a lifestyle they want for themselves and their family and also create a positive impact in their community and the world.
Adaptive Marketing Program– The Adaptive Marketing Program is an exclusive opportunity for online business owners, coaches, course creators, and membership site owners to play bigger and bolder in their business and explode their bank account with more clients!
For a list of our resources & recommendations visit: InternetMarketingBiz.com/links/
Connect with us on social!
Join the Online Marketing Podcast Community, our private Facebook group dedicated to those that want to learn the in's and out's of online marketing for their courses, memberships and coaching programs. We share tips, tricks, techniques, resources, and more!
Instagram: @realpaulpruitt & @realmelissapruitt
Facebook: @realpaulpruitt & @realmelissapruitt
Subscribe To The Podcast
And if you loved this episode, please share with a friend and leave us a
review!
Read Full Transcript
Melissa: So a question we've been hearing a lot lately is can I actually make this into a membership? 
Paul: That's a limiting belief because technically what we've learned through the years, Anything and everything can actually become a membership. And we're definitely gonna be jamming on that today. 
Melissa: We've been talking about memberships, come in all shapes and sizes.
There's a membership out there for everything. So there's most definitely a way to make your offer into a membership. 
Paul: So for today, though, let's like just jam in on like a few ideas, maybe like three ideas on what we can do that in a way kind of validate. That is this worth a membership? Is this you know, is this worth going in and leaning into, 
Melissa: it's definitely important to do your research ahead of time.
Really see if this is going to be something that's going to work for you and how it's going to work for you to be able to serve you and your business. 
Paul: So let's go ahead and dive into the first one. 
Melissa: Yes. So the first thing you want to think about. It's the problem that you're solving a one-off problem, like a one-time problem or does it take time?
Paul: Yeah. So if you think about it, like in the real world, probably wouldn't make sense to have like a, let's say I got a hole in my tire, in my car and it has a slow leak and I'm going to go get it fixed. A tire repair membership that might not, it might not make sense. 
Melissa: We wouldn't have that problem over and over and over again.
And we would just solve that problem. Be done with it for a bit. 
Paul: So some of us have that equivalent, like a den in the car. It's like, are you going to get that repaired? It's a one-off solution. Like it's a one-off problem. People are coming in in a very specific, like need state that they just need this one thing fixed.
And they're gone, then they moved on with life. Right. But what's really interesting is technically in every industry, there probably is a way to introduce an actual membership model. So an example, as far as like an ongoing one, like I would have never thought like our local carwash would have had a membership model.
Like you just think like, oh, when the car's dirty, I'm going to go get it cleaned right now. I would love to subscribe to maybe like a cupcake of a month club. You know, that would be a great, that would be a great membership model, but would ever thought that food like a meal could be a membership, but you know what?
We actually do subscribe to a membership. Do you want to talk about that?
Melissa: so we actually have a meal subscription service, so that's a really awesome membership for us because it is an ongoing problem and challenge for us to eat healthy during the week. So we have this meal subscription service where the meals are cooked, they're prepared it's all healthy proportioned, great for us. And we get it delivered on a weekly basis. 
Paul: Yeah. So what you want to do is you really want to look at the problem that you solve, that you're currently solving right now, and look at it from your current point of view, because maybe you are, are you purposely created as like a one-off solution and really give yourself time and space, like sit down with a piece of paper and write out, like, is there a different way of looking at this problem?
Can, can I serve this problem? And possibly, is there a way that it can be an ongoing delivery. 
Melissa: Yeah. And when you have that ongoing delivery for your audience and for your clients, they're going to appreciate that. And they're really going to seek that on a regular basis. It's going to become that solution.
So they don't have to think about anymore and that's going to really help them in the long run. 
Paul: So besides that B between like a one-off versus an ongoing problem, what's another way that we can do some research. 
Melissa: Yeah. So another thing that you can do is look into if there's already or communities that are speaking into the problem that you're solving, because if it's out there, people are having these conversations, then obviously it's a problem.
And there needs to be some options out there for solutions. 
Paul: Yeah. And again, if you think about it, when it comes to like a community or a group or something where there's a common conversation around the problem. 
Some memberships are actually community-based memberships. Like there's a lot of community-based memberships in the world where people pay subscription, ongoing fees, not necessarily to have crazy deliverables, but just to be part of a common cause a common conversation.
Melissa: Yeah. I think that's definitely nowadays people are looking for that. They're looking for community, they're looking for ideas sharing. They're looking for people to connect with that are in the same season in their life that they are at. 
Paul: True. And also this is incredible market research. Not only will you get great copywriting techniques and skills, you'll be able to extract what your potential client is actually saying.
But also you're going to see that they kinda have this problem happening over and over again. They're seeking advice because they wouldn't think about it. Like if the problem was solved in a one-off thing, like they wouldn't stay part of a community, right. They would come in, they would get the problem solved and they would leave.
 By them staying part of a community, part of a group you know, this culture that's happening, what happens is like, there's something there that's saying, oh, this is an ongoing need that you definitely have the opportunity to speak into. 
Melissa: Yeah. So definitely do your research. Look for those communities. Look for those groups because if you find them, then you'll see, okay.
This is definitely something that people are talking about. Definitely a need for a membership here. 
Paul: Yeah. Let's move on to a third way of doing this research. 
Melissa: Yes. So the third way of doing re research is actually looking into if there's already solutions out there for the problem that you're solving, because there's probably people that are out there already in the market that have found options for people to help them with this problem.
So if it's already out there, then, you know, people are getting the help for that already. And you, when you have to offer is, is valid too. 
Paul: Yeah, we see pretty commonly that we're in our own little bubbles, we think like we solve our problem. The only way that we solve it. And a lot of us don't go to the good old Google or we, you can actually leverage and use Amazon also looking at their books and everything, but do some market research, like go out there and look into the market because sometimes we have our blinders on, we don't realize that there's somebody around the world or on another, you know, another state or province or area. 
And they're already speaking into the thing that we think is uniquely different than what we're doing, but really it's a common problem. It's something that people are at a certain stage of their life.
They're experiencing this certain situation and you have the ability to. They might not be your direct competitor. They might be like an adjacent competitor and you might be able to see like what they're already doing and that'll give you like market validation. That'll show you like, Ooh, there's other businesses.
Other people that are already leaning into a membership opportunity in this space, they might be tackling it a different way or different approach, but you can become more market aware because a lot of us do have blinders. We think like, oh no, there's nothing that exists. Like it only takes me like 10 seconds.
I go over to Google and I'm like, oh, like here's a whole list of people that are kind of sort of doing that same idea. So definitely make sure you take the time and do some market research. 
Melissa: Yeah, and side note here, don't get in your head about this either. When you see other people with other solutions that there's no room for what you do, because what you do is unique, it's special and you have a unique perspective to it.
So this is just market research to really validate your idea. 
Paul: I'm glad you mentioned that because so many people trip up, they get in that mindset like, oh, I'm not going to do it. You know? I, and I always default to pizza. Like I'm so glad whoever originally created pizza, like people copied because otherwise we wouldn't have it in our local town and wouldn't be able to enjoy it.
So there are people that want your flavor that want your taste, that want your vibe, your personality. You're going to bring this same exact topic to, you know, that solution to that problem. But what it is is you have your own unique way that you're delivering it and people are going to attract themselves to that.
So there's plenty of room out there for all of us. Think from an abundance standpoint, not as scarcity standpoint, over 7 billion people in the world, we cannot personably, you know, be able to handle all of that. Goodness. We just need our people. 
Melissa: Hopefully , this has helped you to figure out some ways to really validate, do the research, to see if your idea for a membership is a good one. 
Paul: So, you know, what's interesting. Now we can just sit here and talk about this and this show today, but I think we need to actually go on a deeper level to be able to help you really dig in to validate this idea and to see if it's going to fly for you and Melissa. I think we're putting something together.
That's going to just totally blow everybody's.mind
Melissa: So excited about this. So . We have our, make it a membership program, which is really all about how you could take your offer and make it into a membership. So if you go to make it a membership.com, you can go sign up for it and we're going to help you figure out all these things with that market research, to validate your idea, get ideas, to really serve your audience.
We'll make sure we have that information in the show notes as well, but again, go to makeitamembership.com and you can go check that out. 
Paul: I'm so excited about it because today is all about like, can I make it a membership and what a better solution that we have for you is going to makeitamembership.com.
So again, we've jammed on the three different ways, just really quick. Keep in mind, we're going to go way deeper. We're going to give you, you know, the market validation, exactly what you need to take those first steps in order to make your idea into a membership. But today jamming on, like we went through like, is it a one-off problem?
Or can we look at this problem and find new solutions that will naturally bring it into a membership model for you? We looked at, are there communities and groups, conversations that are already going on in the world because you might even just have to do a community type style membership, which is.
'cause that's like user generated content. That's like you not even having to be as involved, but also that, that conversation, the market conversations going on there is going to show you what problems that people are that need solve on an ongoing basis. 
And then coming back, like there most likely are other products and services in the world that are in a subscription or membership model for the niche, for the problem that you're solving.
And it's just sitting there. We just might have our blinders on, might not be aware. Might not see it naturally, but the thing is, these are just like the top of the iceberg. We really want to help you out dive in deeper. So we really want you to head over and join the rest of us in makeitamembership.com the program is going to be starting soon.
I'm super excited about that. 
Melissa: Yes. So as always, this is amazing time with you. Amazing episode. If you love the show, please go and subscribe and share it with a friend. Let them know this is what we do. Online marketing and your business, we would love for them to have a listen to. 
Paul: Yeah. So again, until we talk again, marketing matters.