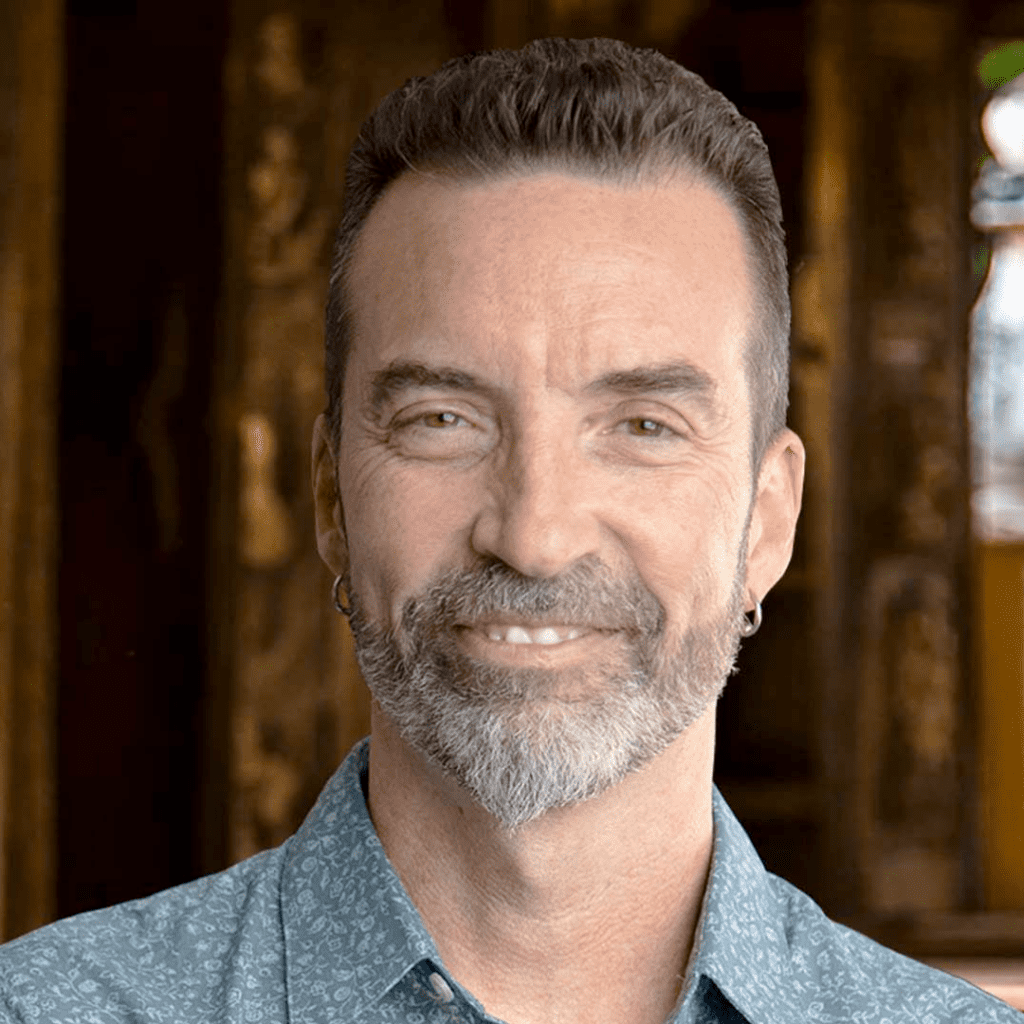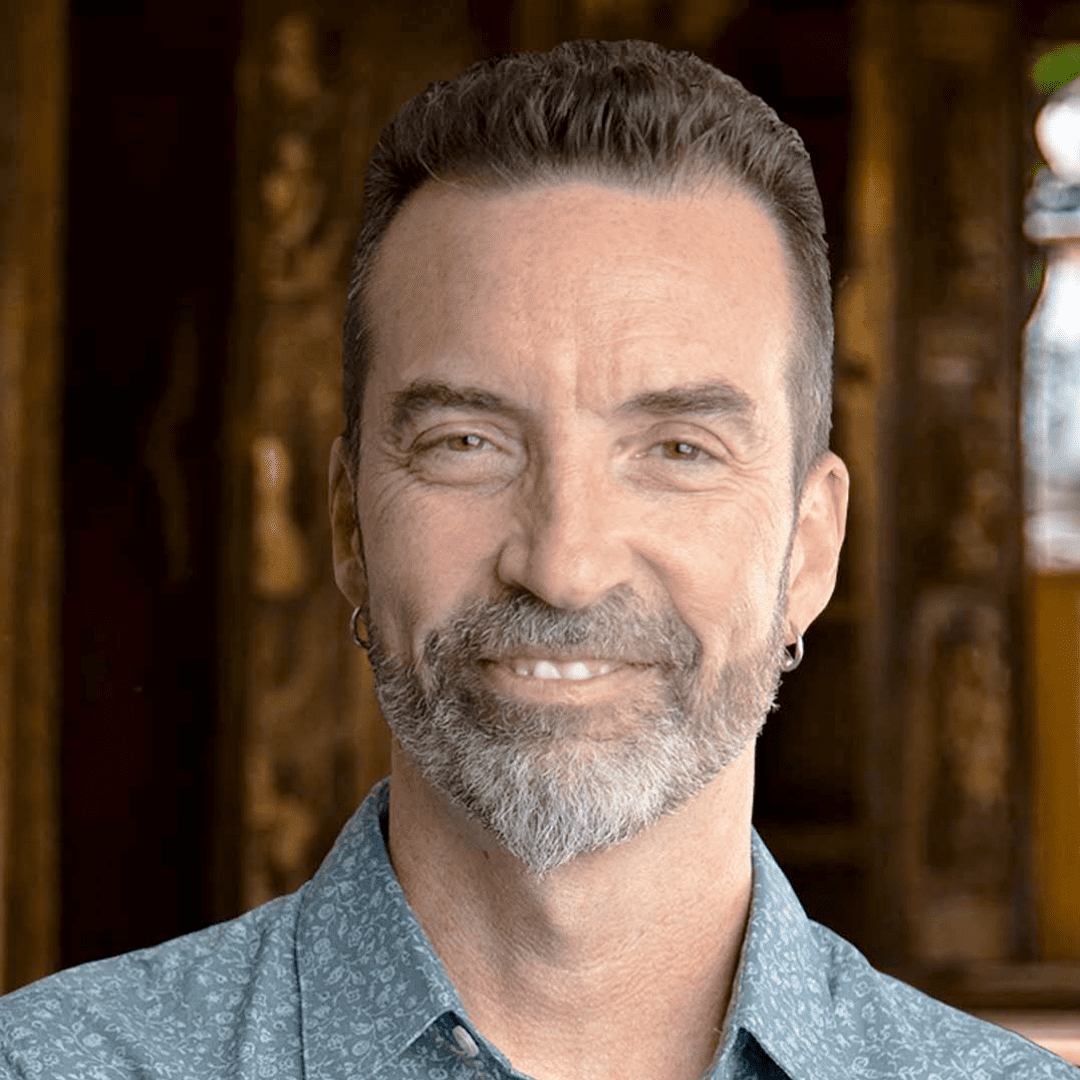 A lot of times, people get stuck in their tracks trying to perfect their offer, wait for the perfect moment, or have their fears stand in the way of launching their membership.
And then they freeze and lose momentum.
In this episode, we are talking with Eric Walrabenstein, best-selling author and renowned educator.
He is sharing his inspiring journey, how he overcame his perfectionism, his fears and self-doubt to transition from his real-life yoga studio to online membership, and what he learned about attracting the right audience for your offer.
Eric Walrabenstein is a best-selling author, ordained Yoga Master, and nationally-renowned educator in the fields of yoga and meditation.
His work focuses on empowering people to practically apply the lesser-known aspects of yoga, beyond the postures, to live lives of more purpose and meaning.
He is the founder of Yoga Pura, one of Arizona's largest yoga schools, the creator of the BOOTSTRAP Yoga Stress-management System developed for the U.S. military, and is the founding director of the BrightLife Yoga Collective.
His podcast, This Perfect Moment, is available on Apple and Google Podcast networks.
Sign up for Make It A Membership at MakeItAMembership.com – a program showing you exactly what you need to do in order to turn your offer or your idea into a successful membership
Subscribe To The Show
3 Big Take Aways
How to overcome perfectionism and self-doubt
How to cherish your unique gift in the world
Why your launch mistakes can be the most valuable lessons
---
Freebie: Yoga's Secret to Calm by Eric Walrabenstein walking you step-by-step through how you can put the powerful pieces of the Secret to Calm to work in your life in just minutes a day.
Make It a Membership– a program showing you exactly what you need to do in order to turn your offer or your idea into a successful membership
Adaptive Inner Circle – The Adaptive Inner Circle is an epic 12-month experience for online business owners, coaches, course creators, and membership site owners who aspire to create financial freedom and a lifestyle they want for themselves and their family and also create a positive impact in their community and the world.
Adaptive Marketing Program– The Adaptive Marketing Program is an exclusive opportunity for online business owners, coaches, course creators, and membership site owners to play bigger and bolder in their business and explode their bank account with more clients!
For a list of our resources & recommendations visit: InternetMarketingBiz.com/links/
Connect with Eric
Website: www.ericwal.com/
Facebook: www.facebook.com/walrabenstein
Instagram: @ericwalrabenstein
YouTube: www.youtube.com/ericw
Connect with us on social!
Join the Online Marketing Podcast Community, our private Facebook group dedicated to those that want to learn the in's and out's of online marketing for their courses, memberships and coaching programs. We share tips, tricks, techniques, resources, and more!
Instagram: @realpaulpruitt & @realmelissapruitt
Facebook: @realpaulpruitt & @realmelissapruitt
Subscribe To The Podcast
And if you loved this episode, please share with a friend and leave us a
review!
Read Full Transcript
Melissa: Welcome to our special membership site interview series, where we interview online entrepreneurs about marketing and selling their memberships. Today's interview is with Eric Walrabenstein. Eric has a membership where he focuses on yoga, but it's more than just your yoga that we're used to seeing where you're stretching and sweating and all the different yoga pants.
But it's really yoga of the mind and he's taken his methodology of yoga and brought it to a membership site. He talks in the interview a lot about how his membership has evolved and also speaks into perfectionism, which is something I know all of us struggle with as online entrepreneurs, but really how he moved past that got his membership out into the world and is . Making an bigger impact on the world, bringing his style of yoga, teaching out there to his audience.
So let's go ahead and dive into Eric's interview. I know you're going to love listening to him. Talk a little bit more insightfully about his membership and the changes that he's made along the way
Paul: Eric. I just wanted to say thank you for coming on the show today. We're super excited to be able to have you here.
I just know that in a recent mastermind that we're in you were one of the featured speakers there, and I think Melissa and I were just in awe of your knowledge expertise, your, your background. So that it's a true honor to have you on the show today. 
Eric: Well, thanks. I'm happy to be here guys. I'm excited.
Melissa: Excellent. Excellent. Let's first start off just telling a little bit about what you do. So our audience has an understanding about what you do, and then we'll get into some of the nitty gritty with your business too. 
Eric: Okay. So I'm a yoga teacher would be the way that most people would think of me, but that inevitably leads to a whole heap of confusion.
The yoga that I teach has less to do with the body and the breathing and the sweating that goes down at the yoga studio and more to do with mental and emotional self-mastery. 
So I help people lose the ancient technologies of yoga in order to live happier, better, more empowered lives. 
Paul: I love that. So it's the yoga of the mind as well.
And I think if I knew about that sooner, I probably would have tried out yoga because Melissa has, through the years has done yoga. 
I'm like, oh, okay. I don't know if my body can twist that way. I'm sure my mind could in the online space. You know, you have the real world side, which you're very successful and you have a list of credentials that are incredible.
And we talked about that a little bit in the intro is that there was a certain point where you start leaning online, you know, and I'd love to kind of take you back and you know, was there like a natural tension? Was this an extension of what you're doing in person and you brought it into the online space or what, what happened at that point.
Eric: So I've always felt this pull to serve more people. And it felt very constrained by the brick and mortar model. 
And for a long time, I struggled to go online and I had a, kind of a passion project for troops and veterans with PTSD help, 6,000 people. Problem was it wasn't monetized and everything that I tried to do online to get it monetized, just wasn't getting traction for a long time.
And so I leaned back to the brick and mortar over and over and over again. And it was this mixed blessing called COVID-19 that really made me get serious because the yoga studio basically evaporated. And I still have, you know, 20, $30,000 in expenses every month to cover with no people coming in. So at the beginning of the lockdown I had a whole community that couldn't come to see me anymore.
So I started to serve them online for free. And then that morphed into a program that I was thinking about making a membership. 
And so it was kind of this, not sure where it was going and I just decided let's get it out there. And it was called inner peace university. 
And it was taking the core teachings of yoga, again, the mental and emotional stuff primarily, but with some plasters and it was designed to help people synthesize inner peace, independent of all of the nonsense that was going on around them.
 We did a launch. I looked back recently at the, the sales page and some of the launch materials and we've come a long way, baby. It was pretty ugly. And then looking back at it, Wow. I made a sale. The truth is I, we, I think we made 'em, we've got 35 people onto the program at I think it was $97 a month, something like that.
And we went for six months. It was a $21,000 launch. So, you know, not too bad, we didn't spend very much in ads. But what that did for me was allowed me to kind of work out the kinks on how can I deliver real transformational value in this format. 
And that was the, that was the nagging thing that for forever was bothering me because I'd seen so much, really radical, miraculous, crazy stuff happened over the years with people that have been coming to my studio or my retreats, or what have you.
And it just felt forever out of reach in terms of how to do that online. And so this was kind of a proof of concept thing. So that was my first foray into the more formal monetized online space. 
Paul: So you were really surprised about that first sale. Like you went scrap, you didn't have all the answers.
It wasn't perfect. You didn't like wait until it was all done perfected, you just made a decision. You didn't know if it was going to fly or not. You just, you just leaned in and did it. 
Eric: And I, I will be honest. I, I waited probably a little bit longer than could have I'm my recovering, not even recovering, I'm a perfectionist.
So that trips me up an awful lot. So it was, it was not where I wanted to be, but I just pulled the trigger because again, the pandemic forced me to do it. So there was, there is kind of a mixed blessing. 
Paul: Yeah. 
Melissa: I think a lot of people can relate to that though, that perfectionism, because, you know, we want things done a certain way, but I love about it is that you just, you just went for it, you know?
And I think that's a lot of times that's where we get stuck and people get stuck in their tracks and then they just don't move and they don't have any of that momentum. So that's just really inspiring and good to hear because you went forward and look at, you know, look what you've created . From that.
Eric: Yeah. And there was, there was a lot of trepidation. Bordering on fear and which is strange for me because I can stand up in front of an audience of 3000 people. And it's like nothing but this weird thing about talking to this one eyed piece of machinery that I'm looking into right now cause you don't have the feedback.
And so there's a, there's a lot of nerves as how is this being received? And the other thing that that came over time was there's a magic to being in person is kind of a symbiosis between the speaker and then the audience. And you're fed by that. And when you first start talking into a machine like this that's seems to be gone, but as you do it more and more and more.
It's it's kind of strange, but it, it comes back and you can find a way to bring that kind of authenticity into the communication. Even though at first it might seem like it's completely out of reach. So that was kind of a big aha for me over time, 
Paul: it's almost like a muscle that you've never used before, and then you're focused and you're hyper focus.
So it'll be really interesting for a lot of people when things go full circle and they're at whatever state that they're in, that they'll go and do more in-person elements that for some of us that have gone through this transition and had the, you know, be on stage or, you know, some sense of influence that I wonder if that muscle will carry through and we'll actually be better communicators because we weren't just leaning on the in-person visual body language elements, but also voice inflection, tonality.
You know, cadence, other, other elements that would carry us through what that conversation. That's very interesting. 
So if we were, if we were to come into your world and like how would an average person would they, would they already be in like interested in yoga? Would they in meditation? And then they would find you, or would they just have a certain stress point in their life?
Like, what have you put out into the world is from discoverability standpoint. 
Eric: Yes, you hit all three of them. Great job. So I have a little Venn diagram in my mind regarding my avatar. Yeah. One part of them is, has an established yoga practice. Another part of them has an established spiritual practice.
And those two are important because there's a lot of yoga practice owners that are doing it for health and fitness reasons. And so it's kind of like a yoga plus meditation. But meditation for spiritual reasons. Right? And then the third piece is there is some pain point. And for my avatar, it usually has to do with anxiety, self doubt, this feeling of being just not quite in the right place.
And there's also an awful lot of folks that this is not necessarily. Because I'm a full disclosure and this was what was really hard for me in the beginning is, and I remember speaking to a coach about this when I was first kind of getting started in the online space, who do you want to help, or who do you serve?
And it was like, everybody. 
Because I know that anybody who has a sincere interest in following, along with my program can have their lives changed. And so I've, and, and I've always had this fear of niching down, because what about all those other people? 
So that, that was a really tough thing to overcome, but one of the things that become painfully obvious, and I know that I'm going off in the weeds here a little bit so sorry if that's fine.
 Is that without niching down, you try to help everybody, and then you help nobody. So this, this last piece with some pain point, what I was going to mention is that interest in the anxiety and the doubt and the kind of life purpose stuff, there's awful lot of that that has arisen inside my community.
That's being thankfully resolved in some really powerful ways. So it's those three pieces, yoga, spirituality, and some sort of kind of mental, emotional pain. 
Paul: Yeah. So when, when that person's living through that moment, they're probably going on Google and social media. You know, we know that you have a, you know, an incredible podcast.
You also have a a YouTube channel as well. And. When, when these individuals come to you in that pain point or in that moment that they're either trying to improve their practice or they're looking for an alternative, you know, do you bring them right into a membership? Do you bring them into a course?
Like what what's the, the, like the, the natural path that somebody would come into your world? 
Eric: The path has evolved over time. And on. Let me just give you the current version, which is the version that seems to work, which full disclosure is not the version I thought was going to work. So test and listen to the data.
It is my recommendation there. So I bring people into a free workshop and it's usually a multi- part workshop or some sort of a challenge. And the real goal of that workshop is to help people understand as I teach it, which in 90, some odd percent of the cases is radically different from the people who stumble in.
And so my, my chief lead generation tool is Facebook And we onboard, you know, a few thousand people into one of these workshops and we really try hard in the ads to educate as much as we can because I, as you guys well know, getting the wrong people, not to click is equally important is to get the right people to click.
And so I try to help people. It's not the bending, breathing, and sweating that goes on down at your yoga studio is something much more, and it can help you in very different ways. So that there's this. Oh, okay. There's an openness and no expectation that we're going to do a bunch of bending breathing sweating at the workshop.
And then it's a fairly comprehensive curriculum if you will. That helps them to kind of see that, oh my God. There's way more here and this way more here can actually solve so many of my problems and then give them a little taste of how that problem can be solved. And then we invite them to join the membership.
So that's the process. 
Melissa: Yeah. It's great. What I love about it too, is that you're really helping them and guiding them to make an educated decision.
 I think that's one of the things I know Paul and I like, we are all about, it's like, like you said, having the right people come in and also the people that are not the right fit, let's find a way to serve on a different way or, you know, refer them to something else.
But you're really guiding them to make a good decision. This is the right fit for them. 
Eric: Yeah. And that, and that is such an important point, Melissa. The last thing it's really tempting just to want to get bodies in a membership. But the worst thing you can do is to get the wrong people inside, because not only are they going to bounce in short order, but they're also going to pollute the community.
Melissa: And one of the things that I've noticed is that and this was kind of unexpected for me is I thought people were going to get the most from the teachings and they're getting an equal amount for the community, just from the interaction and, and the way that we've learned to begin to facilitate dialogue and communications and such between them, then that takes some of the heavy lifting off of us and makes, well, it makes them a participant in the evolution of the whole.
So it's been, it's been really amazing in that way. 
Paul: this is great to hear because there's, there's a lot of people in the online space. So like, oh, you can't take people right from like a cold audience through an ad right into a membership model, you had to give them like a one-time purchase. So it's great to see you have that which I picked up on.
And the other thing. Which I think was really, really important is that there's a lot of people in their head. They're thinking, you know what? I know my thing, but there's like a thousand competitors in the world or in the marketplace right now. Like, and you just honed in on like how you uniquely bring yoga to the world and how you teach it.
And you just owned like your way of doing. Which has always uniquely different than what the rest of the market's going to do. And you didn't create an excuse like, well, since there's like probably tens of thousands of other people in the world, teaching yoga their way, I shouldn't bother doing, putting my offer into the world.
So I really love that you, you leaned in and you launched it and you put it out there into the market. 
Now. Here we are fast forward though. And you have this clarity and thank you for sharing your journey because you were like, oh, this is what I thought was going to happen. Cause how many of us have done that?
Like, we, we thought the wind was blowing this way and we got out and it's actually gone total different direction, you know? 
 but it's something I think to give ourselves some grace, like that's okay. You only have that perspective once you actually take the action and see that. 
Eric: And can I say something to that?
Yeah. Yeah. Yeah. One of the things that really helped in this evolution from kind of launch to launch to launch is to recognize. And I mean, not just in a mental, but we really recognize that the biggest win that comes out of this launch is learning, not sales, because if you're just focused on sales alone and you're not learning, you're still kind of powerless.
And so long as you use your metaphor, Paul, that the winds are blowing a certain way. Everything's hunky Dory. But when, as soon as the winds change, you're, you're back to square one because you've got no idea about what buttons to push and what levers to pull. 
And so for my money, in my experience, some of the most successful pieces of launches are the things that didn't go well, at least in the view of like today, but they've set me up to be much more empowered and intelligent as I kind of move forward. 
And that was lost on me for quite awhile. 
Paul: Yeah. The market feedback, I think, is so vitally important for us as business owners. It's that reflection coming back to us.
It always has the answer in it. And one thing that Melissa and I do is we do a debrief and, and I, I'm not sure, I think Tony Robbins, something, she got this from years ago, but what did we do well? You know, where can we improve and what did we lose? And we can do that on every element.
So the pre-prelaunch the prelaunch. We'll talk about the opt-in specifically. We'll talk about the conversion, like every element, cause there's nuances in each of those things that we can just tweak and turn and test in the future. So thank you for bringing us full circle on that, because I think.
Again, it comes back to that perfectionism. We just want to build this perfect thing, get it out into the world. And that's just not how real life happens. You know, we, you know, we don't run a marathon on day one. We've got to learn how to lift our head and then crawl. And then one day be able to stand up and another day be able to walk.
And I think a lot of it's just want to wake up and run the marathon perfectly. 
If you could rewind back, though, if we could take you to, and this might be like when you leaned into the online space or it could be at the beginning of your entrepreneurial journey, if we could take the wisdom and that perspective of you doing these launches and promotions and having your business these days, and you can go to that younger version of yourself even if it was like, Right before the world went on lockdown and you pivoted and your business, or prior to that, is there any, like, something that really resonates with you?
Like you could go back in . Time and kind of like, see your old self and just say, Hey, here's a piece of advice that I want to give you. 
Eric: I think it kind of goes back to this courage to focus on your unique genius. You can't swing a dead cat without hitting a yoga teacher these days, but there's only one me and the people who resonate with me and who are unbelievably transformed by me, may not resonate with somebody else.
 And I know that there's a whole bunch of other people who have other brilliant yoga teachers, who would it be repelled by me. 
And that's just the nature of the universe. It's not a bad thing. And I can say, though, in the early stages, it's always, well, it's terrifying, right? 
Because you don't know what's going to happen and you need to put food on the table and you want to be successful. And the tendency is to want to reach out and go as wide or do what everybody else is doing, or look at what other people are, have had success doing.
And that can very easily take you out of your genius zone. And then, then you're kind of in the wind. So it would be the courage to kind of really double down on what I'm uniquely able to do my unique expression in the world. 
That would be, I think, the biggest thing. 
Melissa: So powerful, so powerful and, and also too with your business as well, we're always looking for unique ways of getting your message out there into the world.
So another fun question we always like to ask our guests is if . You were starting over again and you only had $500 to market yourself, what would you do with that money? How would you get your message out there? 
Eric: That's a really good question. I would probably spend it on a course or some sort of coaching or something because you could breeze through $500 on Facebook ads or YouTube ads or any number of other outreach activities and learn nothing. 
And then end up with nothing. And so it's not to say that you would necessarily have to spend all those $500, but I think that that would be the first place that I would invest is to get enough knowledge so that I'm, I'm making skillful and intelligently informed decisions about what I'm doing, as opposed to just spending and hoping that something comes out of it.
Paul: I love that. Cause a lot of times we think investing is an external thing and very rarely do we think, like we should invest in, in our knowledge and expertise because, you know, as I say, like once you you're, you expand that mind and never goes back to where it was before. So that's a incredible advice.
Thank you so much. 
Melissa: So we would just love to have our audience know a little bit more about you and how they can get in contact with you. You've already shared so much, this has been a really powerful interview. And I think a lot of things that we all need to kind of think about where we all are our journeys as entrepreneurs, but let our audience know how can they get in touch with you if they want you know, follow along or, you know, some of the things that you do on social we would love to, to share that 
Eric: the best place is just to go to my website, which is Eric wal.com. That's E R I C w a l.com. And I also have a little gift for your audience. They'd like it, it's called yoga's secret to calm.
Guess what? No bending, breathing, or sweating involved. It's a guided meditation that really, really powerfully resets the nervous system together with a little daily journal. You can use fill in the blank to help you kind of stay rooted to your calm, best self, and that you can get that on my website ericwal.com slash gift G I F T.
So I'd be happy. And my podcast and everything else is there links to social media. So that's kind of the place to go. 
Paul: Excellent. We'll make sure that we link to all those resources. Again time is the number one resource that's unrenewable that we value the most. And we appreciate you overlapping that time with us today and sharing your knowledge and expertise with, with our audience.
So just want to say thank you again. 
Melissa: Thank you. 
Eric: Yes, my pleasure. Thanks for having me guys.