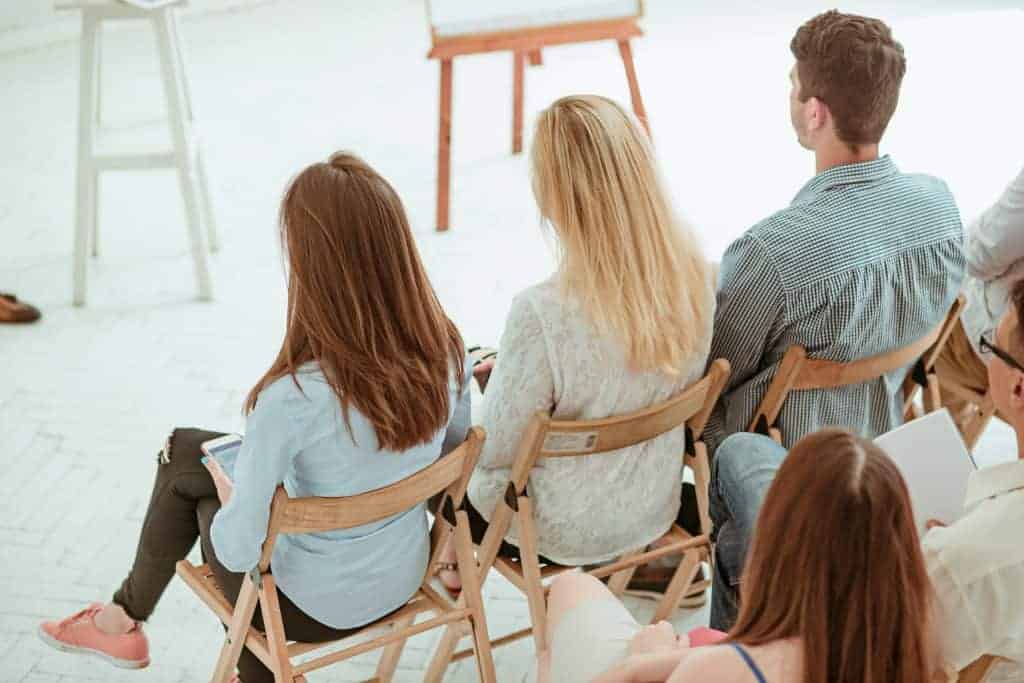 In this episode of our Mastermind Series, we are discussing the benefits of low-priced or even free introductory training before your membership to position yourself as an expert, build desire and indoctrinate your audience.
Subscribe To The Show
3 Big Take Aways
How to use freebies to position yourself as an expert and get your audience hooked
How to build desire & indoctrinate your audience
How to lead your audience to the solution that your membership is providing
---
Resources
For a list of our resources & recommendations visit: https://onlinemarketingpodcast.com/learn-with-paul-melissa/

Connect with us on social!
Instagram: @realpaulpruitt & @realmelissapruitt
Facebook: @realpaulpruitt & @realmelissapr
Subscribe To The Podcast
And if you loved this episode, please share with a friend and leave us a
review!
Read Full Transcript
Melissa: Alright, so let's move on to Dr. Kyrin with content for membership, have some tech, do I need more?
Kyrin: Right. So well . I'm in health and I almost did  it's to a membership course. And so I was indecisive of doing a health program and I'm what I decided to do because during COVID, this is the first time ever in my life that actually had as much Time off.
And so I asked myself,  if I could do something, what would I really love to do? And I went back, I decided to learn to code. It sounds very stupid and very bizarre, but it's something that I really wanted to do. And as a child at anyway, at the tail end of it, I've I have an app now. And so I'm going to do, along with my partners, a social media scheduler to schedule 10, 11 all at once, because my challenge similar to what Anna was saying, how do you show up while you're seeing clients? You know, it's very difficult. And so the question that I have is I want to create a membership to help people like me show up more consistently align.
But all I have at the moment is an app. And, and you know all the we've created like several, a couple thousand images and just all that stuff. So allow you to be in one place and shed you for months and kind of get it out of the way. So is that enough for a membership or do I need to put like a course in front?
I would like it to be sustainable. So people stay, so they feel like they're evolving. And so it's not just, you know, of course they're going to be doing something, but if you see what I'm saying, like how do I pull that? You know, do I need to pull that all together?
And so I'm going to put the nutrition and all the other stuff on hold. I'm just going to start with one. And then after the elections and everything, I look at the nutrition for the started year, but that, that's my question. Is it enough just to be training people and helping them show up or do I need a course in front . Of that?
Melissa: Great, great question. You're already got hands. 
Kyrin: So Tazeem 
Tazeem:  So my question to you is Kyrin is who is your audience? Are they physicians like yourself? 
Kyrin: So it . Will be more lifestyle. So I'm a physician, but I actually own a yoga studio.
I moved to new co and I moved to Holland. I didn't speak the language. And so opening a yoga studio to build my audience. So it's people with lifestyle, businesses, physician people in the wellness space lifestyle is so those would be because people are actually giving service. So you're not, it's difficult to also show up online, to still maintain and sustain an audience. 
Tazeem: I have something similar. I actually cater to solo estheticians and wellness practitioners. And I, done this for almost 18 months and I do like a two coaching sessions a month. Plus they get content that they can use on their social media. And I guide them with that as well.
And I also do a little bit of business coaching. So I guess it depends how much you're willing to put in, in terms of time. And it also depends on the price point, I think. Right So obviously in your marketplace, you might be able to charge a little more if you are adding a coaching component or a live component, but if it's just content that you're delivering, then it's probably either going to have to be really juicy, not necessarily a ton, but I think it has to be really succinct to that audience right. So you'll need to keep that in mind when you're creating the content as well. 
So I don't know if that's helpful or not, but just, just my  thoughts on if you're catering to wellness overall, you know your images are going to help to fit a lot of different markets because a yoga studio is very different from a chiropractor's office versus a nutritionist strength. So those 
Kyrin: maybe I should explain, I'm not. So we've pulled together, maybe now a couple thousand images across all . The things.
What we actually have is an app that which allows you to share. So put your own image in, and with one principal button it's sensitive you, so you can repurpose, it, sends it to all your social media once it's, for example, you know I've built on, I have almost 10,000 on LinkedIn, but I've never sold anything on LinkedIn. 
That's just because I've been posting repurpose in the same thing that I would put on Facebook that I just sent you, you know, so you could send to Tik Tok or send to, so that it's, it's an app. 
If he's still there, it's online, but it's a, so I won't be providing them to content there. So the question that I have is do I need to provide them with a branding workshop or do you know what I mean,  I'm not providing them with images for that. So it's just curated images that they have, that some of them is already available, that you haven't got to get on 15 different websites.
I want to see what could, those are my challenges that I was just always, it just sucks away time. So it was just trying to put it in one place. hop over to say Suzanne, because she has her hands up here. 
Suzanne: Hey Kyrin, So apps like that have been around for awhile is my understanding.
I'm not savvy enough to use them, but I do understand they've been around for . Awhile. And so the one thing about a course is that if people are new coming into the social media marketing space, they're going to need some guidance. And so even just like a two or three session course, it doesn't need to be some long signature course. It can be what's called a mini course.
And that, that mini course could include like a month of free access to your app, for instance. But now maybe the person comes along who's real savvy about it and they don't really care about the course. And then they can just get into the app. I don't know, not looking at the app, but as Paul would say, oftentimes memberships sort of are nice kissing cousins to courses and they usually come after some sort of introductory course, but it doesn't have to be, it could be total of an hour in two parts, 30 minutes. I mean, it doesn't have to be huge, but it could, it could people who want to do it, but are afraid and it gives them a runway to get into it.
Melissa: Okay. Yeah. Yeah.  I would  say, first of all, I'm really impressed because this app sounds really awesome and I'll piggyback on that too.  I think a lot of times we feel like we have to, again, that the theme like giving more and more and more, and I don't think you need much more, but kind of what Suzanne was saying is like, how can you get them to use it and implement it and having something in place? Just as an example, like I use the full focus planner from Michael Hyatt, it's that planner, but he has  a ton of videos on how you can use this planner.
And it just  ingrained in me that to reiterate why I made that investment in the planner and why I keep investing in it. And it's not, they're not long. It's just like, here's how you can use it. Here's another way you can use that. Here's another feature and it walks you through. So I definitely think that having that walkthrough of how to use the app and getting them acclimated and maybe even just a couple of ideas of like things that they can do.
and I mean, there's so many possibilities because if you're not providing the content, I mean, there's a lot of affiliate relationships there. I can see if you want to connect with other influencers, I'd be like, okay, you have the app now and you can do the thing, but you need to talk to, so and so over here, who could help you with some content or some pictures or whatever they need. So, yeah. 
Kyrin: So, so the kind of logistics of to turn it around using the apps that we've, that we have, but I was, I was thinking if I needed something like, how do you go about brandings,  or is it just the tutorials enough?
Melissa: Right. Yeah. 
Paul: So what I would do  I would start with one and then I would, I would build around each of these things, think of your app as like  the center of a spider web or like the center of an octopus. Okay. And what I would do is I would create tentacles that would pull people into the center. Okay. And those are going to be your lead magnets as are gonna be your micro funnels. But start with one. What you want to do is you want to put just like we do with lead magnets,
but what you could do is put a mini course, it could be free. It could cost money. But the whole idea is that the course does give real value. Cause that'll position, you that'll show that you're an authority should position you as the expert. And at the same time, the real purpose of that training video series is they they're going to believe that they can't do it without having the app,
that they can't get the desired result without actually having the app. The person in the internet marketing space, that's done this the best out of everybody is Russell Brunson. He convinced everybody that they can not create a funnel, which is a pipeline, which is something that we've all done for 40 years or more. But he invents an entire group of people that you can't get this thing without his software.
Yeah. And a lot of people have entered into the internet marketing world through his funnels know. And how did he make you believe that he gave you a free book that then convinced you, the only way you can make money online is to do something called funnels. And the only way you can do a proper funnel is through a thing called . ClickFunnels, right?
So he used the free thing to convince. Now I watched, this is not new. This concept is not new. I watch as many years ago when I owned my eight real estate offices in my market place, I watched other real estate companies go under because Keller Williams came into our marketplace and surprised and shocked. And all the Remax offices, everybody had just like,
it was a tremble. This was years ago. And the main, the main driver of Keller Williams was  Keller  created a book called the millionaire agent. And the millionaire agent was a playbook that showed you the only way you can make a million dollars. That's neat, man. That's very attractive as an agent, right? You want to make a million dollars.
But when you read the book, the only way that you would have been able to possibly ever make a million dollars is  work with a company that coincidentally is built exactly as Keller Williams, there was no other possible way. Right. He later came in, published the one thing. Yeah. So, so, but he built the desire and build an entire, he took like nobody like Keller Williams really that's like a name that you would even have as a real estate company. Like he took that from obscurity into the number one real estate brand in the world. And it all was based on giving everybody a free book up at the front, but the book indoctrinated, Ah, Jason's got the book, look at that..
So what you do is you create the, either a low level pricing or free training. That's highly desirable that will fix a very, like a bleeding pain point that small business owners would have. And then you show them how easy it is to get to what you taught in the training by utilizing and leveraging the app. 
Kyrin: Okay.  My app is only $49. So I'd have to think of, I have to give it to that free, cause it's all cheap. Thank you. 
Melissa: welcome. Love it. Awesome.